A network of food activists has claimed in a study that after the nationwide lockdown, hunger continues to stalk the poor across Jharkhand for which the public distribution system needed to be improved so that it covers those who are denied benefits of government schemes.
Releasing a report titled Hunger Watch Survey on Wednesday, Right to Food Campaign said a majority of households had revealed that living conditions were still much worse today than before the lockdown, the observation coming a day after chief minister alluded to having resolved the state's hunger problem given that no hunger deaths had been reported in the last one year.
The report of the survey, conducted between September 12 to October 10 covering 179 vulnerable households across the state, said that nearly all reported a reduction in monthly incomes since the lockdown began in March 2020. Half the surveyed households did not have any income in April and May, and a third did not have any income in the month preceding the survey.
"Fifty-eight per cent of the respondents (of the survey) said that their household's need to borrow money for food had increased since the lockdown started. Eleven per cent had to sell jewellery or some other item and 8% of the landowning households even felt compelled to sell land for buying food. Thirteen per cent households had at least one member who was not working before the lockdown but began working over the past 30 days. Another 40 per cent had a member who was unemployed earlier but was searching for work at the time of the survey. Only about a fifth of all respondents felt that their situation will improve over the next three months. A quarter thought that things would remain the same and almost 40 per cent expected their condition to worsen," the report said.
The findings have been made public at time when the state government is going to issue green cards to an additional 15 lakh people living below poverty line from next month under the National Food Security Act (NFSA).
Among the various food security programmes, the public distribution system (PDS) functioned regularly during the lockdown. Ninety-four per cent households with a Priority or Antyodaya ration card or an APL/BPL card with an NFSA stamp got grain every month from April to August. Only Priority/Antyodaya card holders were entitled to free additional grain during the lockdown, but only 41 per cent of such households got this extra support every month from April to August, the report said.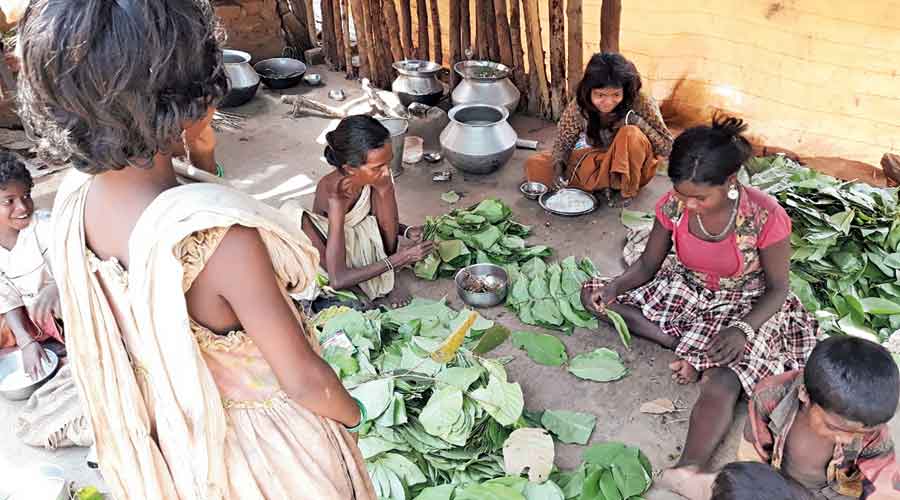 Poor tribal women eke out a living by weaving sal leaf plates in Ghatshila earlier this year Bhola Prasad
"The rest got the free grain only for only some months. Amongst those without a NFSA ration card, almost a third had applied for a card, but had not obtained one. Another 18 per cent were unaware that they could apply for a card. Sixteen per cent could not apply because they did not have all the required documents," said the report.
The study further highlighted that almost half the respondent households (48 per cent) reported eating less wheat or rice over the previous month, compared to before the lockdown. In another 18 per cent households, consumption of grain was significantly less.
Considering that the disruptions due to the lockdown and the ongoing pandemic are likely to continue for several months, Right to Food Campaign has demanded that the government work towards universalisation of PDS and also provide subsidised pulses and edible oil.
It has also called for reopening of anganwadis and including eggs in midday meals daily to tackle nutritional challenges. This apart, it has also demanded nutrition packages for vulnerable groups, opening of labour-intensive NREGA schemes, provision of universal social security pension of at least Rs 2000/month to all elderly, & single women and maternity entitlement of at least Rs 6,000 to all pregnant and lactating women in the state.