Ranchi: Pledge to finish Father Stan Swamy's unfulfilled work
Birth anniversary of the Jesuit priest was observed with the release of two books and unveiling of his two-foot-high bust at Bagaicha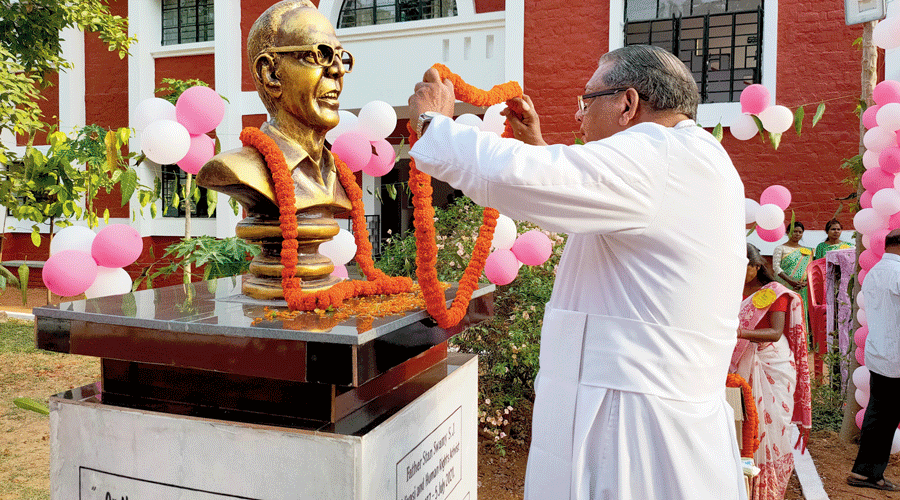 Archbishop of Ranchi Felix Toppo garlands the bust of Father Stan Swamy at Bagaicha.
Manob Chowdhury
---
Jamshedpur
|
Published 27.04.22, 02:03 AM
|
---
The birth anniversary of Father Stan Swamy was observed with the release of two books and unveiling of a two-foot-high bust of the Jesuit priest at Bagaicha, a training and social action centre, in Namkum, Ranchi, on Tuesday evening.
"The bust of Father Stan Swamy would inspire us to continue agitation and raise voice for the cause of truth and also remind us of the ideals for which Father Swamy stood for, especially his sensitivity for the poor and the oppressed. It would also inspire those who come to Bagaicha centre for research and spread father's teaching," said Father Thomas Kavala, in-charge of Bagaicha.
The bust, made of fibre glass, has been sculpted by Lohardaga artist Dharam Sheel. The bust has at its base on all four sides inscriptions from the book I am not a Silent Spectator: Why Truth has become so Bitter, Dissent so Intolerable, Justice so out of Reach, written by Stan Swamy and published by Indian Social Institute last year. The bust was unveiled by Dulari Hembrom from Khunti, who has been crusading for women rights and tribal issues in the region.
Archbishop of Ranchi, Felix Toppo, in his speech during the occasion said: "Father Swamy identified himself with the poor, tribals, oppressed, Dalits and raised voices for their rights in a constitutional manner. All of us should finish the unfulfilled work of Father Swamy by continuing to stand up and raise our voice in a constitutional manner for the marginalised and oppressed sections of the society."
CPI-ML MLA from Bagodar, Vinod Kumar Singh, while appreciating the contribution of Father Swamy, praised his resilience against all odds and considered him as an inspiration for future leaders.
Stan Swamy was known for his human rights activism. He spent long years working among the Adivasi community in Jharkhand.
He was arrested on October 8, 2020 from Bagaicha by the NIA in connection with the Bhima Koregaon case and was lodged in Taloja Central Jail in Mumbai. He died under judicial custody while undergoing treatment at a private hospital in Mumbai in July last year.
His death had caused much outrage; as he was repeatedly denied bail requests despite his deteriorating health over nine months in jail, and activists had lamented the inhumane treatment against Swamy in the last few months of his life.
The programme also saw the release of the Hindi version of the memoir of Swamy, written by Ranchi-based Jesuit priest James Toppo. The English version of the memoir, published by Indian Social Institute Bangalore, was released in Ranchi last year.
The memoir contains writings of the Jesuit priest during his visit to southern India in 2019 and also poems and diaries written during his imprisonment at Taloja Central Jail.
Another book If Not Now, When? Disquieting Feminist Questions, published by Gujarat Sahitya Prakash and edited by Astrid Lobo Gajiwala, Kochurani Abraham and Prashant, was released on the occasion.
The Social Justice and Ecology Secretariat (SJES-South Asia) in collaboration with Samanvaya, an interfaith platform for communal and ecological harmony, hosted an all-women webinar to explore a way forward. 'If Not Now, When? Disquieting Feminist Questions' is the outcome of the critical imagination triggered at this webinar.
This collection of essays is a chorus of feminist voices who speak truth to power, reclaim suppressed spiritualties, and dare to dream and to dissent. It brings to the centre, voices from the margins, in the form of conversations (some translated from other languages) and stories of unlettered and unknown women who have paid a heavy price for refusing to be "silent spectators," writes Astrid Lobo Gajiwala in the editorial of the book.The essays cover a wide spectrum of issues, they have been broadly categorised into three sections:  Voices from the margins, the personal is political and Ecclesial challenges.
"They are tied together by an impatience for change and hope for a better world. Feminists want to transform cannonballs into a force for change. "If not now, when?" they ask. "It's high time!" It is our hope that this anthology will have a ripple effect, inspiring more voices critical of the deep-rooted, systemic oppression and injustices in our societies and churches," the editorial says.