Campaign to care for elderly during Covid-19 pandemic
Niti Aayog, Piramal Foundation scheme launched in all aspirational districts of the country to ensure welfare of senior citizens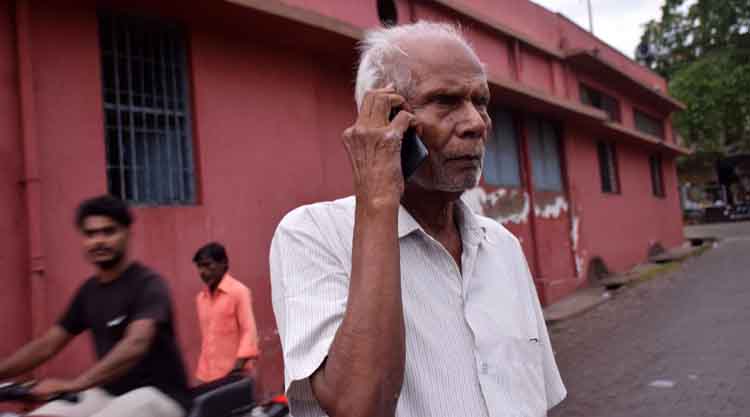 An elderly man receives a call as part of the Surakshit Dada Dadi Nana Nani campaign
Bhola Prasad
---
Jamshedpur
|
Published 04.07.20, 09:15 PM
|
---
Brij Mohan Pandey, 75, was surprised to receive a telephone call from an unknown number inquiring about his well-being.
He was informed about measures to prevent coronavirus and asked if he needed anything. Pandey later called back to thank the caller who took out the time to ask about him during the pandemic.
Pandey is not the only one to receive such calls. 
Lakhs of senior citizens in Jharkhand have started receiving calls under the Surakshit Dada Dadi Nana Nani campaign initiated by the Niti Aayog, Piramal Foundation in all the aspirational districts of the country.
The campaign is an initiative to take care of senior citizens on three aspects — prevention of coronavirus, accessibility of essential items and legal help and early detection in case of coronavirus symptoms.  
The programme has currently started in 17 districts in Jharkhand, beginning with Ranchi, East Singhbhum, Ramgarh, Simdega and Pakur. 
In Jharkhand, NGOs which are also the implementing partners, have started making calls to senior citizens from June 29 with telephone data provided by the district administration's social welfare department. 
In East Singhbhum, implementing agency Kalamandir-the Celluloid Chapter Art Foundation has innovatively connected socially inclined senior citizens to the beneficiaries.
"When we call, they don't understand the purpose immediately, but later they realise the purpose. The people I called appreciated the effort and thanked me, feeling that they had someone who thought about them and their needs," said Nirmala Shukla, who is working as a volunteer in the campaign.
The callers greet the people followed by a little chat about their well-being. Then they ask whether they know about preventive measures. If not they share additional information and then enquire if they need essentials like groceries or medicine. If there is a grievance, the implementing agency put it up with the district administration and a follow-up is done within a week.
"Senior citizens account to 63 per cent deaths in the pandemic. Therefore, they need help and to feel they are cared for. We have engaged one active social organisation in each district. As the campaign started in May, we have reached out to 1.3 crore senior citizens across 112 aspirational districts in the country. We are trying to get everything in place in the rest of the districts," said Sarkar Mehdi, the  divisional facilitator of Piramal Foundation, India.
Mehdi said the only challenge they faced was the outdated contact numbers of the beneficiaries.
"As we get the contact numbers from the social welfare department, many are obsolete and haven't been updated or else we could have reached more people," he said.