Pick-up and drop-off points royally ignored
With police looking the other way, autos, buses stop at random for passengers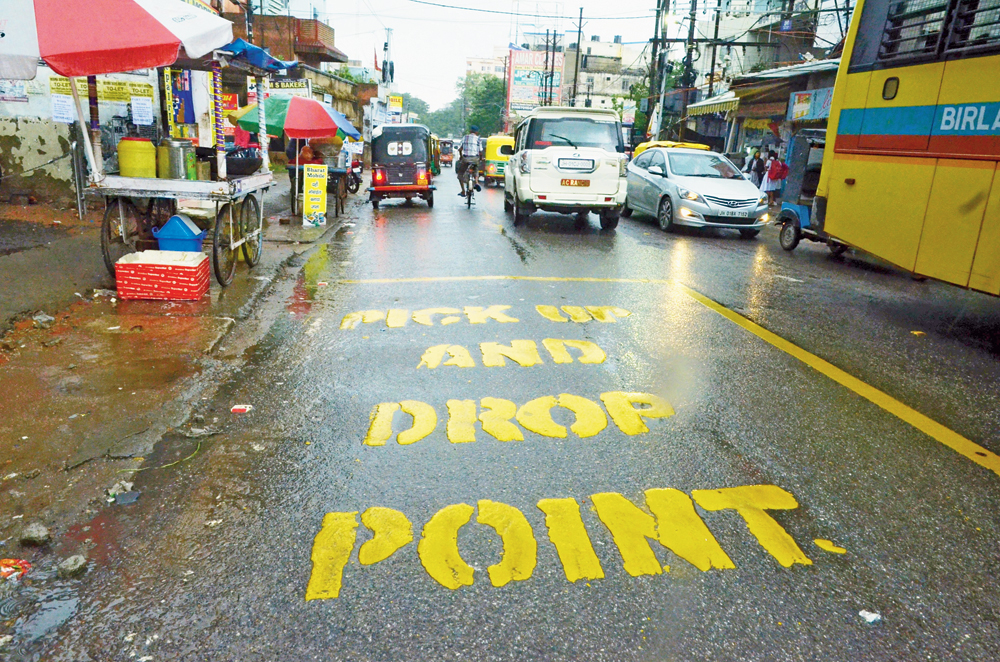 An autorickshaw parked away from the demarcated point to pick passengers at Lalpur Chowk in Ranchi on Tuesday
Picture by Prashant Mitra
---
Ranchi/Jamshedpur
|
Published 02.07.19, 06:45 PM
|
---
Efforts to streamline traffic and prevent congestion near roundabouts by demarcating pick-up and drop-off points on busy intersections have come a cropper as police are nowhere to be seen to prosecute errant auto-rickshaws and city buses.
It was on the request of the city police that Ranchi Municipal Corporation (RMC) had demarcated as many as 25 pick-up and drop-off points near major roundabouts. The exercise was completed by the last week of June and handed over to the police.
But, RMC sources revealed, barely two days later on June 29, Ranchi traffic SP Ajit Peter Dungdung, who was keen on enforcing this new measure, was transferred. The new traffic SP, Priyanka Meena, took charge recently and is perhaps unaware of the plan.
Till the time the police wake up, commuters will continue to suffer.
"I was trying to turn on to Radium Road near the stretch along SSP Residence on Morabadi Road last evening (Monday) when suddenly, an auto-rickshaw came to a halt in front of my car. It was picking up a passengers at the turning point. Fortunately, I was driving cautiously. Otherwise I would have hit the three-wheeler. All this was happening 100 meters from a pick-up and drop-off point," said advocate and Tagore Hill resident Santosh Mishra, who was at the wheel.
Most often auto-rickshaws (diesel and e-rickshaws) and city buses (state-owned) are the culprits.
"More than four auto-rickshaws had stopped at different points on Old Hazaribagh Road near Firayalal Chowk (Albert Ekka Road), a few of them virtually on the road, to pick up passengers. This led to traffic congestion, especially when two or more SUVs were crossing the road at a time. Such scenes are a regular affair during school hours," said Sanjay Singh, a resident of Lalur, who is employed with an MNC retail outlet on Main Road.
Among the areas where pick-up and drop-off points have been demarcated with reflective paint are Kishoreganj, Randhir Verma Chowk, SSP Residence, Khelgaon, Big Bazaar, Roshpa Tower, Church Complex, Daily Market, Wool House, Firayalal Chowk, Ratan PP Chowk, New Market, Sahjanand Chowk, Harmu Chowk, Argora Chowk, Birsa Chowk, Hinoo Chowk, AG More, Sujata Chowk, Siramtoli Chowk, Lalpur Chowk, Jail Chowk, Nucleus Mall More, Karamtoli Chowk and Radium Chowk.
"The demarcation exercise was completed last month and we informed police accordingly. However, I am not sure if traffic police are prosecuting offenders," said RMC city manager (transport cell) Saurabh Kumar Verma.
Earlier, police claimed they could not prosecute offenders with fines since pick-up and drop-off points were clearly demarcated. Once these were in place, the police had promised to slap a fine of Rs 500 on drivers and operators who dithered at crossings under section 179 of the MV Act. Now, Ranchi SSP Anish Gupta has promised quick enforcement. "We will soon direct traffic policemen to prosecute public transport operators who park their vehicles away from pick-up and drop-off points. This is needed to streamline traffic," he said.