Patient death leads to brawl at RIMS emergency ward
Doctors, attendants exchange blows, FIRs lodged by both parties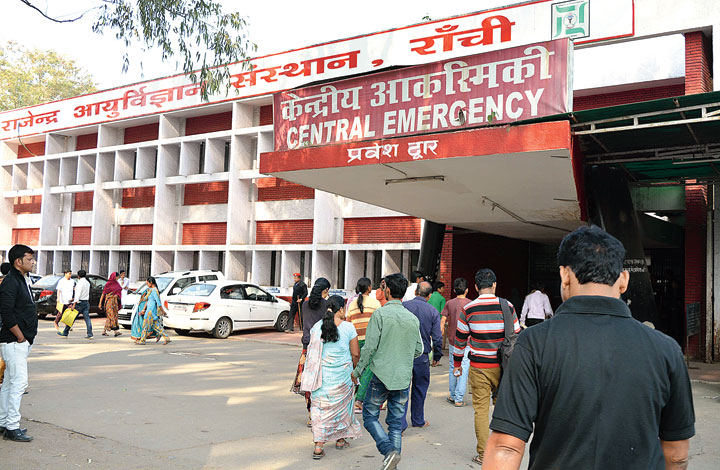 Rajendra Institute of Medical Sciences (RIMS)
File picture
---
Ranchi
|
Published 26.07.21, 06:30 PM
|
---
Emergency services at Jharkhand's largest state-run hospital, Rajendra Institute of Medical Sciences (RIMS), came to a standstill for several hours late on Sunday night following a scuffle between junior resident doctors and attendants of a patient who allegedly died of kidney failure.
Police from Bariatu  had to rush to the spot around 10pm and use muscle power to bring the situation under control after the emergency ward of the hospital turned into a wrestling ring with doctors and attendants throwing punches at each other, eye witnesses said.
"We had to intervene to bring the situation under control. Both parties have lodged FIRs with us and further investigation is under way," said Anjan Kumar, a sub-inspector at the Bariatu police station.
Relatives of the deceased woman, Anita Devi, accused the junior doctors of delaying her treatment on the pretext of documentation, which allegedly led to her death. On the other hand,  doctors have accused attendants of the patient of misbehaving with a woman junior doctor and creating a ruckus at the emergency.
As per RIMS records, the patient was brought to the emergency ward of the hospital amaround 12.30 in the afternoon. Both her kidneys were on the verge of failure and the doctors were preparing her for dialysis. She died at around 8.30 pm. The woman was also a Covid suspect and her test results were awaited, said Dr Vivek Kumar, the president of Junior Doctors' Association of RIMS.
While doctors have blamed the attendants of the patient for starting the brawl, the attendants told the police that junior doctors locked up some of them in a room and brutally thrashed them, said police.
At  11pm, RIMS Director Dr. Kameshwar Prasad and Superintendent Dr. Vivek Kashyap had to visit the emergency ward and pacify the junior doctors.  
The doctors have lodged a named FIR against one Aman Kumar, son of the deceased, and some other relatives of the patient with the local police station, while the attendants have lodged an unnamed counter FIR against the junior doctors, said police, adding that normalcy prevailed at the emergency ward of the hospital on Monday.
The Indian Medical Association (IMA)  was yet to issue a statement on the incident by the time this report was filed. A member of  IMA Jharkhand, requesting anonymity, said that both parties were at fault and the association stands against all forms of violence, be it with doctors or attendants.