Pair of slippers to heal sores of past
Free footwear for Jharkhand's most vulnerable citizens equals entrepreneurship skills for tribal women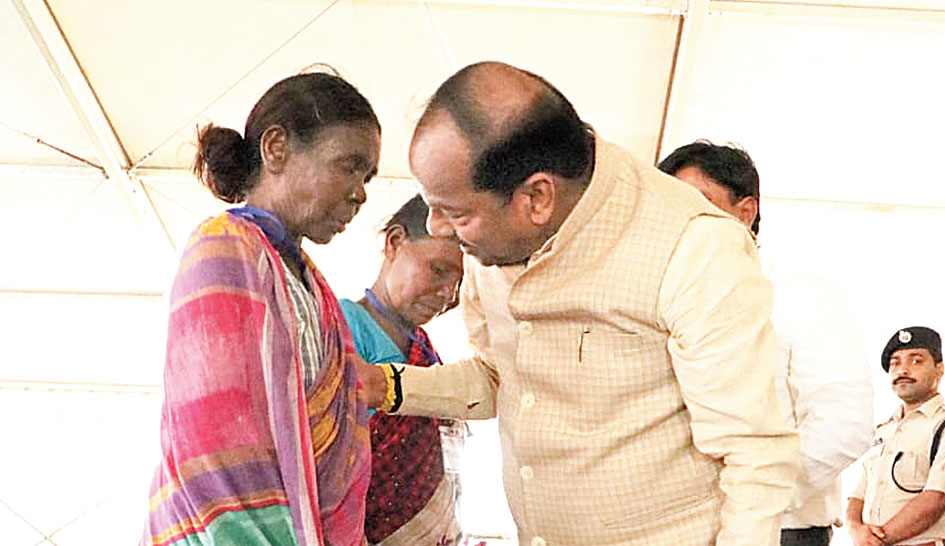 CM Raghubar Das interacts with a tribal woman at the launch of Charan Paduka Yojana at Chakradharpur on August 14
(Bhola Prasad)
---
Jamshedpur
|
Published 17.08.19, 07:54 PM
|
---
A Calcutta-based enterprise, Prem Footwear, is training poor tribal women of Chakradharpur and Chaibasa to make one lakh pairs slippers for free distribution among the Particularly Vulnerable Tribal Group (PVTG), as part of the Charan Paduka scheme launched on August 14 by CM Raghubar Das in West Singhbhum.
The Charan Paduka scheme is being sponsored by ACC Cement as part of their corporate social responsibility initiative and will be distributed for free among one lakh PVTGs. Arjun Bahri Dhawan, director of Prem Footwear, which has its main production unit at Tangra in Calcutta, said they had teamed up for the project as they appreciated the concept of providing safety, health and dignity by way of footwear to some of the most marginalised citizens of the country.
Under the ministry of home affairs, 75 tribal groups have been recognised as PVTG, says the website of the Union ministry of tribal affairs. As per 2011 Census, nearly three lakh PVTG belonging to eight groups — Asur, Birhor, Birija, Korwa, Mal Pahariya, Pahariya, Sauria Paharia and Sabar — reside in Jharkhand. Chief minister Raghubar Das had met two PVTG women, Munki Birhor and Tirki Birhor, of Bandgaon block of Chakradharpur subdivision in West Singhbhum district, at Porahat Vikas Mela on August 14, and worn their slippers as a mark of encouragement.
"We have begun training some 150 women from poor tribal backgrounds to make slippers with raw materials from our end. Training-cum-production is on at two locations in Chakradharpur and Chaibasa and we have a mandate to manufacture one lakh slippers by September-end," Dhawan said.
West Singhbhum DC Arava Rajkamal said under the Charan Paduka Yojana MoU, in the first phase one lakh pair of slippers would be given to the PVTG free of cost and in the second phase the rest of the particularly vulnerable tribals. "The Charan Paduka Yojana will help the marginalised PVTG foot sores, infections and other daily hardships. Most of these people usually walk barefoot in forest areas where they reside."
Dhawan, who also opened an unit of Prem Footwear in Bhitia, Govindpur, nearly 8km from Dhanbad, after inking a pact with the government during the Momentum Jharkhand in 2017, added: "Ninety tribal women are being trained at Chaibasa Sadar block office in Chaibasa and 60 women at the Panchayat Bhavan in Chakradharpur. We provide them raw materials while our trainers teach them how to make durable rubber slippers with a good grip. These slippers sell in the open market for Rs 150 per pair. We will continue to help these women in making slippers and handhold them so that they can become entrepreneurs on their own in future."