On CM prod, RIMS to limit number of visitors
Das reportedly lost his temper after he saw four to five family patient with each patient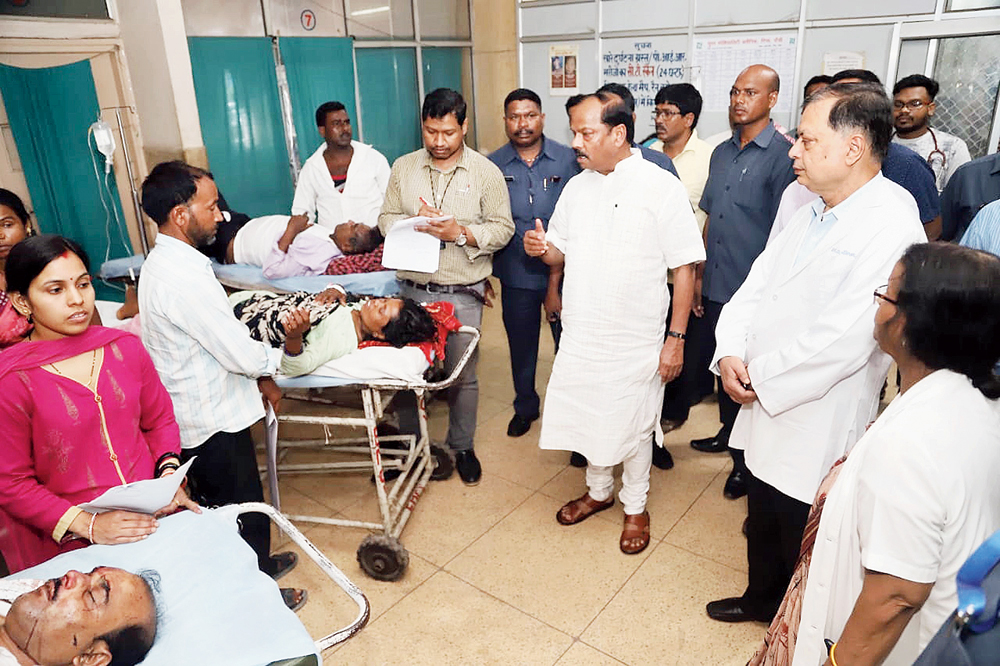 ---
|
Ranchi
|
Published 25.06.19, 06:41 PM
---
Jharkhand's largest state-run hospital, Rajendra Institute of Medical Sciences (RIMS), where the OPD attends to over 2,000 patients a day, will henceforth allow only a single attendant with a patient, the decision arrived at after chief minister Raghubar Das conducted a surprise inspection of the premises on Tuesday afternoon.
According to the RIMS Junior Doctors' Association president Dr Ajit Kumar Singh, Das lost his temper after he saw four to five family members and acquaintances milling around each patient in the medicine ward and emergency.
"The chief minister was at RIMS from 1.10pm to 1.45pm. He visited the emergency, OPD, the Ayushman Bharat counter and medicine ward, all on the ground floor," said Dr Singh who was present.
A junior doctor who was on emergency duty when the chief minister came quoted him as saying, "Proper treatment cannot be provided in such a chaotic situation. We should not let more than one attendant with one patient."
After that, the chief minister asked the crowd of attendants to move out of the emergency ward.
Doctors, who have been on a nationwide campaign against violence against them in hospitals, welcomed the decision to limit the number of attendants to one at the behest of the chief minister.
"One attendant with one patient is ideal. It will help reduce crowds at wards and provide much-needed space to doctors and nurses to work," said Dr Umesh Prasad of the medicine ward.
Dr J.K. Mitra agreed. "Yes, the idea is good. In some cases two attendants can also be allowed. Sometimes more hands are required to take care of a serious patient," he said.
On any given day, RIMS has over 1,500 patients admitted.
A patient's relative, who did not want to be identified, elaborated on the practical problem cited by Dr Mitra. "RIMS does not have adequate number of nurses and ward boys to take care of in-patients. Hence, patients' attendants arrange for blood, medicine and other necessary items. If the number of attendants is limited to one, patient families will be severely inconvenienced," he said.
RIMS director Dr D. K. Singh said he was able to discuss infrastructure upgrade with the chief minister during his visit.
"I asked the chief minister for a new OPD, spread over 2.5 lakh square feet, saying it would cost approximately Rs 100 crore. He agreed and asked me submit a proposal," the director said.