NREGA a flop show in Jharkhand, say activists
In the past three years, each eligible household in Jharkhand got 40 days work on an average, against the guaranteed 100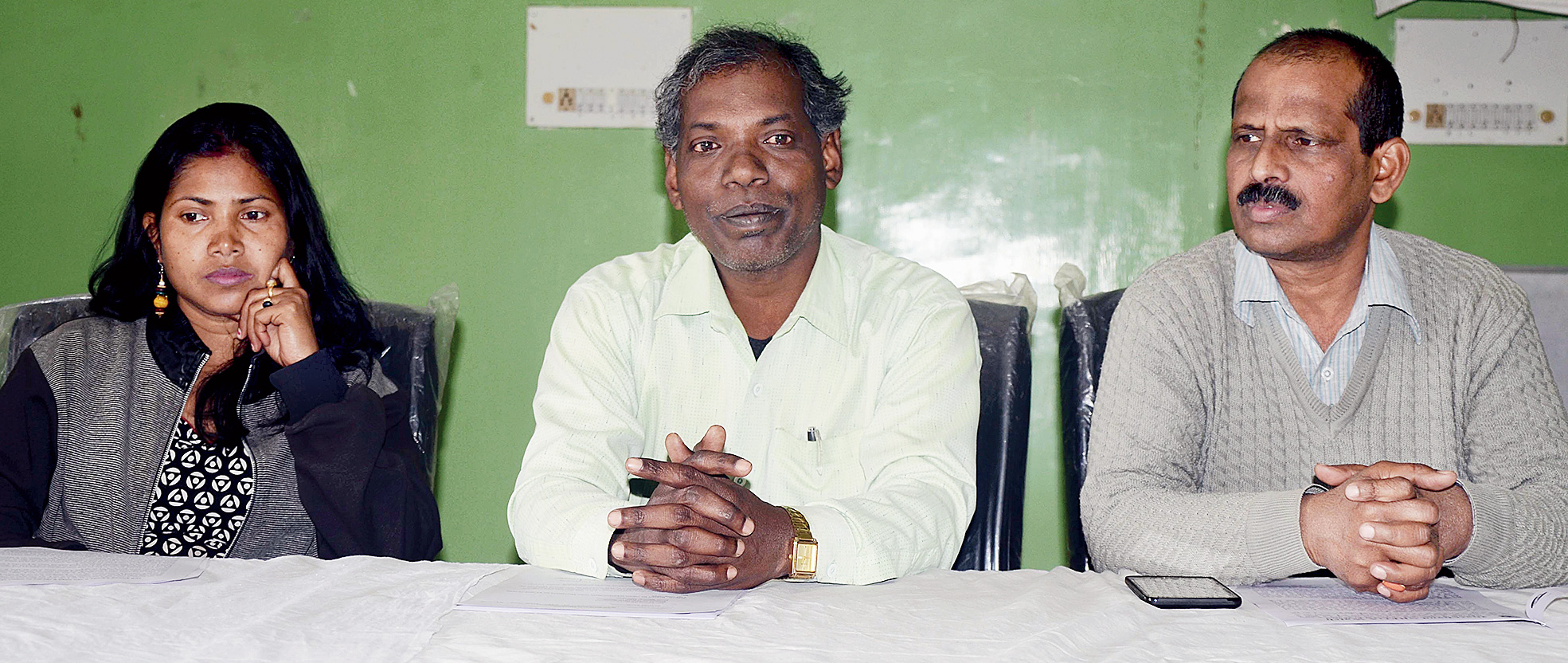 Convener of Jharkhand NREGA Watch James Herenj (centre) in Ranchi on Friday.
Manob Chowdhary
---
Ranchi
|
Published 01.02.19, 06:29 PM
|
---
Activists have slammed the government for its lackadaisical attitude towards the implementation of Mahatma Gandhi National Rural Employment Guarantee Act (MGNREGA) just before its enactment completes 13 years on Saturday.
'The government is undermining and weakening the constitutional guarantee for employment in rural areas," convener of Jharkhand NREGA Watch James Herenj said on Friday, adding that right to work has been reduced to mockery.
According to Herenj, the Act provides for 100 days of work in a year, but in the past three years each eligible household in Jharkhand got 40 days' work on an average.
Herenj was interacting with the media at HRDC Hall within GEL Church Compound here on Friday.
"The proportion of Adivasi and Dalit households under MGNREGA has fallen from 50 per cent to 38 per cent in the last three years,' Herenj said.
He said there was a demand for 71 lakh man days in Jharkhand during 2017-18, but the government provided only 43 lakh man days, falling short of the demand by 39 per cent.
"Many households that worked under MGNREGA were caught unawares when the government deleted nearly 7 lakh job cards over three years," Herenj added.
He said the state government launched the Yojana Banao Abhiyan (which literally means make your own scheme) under MGNREGA with much fanfare in 2015-16 to enable villages and panchayats to undertake work on projects that they needed.
"Around 10 lakh plans were drawn under the scheme, but later the government set up committees that bypassed the wishes of the villagers," Herenj alleged.
Contrary to state government's claim that 99 per cent of NREGA payments were cleared within 15 days, payments worth Rs 170 crore were rejected in the past four years due to reasons like incorrect entries of Aadhaar and account numbers. "Payments worth Rs 100 crore are still pending."
Herenj said the Act had a provision for compensation in case wage payment got delayed by 15 days, but the government paid it only in 5 per cent cases. "Despite our demands, NREGA wages haven't been increased and brought on a par with minimum wages of the state," Herej said, adding the current wage is Rs 168, which is Rs 71 less than the minimum wage of Rs 239.
The state employment guarantee council met only once in the last four years and 40 per cent posts of NREGA personnel are lying vacant, Herenj added.
"Doesn't it reflect the attitude of the state government towards the implementation of NREGA?" he asked.