Mine tragedy averted in Dhanbad
7 pump operators and a mining supervisor were trapped because of water seepage around 6.30am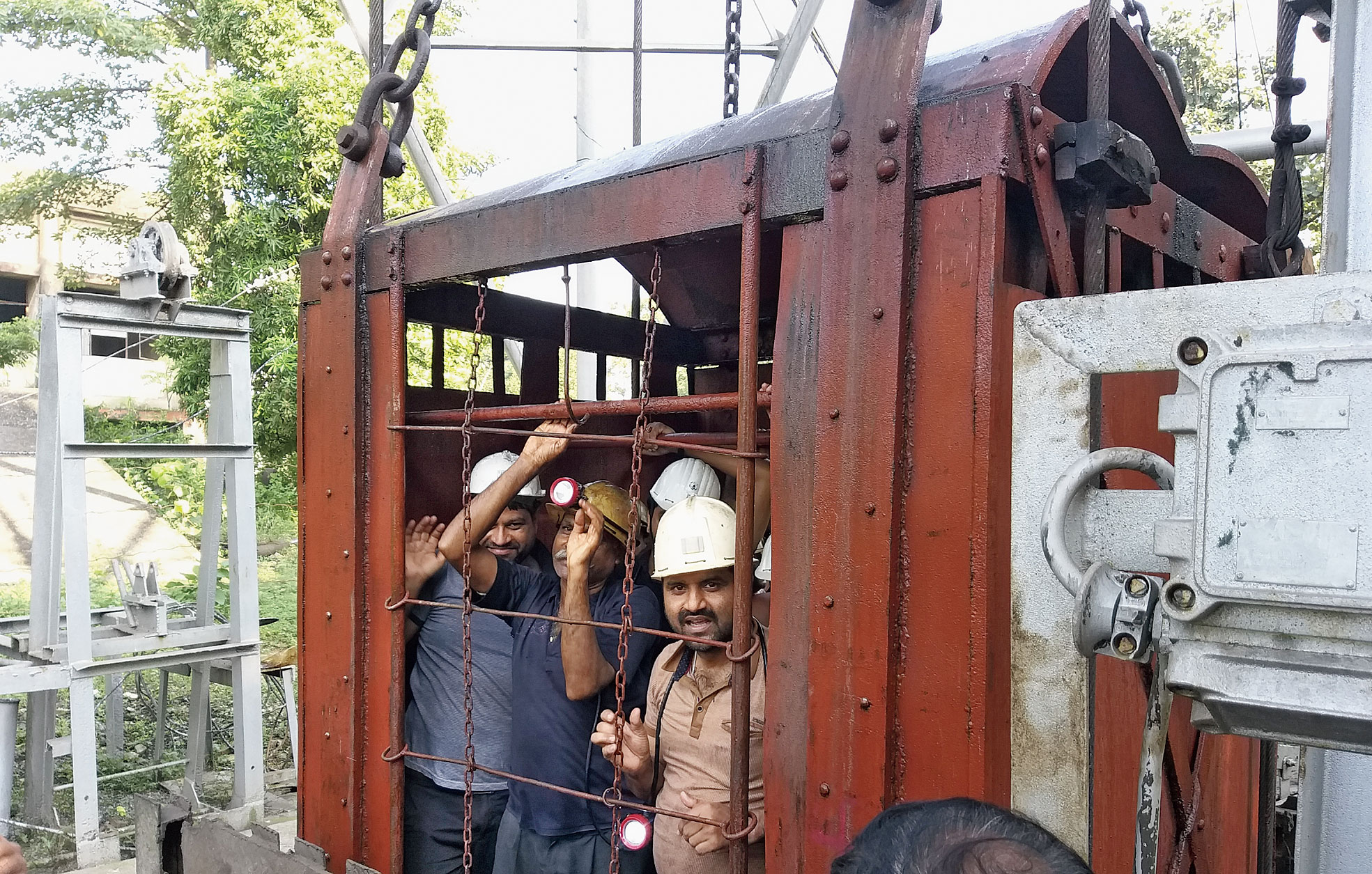 ---
|
Dhanbad
|
Published 22.09.19, 07:05 PM
---
A tragedy was averted when eight miners trapped in a suddenly flooded mine were rescued on Sunday morning from the Putki Balihari colliery of Bharat Coking Coal Limited, around 8km from the Dhanbad district headquarters.
The seven pump operators and a mining supervisor were trapped because of seepage of water around 6.30am. Senior officers of the BCCL led by project officer V.K. Goyal rushed to the site and supervised the rescue operation.
Production was stopped in the mine after the incident and the BCCL has launched a probe to find out how the incident occurred.
"We went to the face number 352 (a site) of the mine at around 6am for regular operation of motor pumps and suddenly water started entering from adjoining face number 452 of the mine around 6.30am," a miner recalled. "The face started flooding due to strong current of water and we immediately shifted to another adjoining surface of the mine (face number 341) and from there informed the colliery management over phone about the dangerous situation prevailing in the mine.
"The management took the issue very seriously and made rescue arrangements after which we were somehow taken out through another emergency exit from the mine around 7.10am," the pump operator said on condition of anonymity.
Yashwant Reddy, the mine supervisor who was leading the team, said: "Many of the adjoining mining sites are interconnected with each other thus water seeped inside one of the mining sites, face number 352, through the adjoining site, face number 452, endangering our lives but the quick response from the management helped to avert a major tragedy."
Ram Nath Singh, secretary of the Putki Balihari unit of the Rashtriya Colliery Mazdoor Sangh, said the union wanted a detailed probe into the incident.
"As work in underground mines is conducted against nature, the possibility of accidents can't be ruled out. A dangerous situation arose in the mine this morning but thank god no casualty happened in the incident and all the eight persons working in the mine were safely rescued," Singh said. "We will demand that the colliery management launch a detailed probe into the reasons behind the incident so that lessons can be learnt and similar incidents can be avoided in the future."
BCCL Putki Balihari area project officer Goyal said the rescue was carried out as per the standard operating procedure. "There is no panicky situation in the mine at present," he said. "Some water in the adjoining area entered into one of the mine sites but we have launched an inquiry to find out the reasons of the seepage."