Migrants don't want to leave if government provides jobs in the state
About 250 workers participate in a webinar organised by Jharkhand Janadhikar Mahasabha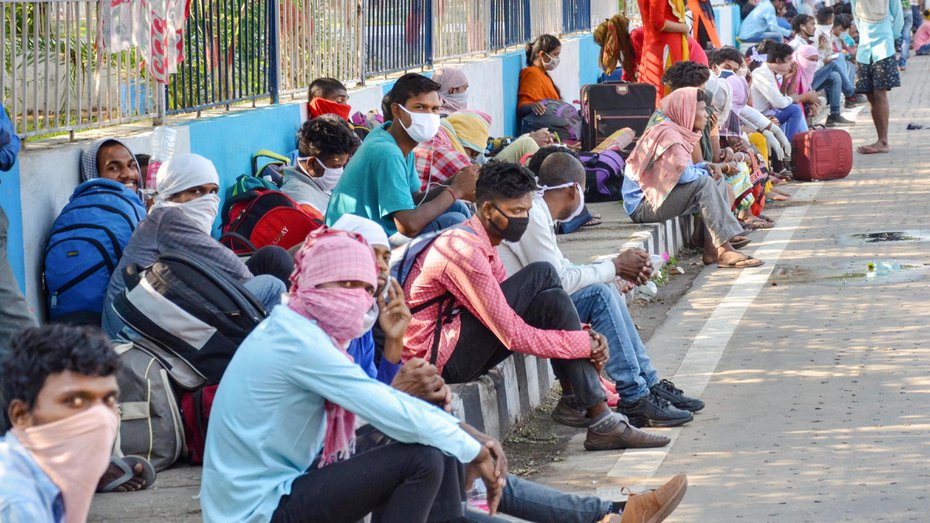 Migrants from various parts of Jharkhand gather at a shelter home to board buses to reach their native places. (image used for representational purpose)
PTI file photo
---
Ranchi
|
Published 08.06.20, 08:12 PM
|
---
About 250 migrant workers participated in a webinar organised by Jharkhand Janadhikar Mahasabha, an umbrella organisation of activists and civil society groups, on Monday. The objective was to document experiences, discuss future plans and formulate demands to be placed before the government.
About 15 workers from the group also spoke in the webinar. "Kaam milega toh nahi jayenge," (We will not leave the state if we get a job hee) seemed to be the overriding sentiment among them.
Manik Chand of Garhwa was working as a labourer in Delhi when the government imposed a nationwide lockdown. "Having no income there some of us decided to return," Chand said while sharing his experience. They got into a truck that dumped them near Etawah in Uttar Pradesh. Following this, they boarded another truck and reached Allahabad by paying Rs 900 each. Soon after, they embarked on a 5 day journey on foot to reach Garhwa.
"Why should we go out again if the government provides us work here," he exclaimed.
Amol Tigga from Hazaribagh was working under a contractor in a tower installation project in Aurangabad in Maharashtra, earning Rs 13,000 a month. "The contractor stopped payment when work ceased for the lockdown, but arranged food for us and advised us to leave at the earliest," he said.
Some of them paid Rs 6,000 each to hire a vehicle to return home. Tigga also demanded that the government should offer them jobs.
"The government was serious in its attempt to provide jobs by engaging migrant workers in rural job schemes under the Mahatma Gandhi National Rural Employment Guarantee Act," said James Herenj, convener of Jharkhand NREGA Watch, a citizens' forum. According to herenj, those schemes will now involve plantation drives, water conservation projects and creating sports infrastructure.
"It will be difficult for the government to provide skill-specific jobs," he informed in the webinar, explaining why getting the same type of jobs would not be possible.
The wage in the rural job scheme is also much less – just Rs 194 per day – compared to the wages they had earned outside," Herenj said, adding that it was less than the minimum daily wage of an agricultural labourer in the state (Rs 294).
"But this will be better than sitting idle or working as a labourer at a distant place for some more money as the rural scheme jobs are within or in adjacent villages," he informed.
"Those who own some land can grow fruit-bearing plants on those plots under the job schemes," he told the participants.
"There are scopes to expand the schemes to certain other areas such as fisheries, minor forest produce or growing certain traditional agricultural products of the regions, but we have to convince the government to include those," Herenj further said.