Messiah for poor patients
Jharkhand oncologist's humane face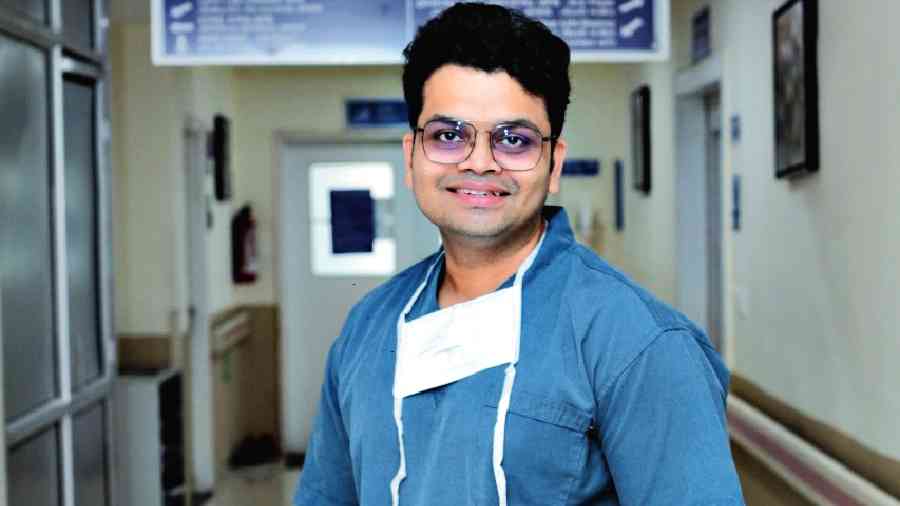 Dr Gunjesh Kumar Singh at Ranchi.
Manob Chowdhury
---
Jamshedpur
|
Published 21.10.22, 12:41 AM
|
---
A 34-year-old medical oncologist with Jharkhand-based Bhagwan Mahavir Medica Superspecialty Hospital in Ranchi has time and again shown a humane face for cancer patients hailing from financially weaker sections.
Dr Gunjesh Kumar Singh helped from his own pocket and also persuaded the hospital and a private clinic to provide discounts in the treatment and pathological tests of a 10-year-old boy suffering from rare blood cancer in Jamtara district of the state whose father is a daily wage earner.
"The boy from a poor family came to us two months back with large sternal swelling and bilateral axillary lymph nodes and was having an on-and-off history of fever spikes and cough. Outside biopsy was suggestive of tuberculosis and he received anti-tuberculosis treatment for two months from a Bengal-based hospital and his condition was worsening. His father is so poor that he could not even afford the food and travelling expenses," said Dr Singh.
"On evaluation multiple lung metastases were seen
and he was having a breathing saturation of 85 per cent. We did a biopsy from bone and lymph node which was suggestive of Hodgkin's Lymphoma (blood cancer). Blood cancer is a common disease but it had a rare presentation in this case with involvement of bone. Blood cancer with manifestation in bone happens in only one per cent of cases," added Dr Singh.
The treatment was started and after two months the disease has disappeared.
"After two months of treatment, his disease disappeared and he achieved complete response in mid-October. I persuaded the hospital to waive off nearly Rs 20,000 for treatment, chemotherapy, biopsy and medicine, while over Rs 10,000 was reduced for PET scan. I personally gave over Rs 5,000 for food and travelling expenses to the poor family," said Dr Singh.
Usually the treatment and medicine costs (including six months of medicine) is nearly Rs 1 lakh for such patients in any hospital.
In May this year, Dr Singh had also come forward to donate blood and arranged for free medical treatment under government scheme for a 22-year-old casual labourer from Sahebganj district of Jharkhand who had been diagnosed with acute leukemia.
"The patient's wife had approached me as they were unable to arrange blood for transfusion on an urgent basis as she was financially very weak and she had to support her five-year-old son along with looking after her husband's treatment. I was well aware of the medical condition of the youth and agreed to donate blood. As he required prolonged treatment, I helped him in getting enrolled under Mukhyamantri Gambhir Bimari Yojana so that his treatment could be done free of cost," said Dr Singh.
"We always are open to supporting poor patients in their treatment. We are thankful to Dr Singh for his efforts," said Medica Hospitals adviser Anand Srivastava.