Meet choreographer Dipu, the state's first plasma donor
Everybody should donate to help others, says Kokar resident, who now lives in Mumbai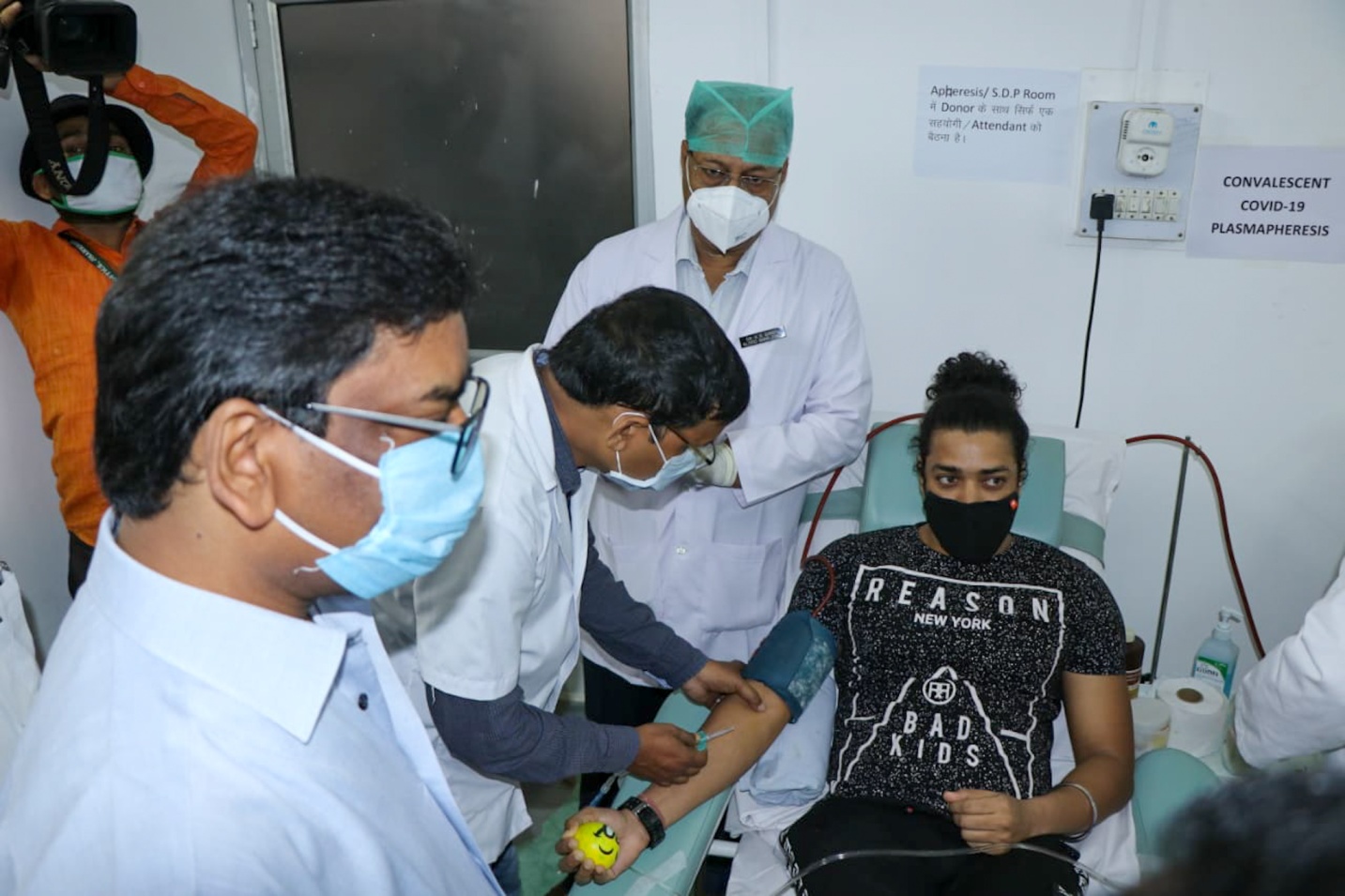 ---
|
Ranchi
|
Published 28.07.20, 07:04 PM
---
Dipu Kumar Singh (29), a fitness trainer and choreographer, was the first Covid survivor to donate plasma at Rajendra Institute of Medical Sciences on Tuesday, saying he was doing so out of a sense of "social responsibility".
"It's just like simple blood donation. Everybody who can, should donate their plasma as it will only help others to get over the virus. For me, plasma donation was a kind of individual social responsibility towards nation building," said Singh, a resident of Kokar, who now lives in Mumbai to pursue a career in dance and as a fitness instructor.
Singh, who was there when chief minister Hemant Soren inaugurated the plasma bank on Tuesday, said he tested positive for Covid-19 on June 3, a week after arriving in Ranchi from Mumbai on May 26.
"Soon after, I got myself tested as a precaution since I was feeling feverish. But my report was inconclusive. I gave my samples again a couple of days later. I tested positive on the morning of June 3 after which I got admitted to the RIMS Covid ward," he told The Telegraph Online.
Singh was cured and discharged from RIMS on June 15.
"When I learnt about plasma therapy at RIMS, I immediately made up my mind to donate plasma," said Singh who worked with the late Saroj Khan for several years before starting his own independent venture three years back in Mumbai.
"I enrolled myself on Monday. After undergoing a few mandatory procedures, I was selected to donate," he said.
According to RIMS sources, besides Singh, three others had enrolled for plasma donation: a RIMS junior resident in the department of neurosurgery, a pathological lab owner and a city businessman.
The head of the RIMS microbiology department, Dr Manoj Kumar, said they were yet to receive any requisition for plasma from the hospital's Covid-19 block. But, he said, it would take some time for them start providing plasma.
Explaining the procedure, he said, "After collection of plasma, we will have to perform its quality control to ascertain if it can be used in others or not. In one sitting, we can draw a maximum 400ml of plasma. After that the donor will only be able to donate after three months. Of the 400ml, we will divide it into two parts after quality control to induce in recipients."
Kumar added that the quality test was to determine the amount of antibodies in the collected plasma. "The quality of plasma will be better only in symptomatic patients who have been cured. A patient must have spent 28 days after his recovery to be able to donate good quality plasma. We are choosing donors on the basis of these (criteria)," he said.