Marandi: Why Ram and NRC?
Marandi said the BJP was unnecessarily creating a dispute over a non-issue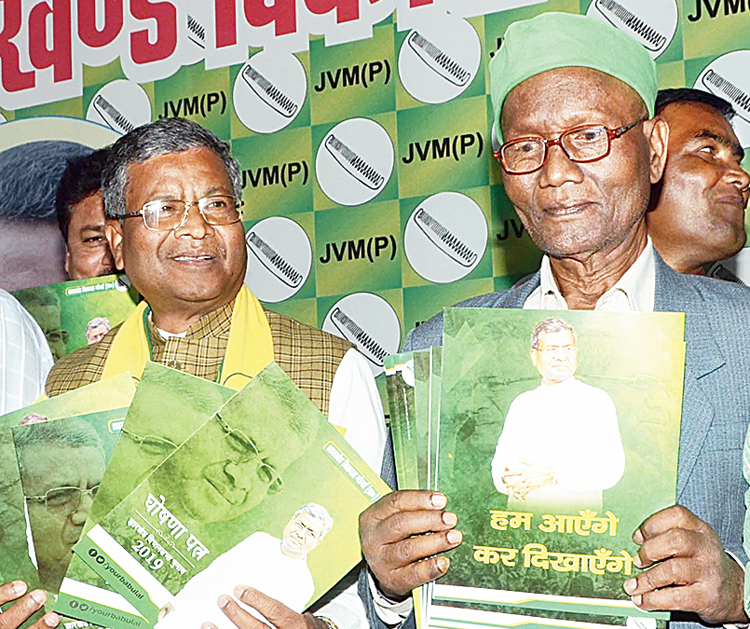 Babulal Marandi (left) releases the party manifesto in Ranchi on Wednesday
Picture by Prashant Mitra
---
Ranchi
|
Published 27.11.19, 06:45 PM
|
---
JVM chief Babulal Marandi on Wednesday objected to the Ram temple and the National Register of Citizens (NRC) being highlighted in the run-up to the Jharkhand Assembly elections and said that the BJP has no right to take credit for those.
He was talking to a section of media after releasing his party manifesto on Wednesday at his party office in Dibdih here.
"The BJP has no right to take any credit in the Ram temple issue as it was settled by the apex court not by the party. A bench of five judges passed the order in the matter and before the judgment was delivered every party had agreed to accept it," Marandi said.
"Though the credit goes to the apex court to settle the matter, but if the BJP takes credit it should share it equally with the Congress which had opened the locks of Ram Janmabhoomi and ensured demolition of the structure," he said, laughing.
On the NRC, Marandi said the BJP is unnecessarily creating a dispute over a non-issue.
"It is the duty of the government to drive out foreigners illegally residing in the country. There is already a law for it. The government should tell how many foreigners illegally settled in the country it has driven out in the last five years and to which country instead of blowing the issue out of proportion," Marandi said.
Asked for comment on a non-tribal (Raghubar Das) becoming the first chief minister to complete a five-year tenure, Marandi laughed and said: "Two myths got broken during five years of Das's government in the state. First, a stable government can develop a state and second a non-tribal chief minister can develop the state properly.
"Despite being majority, the government kept on bluffing. No JPSC examination took place in five years. No industry flourished. Government kept on flying elephants in the name of industrial development," Marandi added.
He said Prime Minister Narendra Modi has also realised the situation in Jharkhand.
"At Palamau, the Prime Minister kept chief minister Das with him but in Gumla Das was missing. The Prime Minister has already realised that Das is a tired and defeated player," Marandi said.