Marandi demands security for yoga teacher who claims DGP ignoring her appeals
BJP leader writes to CM, PM; asks if state govt will own up if anything happens to this girl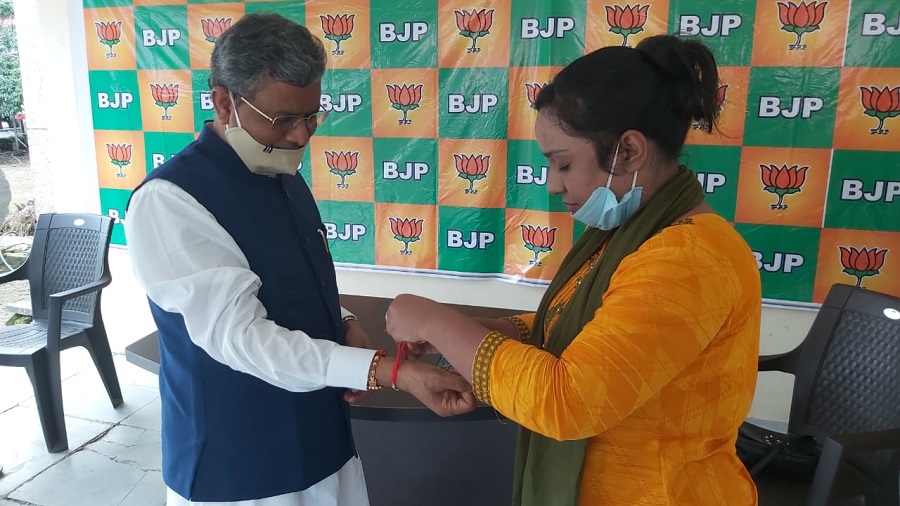 Yoga teacher Rafia Naaz ties a rakhi on BJP leader Babulal Marandi in Ranchi on Monday
Telegraph picture
---
Ranchi
|
Published 03.08.20, 05:38 PM
|
---
A yoga teacher, whose security cover was withdrawn by the state government in March, appeared before the media on Monday along with BJP leader Babulal Marandi, seeking "justice" and "protection from rogue elements" who, she has long alleged, have been harassing her.
"I am not here to demand personal security, but I just want a secure environment to live in," Rafia Naaz said as she wept during the online interaction, adding that she had filed several complaints with the district police but to no avail.
"Cops advise me to stop moving out, not use social media, phone etc to prevent online trolls and harassment," said Rafia, a resident of Doranda in Ranchi.
Rafia, in her mid-20s, said the earlier state government (led by BJP chief minister Raghubar Das) had provided her and her family security in 2017 after sensing the sensitivity of her case.
In March this year, the security cover was withdrawn by the new Hemant Soren-led JMM-Congress-RJD coalition government. Ever since, she alleged that both the state government and DGP MV Rao had been indifferent towards her.
Marandi, the leader of the BJP legislature party, said he had written to chief minister Hemant Soren to demand proper security to her. "Will the state government own up if anything happens to this girl?" he said, adding that he had sent copies to Prime Minister Narendra Modi and Union home minister Amit Shah too.
Citing an audio clip which contained a telephonic conversation, purportedly between Rafia and DGP Rao, Marandi questioned the irresponsible behaviour and insensitive nature of the state's top cop. "One can clearly hear how rudely Rao behaves when this girl calls him up for help. The moment she airs her woes, he says, 'dimag mat kharab karo' and disconnects the phone. Should women expect such behaviour from a top cop? Are women in this state safe?" he said.
Referring to a recent incident of the OC of Barhait police station (Sahebganj) beating up a girl in public, Marandi wondered, "When the state police top brass is so irresponsible, how can one expected lower rung officers to respect common people, especially women?"
Marandi took a dig at the chief minister and said, "Tweeting about women's safety and intolerance towards crimes against them won't make any difference when words don't match the action on the ground."