Loot attempt on busy stretch in Ranchi
'Had we not fought back, they would have killed and looted us,' said the shopkeeper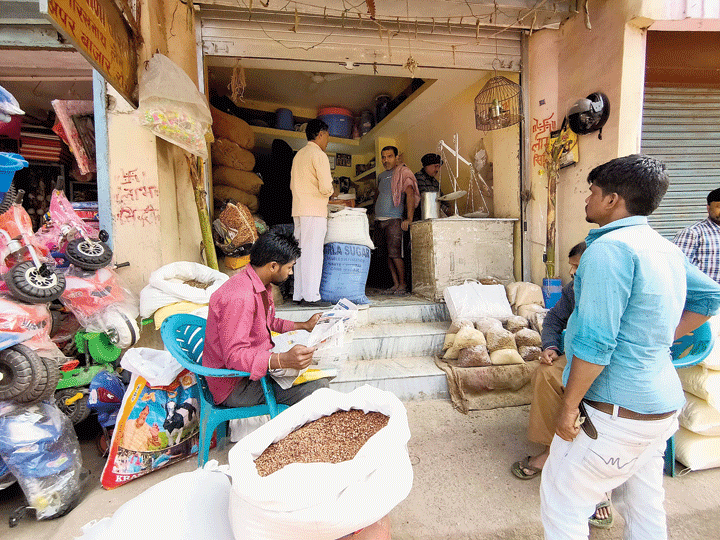 The shop in Upper Bazaar, Ranchi, that was targeted on Wednesday.
Picture by Manob Chowdhary
---
Ranchi
|
Published 14.11.19, 07:00 PM
|
---
Three unidentified men in their 20s tried to loot the owners of a fodder shop at gunpoint in the busy Upper Bazaar area under Kotwali police station on Wednesday night, raising questions about the quality of policing in the capital once again.
Around 10.15pm on Wednesday, three men on a bike stopped outside the shop located in Gorakh Nath lane, barely 100m from the boundary wall of Raj Bhavan.
"Two of the three men entered the shop and asked for tobacco. While I was telling them that we don't sell tobacco, one of the youths put his hand on his waist to take out a pistol. My brother Manoj noticed it and raised an alarm. I immediately caught the youth's hand and sustained an injury in the scuffle that ensued. However, I did not let him fire from the gun," Vinod Yadav, one of the shop owners, said.
As Vinod kept one of the men busy, the other one whipped out another gun and held it to Manoj's temple.
"Fortunately, before he could press the trigger, my brother caught his hand and raised an alarm. Sensing trouble, both of them managed to release themselves and escaped. One ran towards Harmu Road while another hopped onto the bike and sped towards Ratu Road," Vinod added.
Vinod, who has been running the with his brother for last nine years, said it was for the first time such an incident took place.
"Had we not fought back, they would have killed and looted us," Vinod said.
Officer-in-charge of Kotwali police station, Brij Kumar, said it was a minor incident. "Nothing was looted from their shop. The injury is minor as well. We are still waiting for a written complaint from victim," Kumar said, adding that those involved in the incident will be nabbed.
Basant Prasad, who runs a shop of plastic items beside Yadavs' shop, said: "Police presence in the locality is perfunctory at best. Nothing has been done to put a check on crimes in the area. Fifteen days ago, thieves had made tried to break the locks of as many as seven shops on the ground floor of Phula Bhavan," Prasad said.
On November 5, he said, two men had looted cash from a betel shop on Banshidhar Adukia Road in Upper Bazaar. "No one has been arrested in this connection," Prasad said.
On October 14, brothers Rohit and Rahul Kheriwal where shot at and injured at their jewellery shop at Lalpur Chowk under Lalpur police station. The victims are still under treatment at Apollo Hospital in New Delhi. Police have not been able to make any headway in the case despite mounting pressure from the business community.