Lonely days of Tata zoo lady ostrich to end
Male friend to come from Ranchi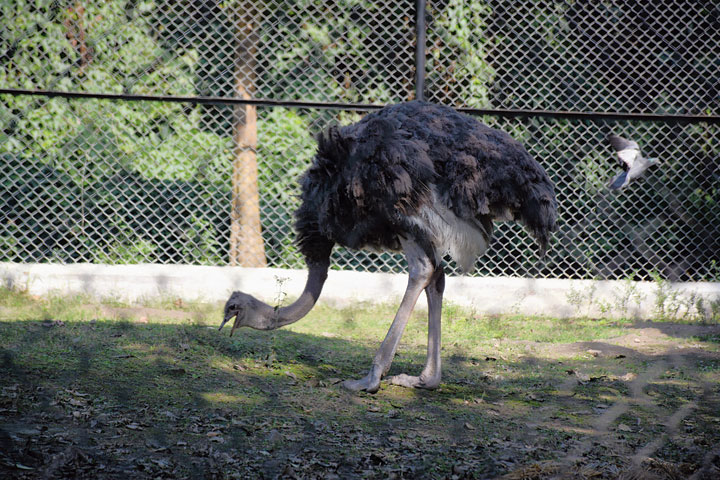 The ostrich at Tata Steel Zoological Park in Bistupur, Jamshedpur, on Saturday.
Picture by Bhola Prasad
---
Jamshedpur
|
Published 25.01.20, 06:41 PM
|
---
The lone female ostrich at Tata Steel Zoological Park may no longer be lonely.
The 18-year-old ostrich who is living alone in captivity for over a decade now can hope for a dapper male friend from a nearby city.
Bhagwan Birsa Biological Park in Ranchi has told Tata zoo authorities that they would provide a male ostrich on animal-exchange basis.
Tata zoo director Bipul Chakravarty said talks with the Ranchi zoo were on positive lines and they were optimistic of getting a male ostrich. "Talks with Ranchi zoo have been positive. We will exchange mandrills in return for the male ostrich," he said.
The zoo has 25 male and female mandrills at its disposal.
Though pairing of animals in captivity is mandatory according to the Central Zoo Authority (CZA) guidelines, Tata Steel's search for a male ostrich was proving futile all these years.
The authorities had contacted several zoos across the country but things made no progress till Ranchi zoo chipped in with the much-needed help.
The female ostrich, which was procured from a breeding centre in Chennai in 2009, stays at the enclosure with two emus. But she remains aloof from the emus and spends time in solitude. The ostrich is very shy and looks far from cheerful. Ostriches live up to around 75 years of age.
The Tata zoo one is still in her breeding age.
Apart from the ostrich, the zoo's efforts to find a partner for the lone male hippopotamus has made no progress.
He will probably spend the rest of his life in solitude as Tata zoo has shelved plans to find a partner for the over-25-year-old hippo who was procured from National Biological Park, Delhi, in 1997.
Chakravarty said the hippo had spent a long time at the zoo and might not accept a partner now. "Compatibility aspects do come into play after so many years," he said.
A male capuchin monkey met a lonely end last year at Tata zoo. Efforts to find him a partner had come a cropper.