Lionesses wait for the stork
Chances of cubs slim, says Tata zoo vet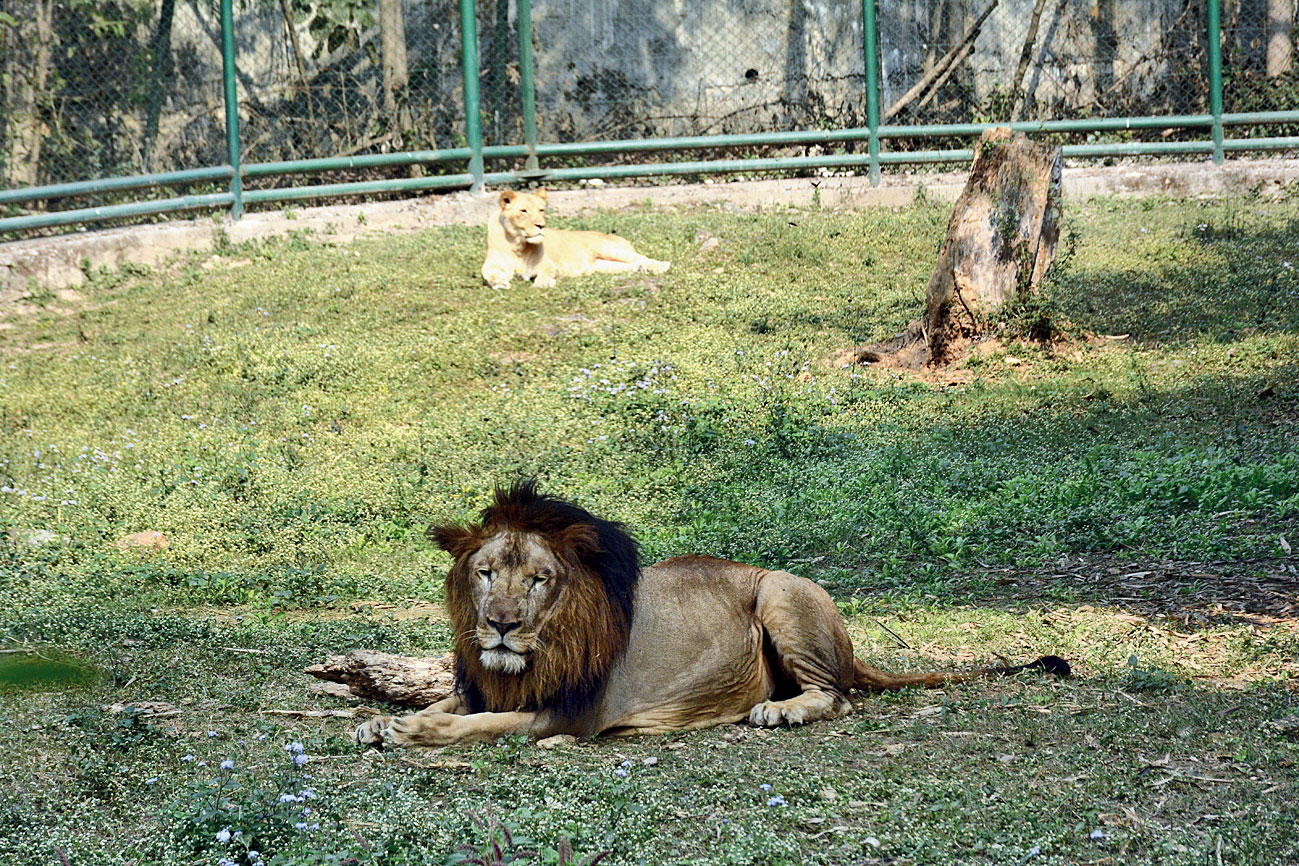 ---
---
The biological clock is ticking at Tata Steel Zoological Park. Where? At the elite enclosure for pure-bred South African lions.
Lionesses Zoya, Kimu and Salya have not yet conceived even though the trio have mated with their male counterparts Jumbo and Ed several times .
Zoo authorities are keeping their fingers crossed, for the birth of a pure-bred African in captivity would add a big royal feather in Tata zoo's cap.
The quintet are very close to each other.
"But the lionesses have so far not showed any signs of pregnancy," said zoo vet Manik Palit. "Zoya, Salya and Kimu should have conceived and delivered cubs by now. I am not in a position to say if they would ever conceive," Palit, who is an alumnus of Patna Veterinary College with a first class with distinction, added.
He added the lions, who were brought to the zoo from the National Zoological Garden in Pretoria in June 2012, had been raised in a farm.
"We are keeping our fingers crossed and also watching the behaviour of the female lions. The signs (of pregnancy) are not very positive to say the least," Palit said.
Usually, lionesses mature when they are three years old and lions when they are three-and-a-half. The gestation period of a pregnant lioness is between 100 and 120 days.
Normally, female lionesses are ready to reproduce at three. Zoya, Salya and Jumbo are nearly eight years old now.
Zoya had conceived too early in 2014 after she mated with Jumbo but had delivered stillborn cubs back then.
"Zoya had conceived pre-maturely. I had to perform a C-section on her at this zoo hospital," the highly experienced vet recollected.
Currently, the lions are released into the enclosure on rotation every day.
However, a zookeeper said Zoya, Salya and Kimu did not seem cheerful anymore.
"Playing and chasing each other, which they loved, have become a thing of the past. They just bask themselves in the winter sun. They rarely roar. Cubs could have given them reasons to be happy," he added.
Palit said they were hoping the lionesses would conceive and add to the numbers.
"Look, Zoya, Salya and Kimu are still within their breeding age but to say whether they would ultimately conceive is a very difficult task. We have no other option than to hope for the best," he said.
Before these five, Mohini had been the resident lioness of Tata zoo. She died in 2010.