Lethal blast makes CRPF sanitise routes
A jawan died after a pressure-triggered landmine exploded at around 10am in Dundru forest area in Lohardaga district, around 75km from Ranchi, on Tuesday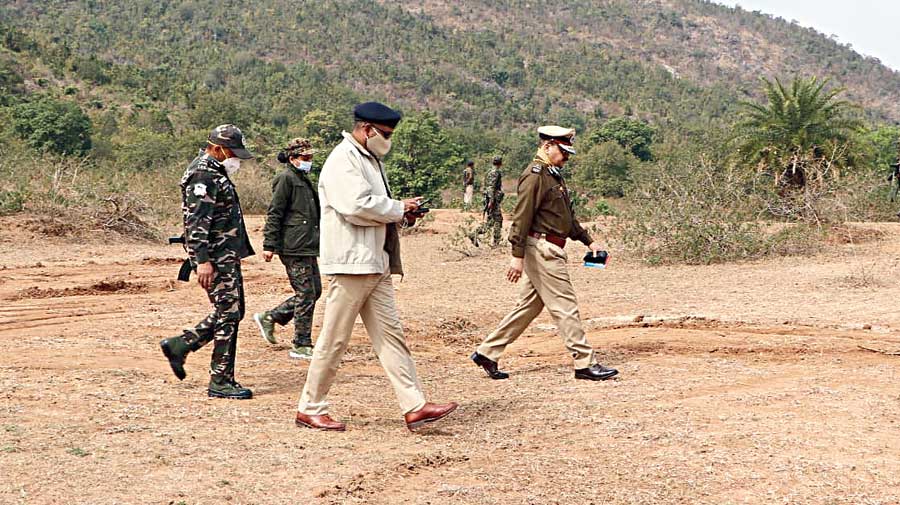 Jharkhand director-general of police Navin Sinha along with other senior police officers at Serendag in Lohardaga on Wednesday.
Manob Chowdhury
---
Jamshedpur
|
Published 18.02.21, 01:16 AM
|
---
A day after a Special Action Team jawan of Jharkhand police died in a blast in rebel-hit Lohardaga district, the director-general of police said trained personnel from the Central Reserve Police Force will be sanitising frequently used routes and nearby areas for pressure-sensitive improvised explosive devices before a combing operation.
The jawan identified as Duleshwar Prass, 29, died after a pressure-triggered landmine exploded at around 10am in Dundru forest area under Serendag police station of Lohardaga district, around 75km from state capital Ranchi, on Tuesday.
Jharkhand DGP Niraj Sinha on Wednesday termed the incident as a "cowardly act" by the rebels. "It is a cowardly act on the part of the rebels to plant pressure IEDs along the roads on hilly terrains as it could not only lead to casualties for forces but also civilians. It shows their desperation level. We have trained CRPF bomb disposal experts whose services will be used to sanitise the roads and the nearby areas frequently used by forces and civilians on hilly terrains along with the latest bomb disposal equipment before movement for combing operations to avoid casualty," said Sinha.
The DGP had on Tuesday rejected claims that standard operating procedures were not followed during the combing operation which led to the casualty.
"It was a joint operation and all the SOPs were being followed. The bomb disposal squad was moving ahead of the team to defuse any such bombs," he had said.
The DGP along with additional director-general (operations) Navin Kumar and inspector-general (operations) Saket Kumar on Wednesday visited the Maoist-hit Serendag police station area and the site of the blast.
For nearly two hours, the senior police officials and Lohardaga superintendent of police Priyanka Meena discussed the strategy to flush out rebels and plug their escape routes through bordering districts during future combing operations. The DGP further said that Tuesday's incident will only motivate the forces to strike against the Maoists with more earnestness. "We are going to organise combing operations with more aggression and intent after the incident. We want them to surrender or perish and a befitting reply would be given to the Maoists soon. We have discussed with the police forces of neighbouring Gumla district too and a joint strategy has been made for combing operations against rebels with CRPF units," added Sinha.
The Special Action Team was set up in 2013 in Jharkhand to counter Maoist insurgency.
Prass was part of a joint combing operation by Gumla and Lohardaga police and CRPF's 158 Battalion. While conducting the search operation, a pressure-triggered landmine exploded on the side of the road causing grievous injuries to both his legs. Prass was airlifted to a private hospital in Ranchi where he died during treatment.
His body was laid to rest at his native village in Dumri area of Gumla district.