Laser fountain hangs fire
Installed 6 months ago at a cost of Rs 3.75 crore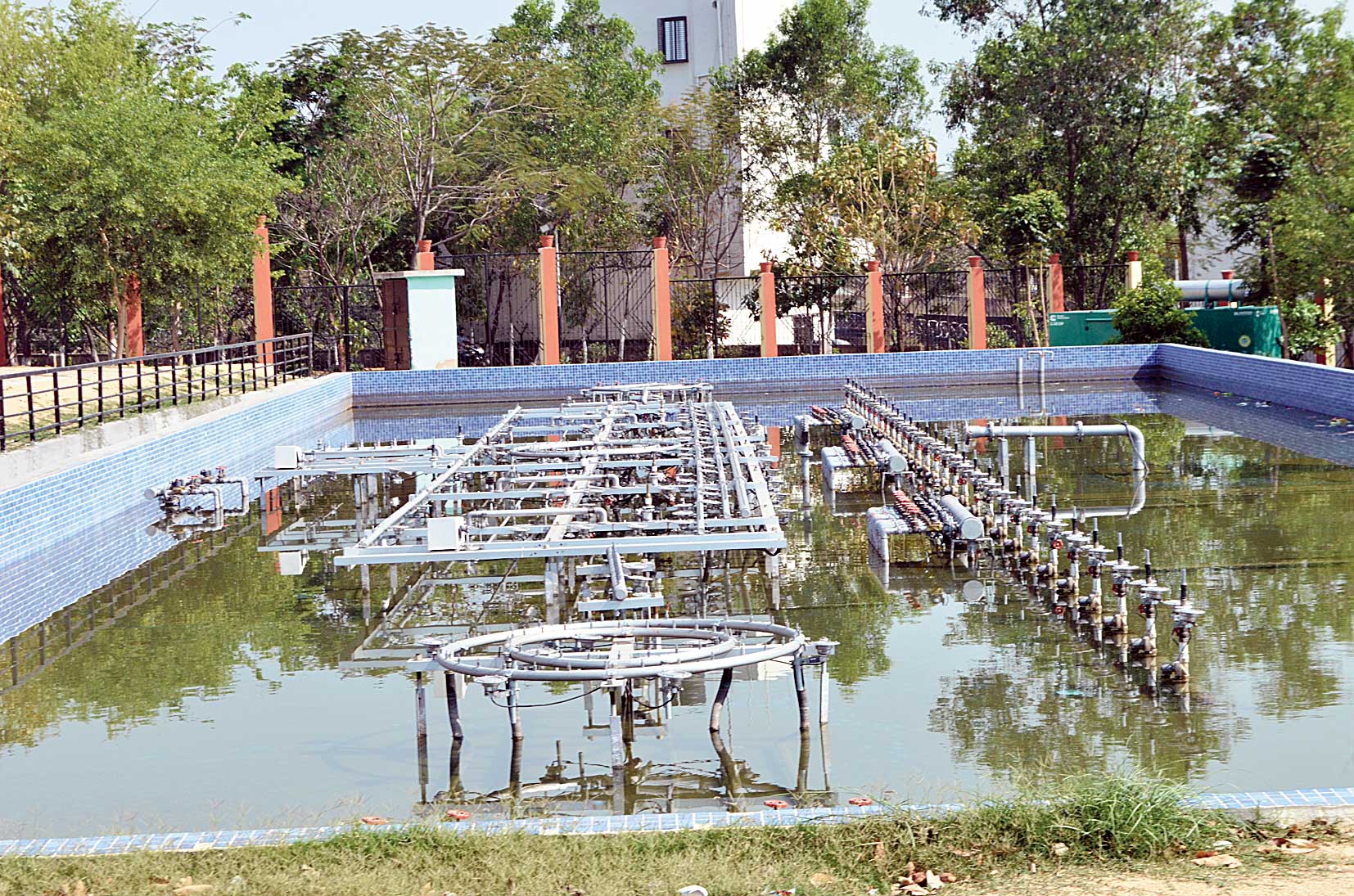 The laser fountain at Birsa Munda Park in Dhanbad.
Picture by Shabbir Hussain
---
Dhanbad
|
Published 30.03.19, 07:05 PM
|
---
The much hyped laser fountain at Birsa Munda Park at Baramuri, which was installed at a cost of Rs 3.75 crore six months ago, is yet to become operational in the absence of power connection.
This apart, the proposed launch of a boating facility in the newly developed two-acre pond near the fountain is also hanging fire owing to the lack of sufficient water.
The laser fountain, which had been installed in a 42.8x15 metres area near the boating centre by Calcutta-based Spring World, was a dream project of Dhanbad mayor Chandrashekhar Agarwal.
Dhanbad Municipal Corporation had provided funds for it.
"We have applied for electricity connection much before the fountain was built. The new connection is likely to the given soon after the installation of a separate transformer in the area very soon," park manager Niwash Kumbhkar told The Telegraph.
He said the laser fountain was made operational occasionally during the visits of VIPs with the help of a 275kv generator, but it consumed around 20 litres of diesel per hour.
"Therefore, using the generator to operate the fountain daily is not an economically viable option," Kumbhkar added.
The fountain was inaugurated online by state urban development minister C.P. Singh during his visit to the district on February 22 this year during which he had launched and laid the foundation stones for 25 development schemes worth Rs 1,502.72 crore.
On the delay in the launch of boating facility in the pond constructed under the Mahatma Gandhi National Rural Employment Guarantee Scheme two years ago, Kumbhkar said an additional deep boring facility would have to be developed in the park to ensure continuous presence of water.
"The existing deep boring will not be sufficient to fill up the pond besides meeting the daily requirement of the park like watering a large number of plants," he added.
He said Coal Field Contract, the agency looking after the management of the park, was working to ensure water supply in the pond and the boating facility was likely to be developed soon.
Established in 2009 during the tenure of former DC Ajay Kumar Singh, the 24-acre park is equipped with a toy train, an illusion ride, dragon train, triple slide, seesaw and swings.
The park is open to visitors from 9am to 7pm and the entry ticket for an adult costs Rs 15 from Monday to Friday and Rs 20 on weekends. For children, the ticket costs Rs 5 on weekdays and Rs 10 on weekends.