Jusco shows plastic road map to four cities
Capital, Chas, Giridih & Jamtara learn to build eco-friendly stretches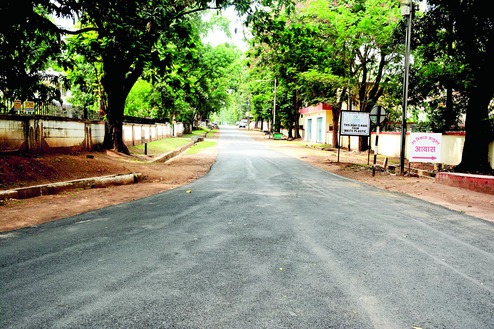 ---
Jamshedpur
|
Published 12.06.18, 12:00 AM
|
---
Jamshedpur: Sharing, they say, is caring. A pioneer in making eco-friendly roads from plastic wastes in Jamshedpur in 2011-12, Tata Steel utilities wing Jusco has shared its expertise with Ranchi, Chas, Giridih and Jamtara too.
Municipal corporations of Ranchi, Chas and Giridih, and Jamtara Nagar Panchayat have gained from Jusco's know-how to recycle plastic wastes by mixing them with bitumen to make cheaper and better roads.
Jusco senior manager Gaurav Anand said city managers and senior civic officials from Ranchi, Chas, Giridih and Jamtara visited Jamshedpur in 2017 to learn this technology and replicate them at their respective towns.
In all, over 7.5km of roads have been made with plastic in these four places. In Ranchi, a nearly 1km stretch, with 500m each in Dhurwa and Morabadi, was made. Over 3km of roads were built in Chas and Jamtara each and 500m stretch in Giridih using plastic waste.
"Recycling plastic to make roads makes everyone, from environmentalists to town planners and commuters, happy," smiled Anand. "It's an unbeatable combination of stronger roads at a cheaper cost that helps the planet. Plastic that would otherwise clog landfill sites makes roads."
A Jusco official in road construction division spelt out cash benefits. "Around 10 per cent of bitumen can be substituted by plastic. One tonne of bitumen costs Rs 50,000 whereas the same volume of waste plastic comes for Rs 10,000. For every kilometre of a 4m wide road, using plastic wastes saves you one tonne of bitumen, or Rs 40,000 net," he said.
Plastic-bitumen roads are water-resistant and averse to potholes, he added. "In fact, its longevity is twice that of bitumen-only roads. It is also maintenance-free for the first five years," he said.
Asked, RMC chief engineer Ajit L. Lakra said Jusco helped them foray into this unknown yet exciting sector. "Our additional municipal commissioner Divyanshu Jha approached Jusco, which even gave us plastic waste. We so far built stretches in Dhurwa and in Harihar Singh Road in Morabadi and will use more of this technology to build roads."
Chas Municipal Corporation executive officer Jagadish Prasad Yadav, who was Mango Notified Area Committee special officer last year, said he wanted to replicate plastic roads in Chas. "I sent our engineering team to Jamshedpur to study the process. We got some plastic wastes from Jusco and built a vital stretch connecting Chas subdivisional office using this technology," Yadav said.
"City managers from Dhanbad and others are in touch with us. We want more civic bodies to replicate these roads," said Jusco spokesperson Rajesh Rajan.
In Jamshedpur, Circuit House, Jubilee Park, Marine Drive, Sonari and Subernarekha Link Road stretches have plastic wastes.