Junior doctors at Nirmal Mahto threaten strike over pending stipend
Dhanbad hospital blames state board for delay, says funds weren't disbursed on time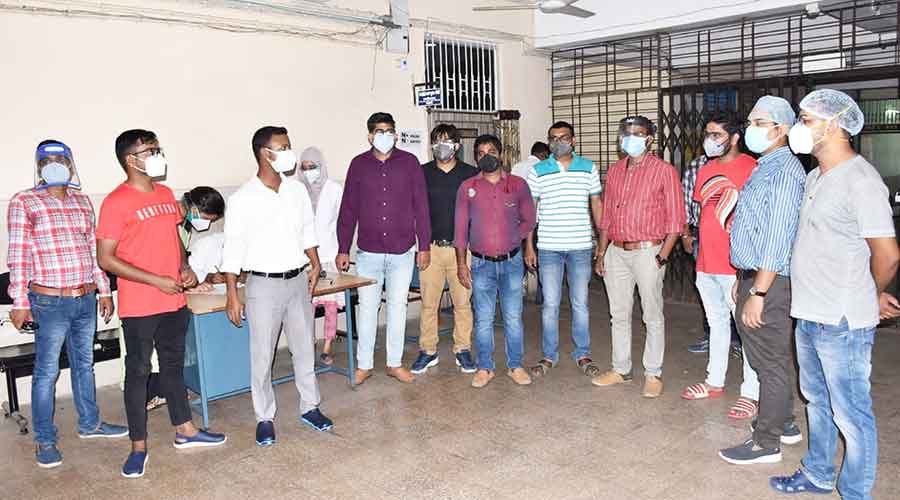 Junior doctors gathered outside the superintendent's office at Sahid Nirmal Mahto Memorial Medical College on Wednesday.
Gautam Dey
---
Dhanbad
|
Published 19.05.21, 07:10 PM
|
---
Around 137 junior doctors, 45 interns and 92 junior residents of Sahid Nirmal Mahto Memorial Medical College have threatened to go on strike in two days, after being deprived of two month stipends.
A delegation of around 15 junior doctors met the superintendent of the hospital, Dr Arun Kumar Chaudhary, demanding immediate release of their stipends.
The doctors during the meeting with the superintendent also raised the issue of lack of safety kits for them during work at emergency service.
The protesting doctors have alleged discrimination against them with regard to non-payment of incentives as senior doctors and other medical staff engaged in Covid treatment, are receiving stipends.
"We are yet to receive the stipend of March, April till date despite the fact that like everybody, doctors are facing financial constraints during the pandemic when the family of one and all is affected," said one of the protesting doctors to The Telegraph Online on Wednesday.
He further pointed out that the stipend of junior doctors at SNMMCH at Rs 41,000 per month is much lesser compared with other junior doctors posted at RIMS (Rs 75,000 per month) and MGM Jamshedpur at Rs 60,000 per month.
"While the doctors in other states are getting incentives and extra salaries we are even deprived of minimal stipends" said a protester.
Dr Arun Kumar Chaudhary said, "The stipend payment to junior doctors could not be made due to non arrival of allotment from the state health, medical education and family welfare department but we will send the reminder and the payment is likely to be made after the arrival of allotment within a day or two."
"We have been told by the superintendent that the stipend payment could not be made due to non arrival of funds and he assured us payment of the same within two days failing which we will be compelled to go on strike" said another junior doctor who took part in the meeting.
"We have also demanded personal safety kits for emergency duty as it is very difficult to distinguish between Covid and non-Covid patients during emergencies like accidents and thus the immediate priority is to begin treatment and there is always a chance of infection due to exposure to a Covid patient, which could have been avoided with the use of safety kits," said a junior doctor requesting anonymity.