Jharkhand will use Animal Intrusion Detection and Repellent System (Aniders) devices on a pilot basis in Chaibasa south forest division from October to check the growing human casualties in man-elephant conflict.
The state has the highest human casualties in man-elephant conflict and is incurring huge crop losses because of frequent elephant intrusions.
"The wildlife management plan (mandated for mining firms) of Tata Steel (which has iron ore mining lease in Noamundi under Chaibasa forest division) was approved by the forest department last month and installation of Aniders devices are part of this plan. We have already held talks with a Ghaziabad-based firm, Kyari, who are pioneers in the installation of this device, for installing it in October. In the first phase we have selected 18 worst affected villages falling in the elephant corridor and after observing its success we would replicate it in other villages of the forest division," said divisional forest officer (DFO), Chaibasa, Satyam Kumar.
Significantly, the raging conflict between man and elephants in Jharkhand has killed 1,405 people and over 80 elephants from 2000 (since creation of the state) to June 2020. According to documents available with the forest department, on an average there are two incidents of man-elephant conflict daily in Jharkhand, killing 74 people annually and injuring at least 130.
"Due to an increase in mining and forest degradation, the elephant habitat has been disturbed, forcing them to change their diet. Bamboo plant is a staple for elephants, but it has been depleted and now they are attracted towards paddy and maize. An elephant calf that sees its mother feeding on grains does the same later. This apart human habitats have developed along the elephant corridor which has also increased man-elephant conflict," said wildlife biologist D.S. Srivastava, while terming the state's approach to elephant conservation as half-hearted.
From 2016 to January 2020, there have been 30,341 instances of damage to crops, houses, grains and cattle in Jharkhand by wild animals and the government has paid Rs 14.25 crore in compensation.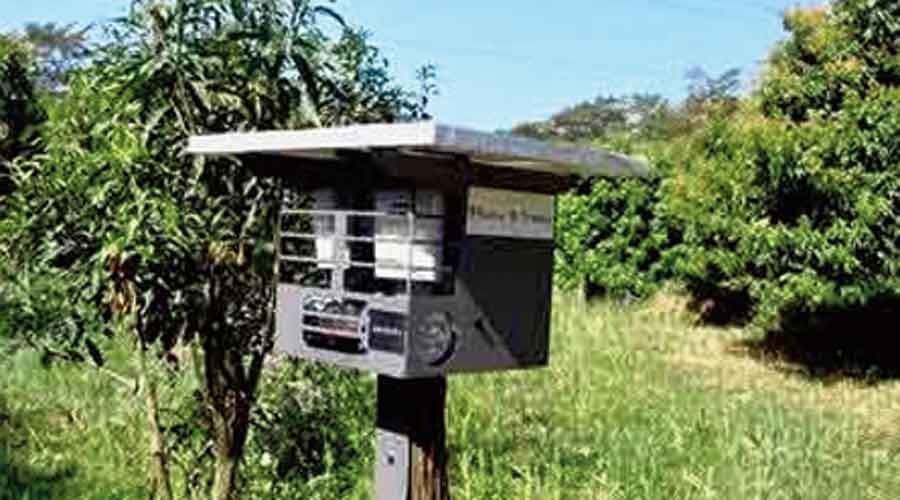 An Aniders device at a forest in Uttarkhand Telegraph picture
Aniders is a device that works like a mechanised scarecrow.
"Existing methods like electric fences are no longer efficient and lead to animal casualties. The Aniders device works like a mechanised scarecrow. It detects the animals that intrude the field and scares them away before they can cause any damage to crops. The device uses the combination of active and passive infrared sensors to detect the animal movement and then uses a light and alarm system to repel them. Features such as solar-powered, automatic on/off, multiple sound and light patterns and real-time communication through GSM networks makes it an effective and a greener technology. Results of testing done by the World Wide Fund for Nature in India has found the device successfully repelled animals 86 per cent of the time which in turn resulted in a 60 per cent increase in crop yield," said Shirish Ojha of Kyari.
The Chaibasa DFO said that the total cost for installation of Aniders would be around Rs 47 lakh.
"Each village will have six active infrared sensors and six passive infrared sensors. The total cost for all the 18 villages would be around Rs 47 lakh. The expense would be borne by Tata Steel. The firm would be maintaining the device for seven years. Each of the devices would also have in-built cameras which would help in maintaining elephant counts," said Satyam Kumar.
The elephant corridor stretches from Similipal wildlife sanctuary (Mayurbhanj, Odisha) to Dalma sanctuary in (Jharkhand-Bengal) with large patches of Singhbhum region comprising Saranda, Chaibasa and parts of Seraikela-Kharsawan falling in between.