JRD birth anniversary celebrations go online in steel city
Interactions with pilots, quiz mark the day for students and Tata employees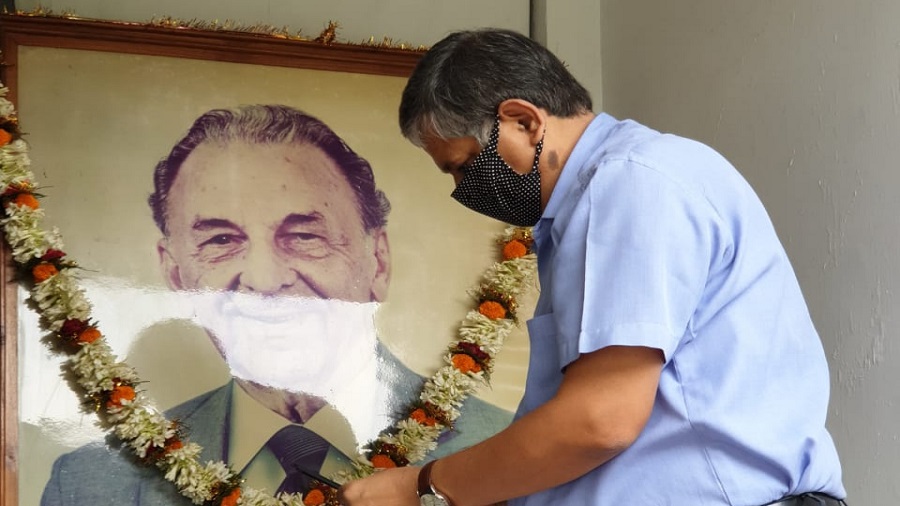 ---
---
Bharat Ratna JRD Tata's birth anniversary was celebrated online on Wednesday, appropriate for the times, but strikingly different from the aircraft exhibitions and static displays that mark the red-letter day in the steel city to celebrate India's pioneering aviator and industrialist.
Among the highlights of the 116th birth anniversary celebrations of the former chairman of the Tata Group were Talking Wings, an interactive session organised with the Tata Steel aviation department, and a virtual inauguration of the West Bokaro Division Water Treatment Plant.
Pilots, aircraft maintenance engineers and other professionals from the aviation department interacted with school children on Cisco Webex, an audio-video interaction platform. As a physical exhibition of aircraft could not be organised, the hour-long session had pilots and engineers sharing their experiences with students who got to know about the demands of, and opportunities in, the industry.

While pilots Abhijit Chowdhury and Harpreet Bhains motivated the children, aircraft maintenance engineer Arijit Bose touched upon the technicalities of the profession in terms of courses, pre-requisites and the role and responsibilities of a maintenance engineer.

Tata Steel also gifted a 150 kilo litre water treatment plant at its West Bokaro raw materials division. The filtration plant will cater to a population of 4,000. "Amidst Covid-19, being healthy is the highest priority, and I am happy that Tata Steel West Bokaro will have access to clean drinking water, " said Tata Steel vice president (corporate services) Chakanya Chaudhary.

This apart, a virtual walkathon was organised by the Tata Steel sports department. Tata Steel's former vice president of human resources Niroop Mahanty conducted a session titled, "JRD and I", a programme for employees, to share his personal experiences.

Among the other events were a JRD inter division quiz on the theme, "How Well do I Know JRD", and a virtual adventure quest by administrative departments.