Johar Agri Mart a boon for Jharkhand women farmers
It not only helps the peasants become self-reliant but provides advanced farming facilities to them: Official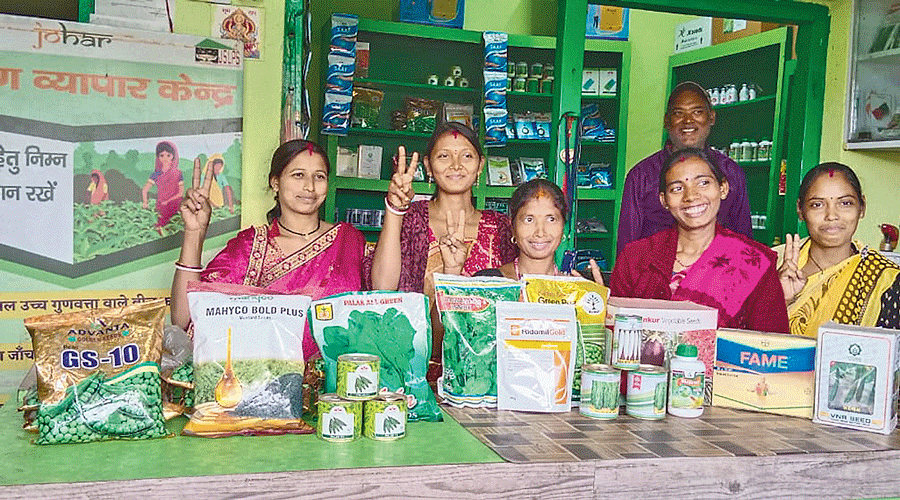 Women farmers producer groups at a Johar Agri Mart centre in Jharkhand.
Manob Chowdhury
---
Jamshedpur
|
Published 16.05.22, 01:06 AM
|
---
The Johar Agri Mart, under The Jharkhand Opportunities for Harnessing Rural Growth (JOHAR) initiative, is making women farmers self-reliant and helping them with technical advice and quality goods at fair prices under one roof.
 "Johar Agri Mart not only helps women farmers become self-reliant but provides advanced farming facilities to them. Under this initiative, work is being done to solve the problems faced by the women farmers and provide them with agriculture related tools and supplies. As of now 25 Johar Agri Marts are operational across 24 districts of the state," said an official in Jharkhand State Livelihood Promotion Society (JSLPS).
Women farmers associated with the producer groups as well as the common farmers are provided with agriculture-based supplies and services at reasonable prices.
With this initiative the farmers are receiving not only agriculture related supplies such as high quality fertilisers, seeds, and pesticides at reasonable prices but are also being aided with soil testing, weather information, agriculture machinery and other equipment for advanced farming.
 "With Johar Agri Mart, farmers now have to travel only a short distance to purchase supplies, and are also getting high quality fertilisers, seeds, pesticides, DAP, urea, at 10 per cent less price than the local market. Its success can be gauged with the business of Rs 12 crore it has achieved in a span of a year," the official said.
Over 35,000 women farmers are being benefited through the Johar Agri Mart initiative.
Under the Johar Agri Mart, farmers are being connected with the technical consultants through WhatsApp groups. Through these groups, farmers are provided with solutions daily between 10.30am and 5pm to all their queries and problems. Through the Whatsapp group local Aajeevika Krishak Mitras(AKM) and farmers receive important suggestions, and solutions.
Gayatri Devi, of Ranchi's Ranichacho village under Chanho Block has been practicing advanced farming along with learning new techniques of farming with the help of Johar Agri Mart.
"By joining the Johar Agri Mart through the producer group, we are able to witness an improvement in quality and yield of crops by getting to know the importance of spraying the right insecticide in the right amount," said Gayatri.
Gayatri now grows vegetables throughout the year, mainly cauliflower. Due to the operation of Agri Mart in the area, they are getting good quality seeds, fertilisers and other items, as a result, their produce is also getting good prices in the local market and also taken to other neighbouring states.
Jharkhand rural development secretary Manish Ranjan stated that through the medium of Agri Marts under the Johar Project, women belonging to the producer groups' benefit substantially.
 "Availability of agriculture based inputs is aiding in the increase of production. As for the coming Kharif season, a business target of 15 crores has been set through the Agri Marts," said Manish Ranjan.
 "Johar AgriMart is an effort to make women farmers self-reliant and also help farmers with all information and equipment at one-stop centres. We would be pushing for its growth," said Suraj Kumar, chief executive officer JSLPS.