Jharkhand yet to begin annual food tests
With flood of Diwali mithai round the corner, we have to trust our guts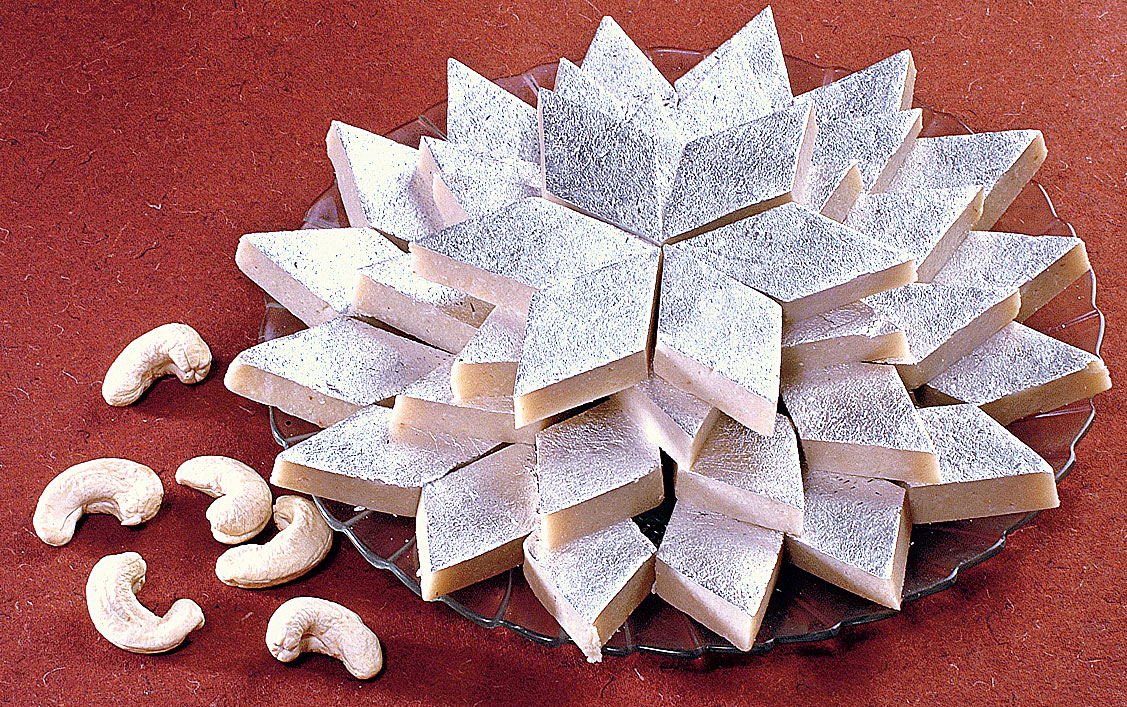 Kaju Barfi
Telegraph picture
---
Jamshedpur
|
Published 25.10.18, 06:38 PM
|
---
Diwali is barely a fortnight away, but East Singhbhum and most other districts are yet to begin sampling of sweets and other festive nibbles to curb adulteration.
This effectively means that people will literally have their guts to trust when bingeing on mithai because even if the annual inspection routine kicks off this week, the reports will at best arrive a few days after the festivities end.
The standard testing time taken by the state food lab in Namkum, Ranchi, is 14 working days. Hence, the report on samples collected before Durga Puja in this city hasn't yet reached Dhalbhum SDO, the officer designated for implementation of the Food Safety and Standards Act, 2006.
SDO Chandan Kumar said a team had inspected some mithai shops in Sakchi and Mango areas of the steel city, where there are a total 200, on October 11 and 12. Samples of butter, paneer, khoa and curd, among others, were collected but, he conceded, that the report was pending.
"A team will soon visit sweet shops to check adulteration in the run-up to Diwali," SDO Kumar promised.
According to National Referral Centre for Lead Poisoning Prevention in India, cheap artificial colours used in sweets are a major health hazard.
Metanil yellow, a lead-based dye, is used to give besan, laddoo or biryani their inviting colour instead of permitted tartrazine, which is more expensive. Such non-permitted colours are harmful for the central nervous system if consumed regularly. Sudan III, another non-permitted dye used in gulab jamun, causes skin irritations. Muriatic acid in paneer and formalin in milk to increase its viscosity are again toxic for the central nervous system.
STAY SAFE THIS FESTIVE SEASON
Simples tests at home that can be done to beat adulteration

Khoya/Paneer: Boil a small sample in water, cool it and add a few drops of iodine solution. A blue colour indicates presence of harmful starch
Vark: The silver film on sweets is supposed to be 99.9 per cent pure. If it is adulterated with aluminium, it will roll into a ball when rubbed between fingers instead of just disintegrating. Also, adulterated silver foil will not spread out smoothly and tend to break

Ghee: Add a pinch of sugar and some hydrochloric acid. If the ghee turns crimson, it is adulterated
Chocolates: Simply add water. If the chocolate becomes grainy and breaks, it is substandard
Most mithai shops, in order to rake in maximum profits, often use these non-permitted dyes and chemicals, starch and aluminium-mixed vark (instead of edible pure silver foil) that can lead to severe gastrointestinal disorders.
East Singhbhum food inspector Dr Gulab Lakra admitted that chemical analysis of samples take no less than a fortnight. "The report of the earlier samples is pending because Durga Puja holidays shortened the number of lab working days. We expect the report in a week," he said.
Dr Lakra fumbled for an answer when asked how it was prudent to call out shops on adulteration after the festival ended. "I admit that ideally samples should be collected a month in advance so that the report can be made public before festivals. But then, there are challenges such as manpower crunch and protocol before raids," he said after a while.
Dhanbad SDO Raj Maheshwaram said they had carried sampling at 10 restaurants and sweet shops before Durga Puja, but were yet to receive the results. "We will carry out fresh sampling from tomorrow (Friday) and the same will continue till Diwali (on November 7)."
State health officials were found equally wanting when questioned on the delayed adulteration survey every year.
"We are going to ask all districts to carry out sampling of food before Diwali. We may deploy our mobile food testing lab in Ranchi to make up for the delay," said Chandra Kishore Oraon, additional secretary (health) and joint food safety commissioner, deflecting the real issue.
Food lab analyst Chaturbhuj Meena in Namkum expressed helplessness. "Fourteen days is the minimum time needed to test any sample. We have to follow norms set by FSSAI (Food Safety and Standards Authority of India) and they are rigorous," he said.
Additional reporting by Praduman Choubey