Jharkhand wins 5 medals on final day of national archery meet
Top 16 rank holders in recurve and compound categories will be picked from the championship for the final trials at steel city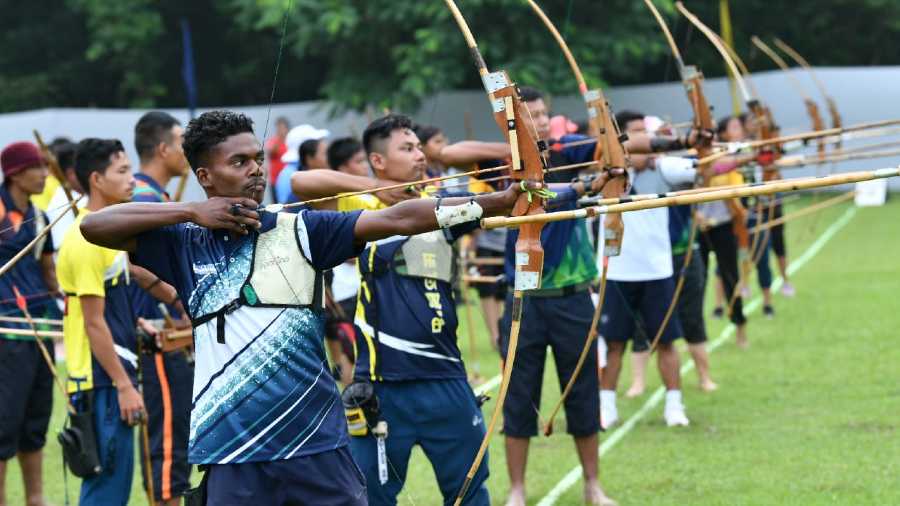 Archers in shooting posture during the senior national archery championship in Jamshedpur on Sunday.
Bhola Prasad
---
Jamshedpur
|
Published 03.10.21, 08:43 PM
|
---
Jharkhand finished with 5 medals - 2 gold and 3 silver - on the concluding day of Indian Round (shooting with traditional bows and arrows) in the 40th NTPC Senior National Archery Championship at JRD Tata Sports Complex on Sunday.
The pair of Goldi Mishra and Ritu Kumari won gold in mixed team event, edging out Maharashtra's Natasha Abhiman Dumne and All India Petroleum Sports Control Board's (AIPSCB) Huidrom rajpriyari and P Heruba Singh.
Jharkhand's quartet of Ritu kumari, Asrita Biruily, Anku Kumari and Dipti Bodra claimed silver in the women's team event as Manipur's Moirangthem Baby Devi, Wangkhem Malesori Devi, Okram Naobi Chanu and Longjam Tomthinnganbi finished on the top. Maharshtra's Natasha Abhiman Dumne, Ojasvi Uday Salve, Tejasweeni Rajendra Shinde and Sakshi Bandu Tathe settled for the bronze.
Jharkhand's Anku Kumari picked the second silver in the women's individual event even as Prabin Boro pocketed the gold. Okran Naobi hanu of Manipur managed a bronze. Asrita Biruily had bagged a gold in the women's 50 m distance while Goldi Mishra had won silver in the men's 30 m distance on the opening day on Saturday, taking Jharkhand's medal's tally to 5. 
Manipur finished with 8 medals 1 gold, as many silver and 6 bronze while AIPSCB won 6 medals - 2 gold, as many silver and bronze.
The compound round event will be held on October 5 and 6 and will be followed by Recurve round (Olympic) on October 8 and 9.
Tata Steel will celebrate the silver jubilee of the Tata Archery Academy on Monday. The elite cradle was set up to encourage the indigenous talent of local youth. Since 1996, the cradle has successfully nurtured and trained talented youngsters to contribute to the greater glory of the country.
The Senior National is of immense importance as the top 16 rank holders in recurve (men and women) and compound (men and women) categories will be picked from the championship for the final trials to be held on October 10 and 11 at Jamshedpur. This will be the basis of the Indian team's selection for Asian Archery Championship to be held in Dhaka.