Village without Muslims observes Muharram
Nawada in Giridih district is symbolic of the syncretic culture upholding the liberal values of the nation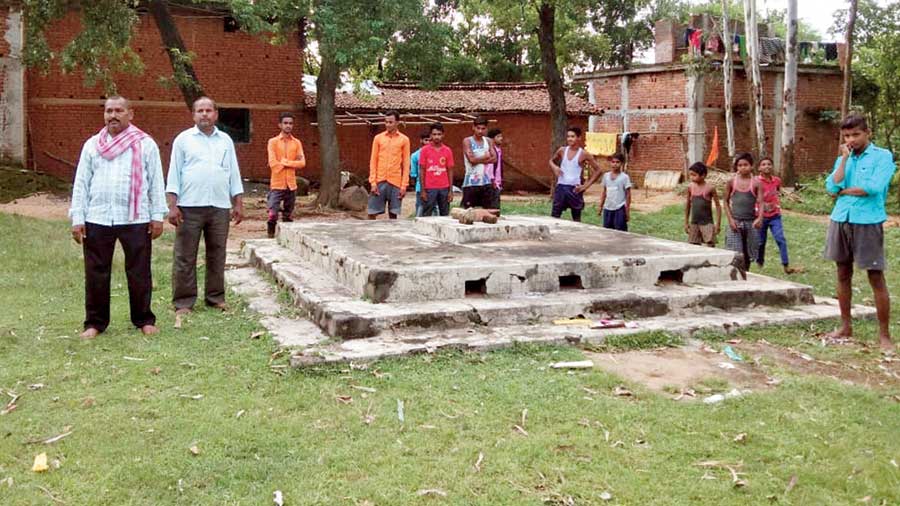 The place where the tazia would be kept at Nawada in Giridih on Tuesday.
Bhola Prasad
---
Jamshedpur
|
Published 26.08.20, 01:46 AM
|
---
Hindus and Muslims observing rituals of Muharram can still be seen in a few parts of the country symbolic of the syncretic culture upholding the liberal values of the nation. But an entire village without a single Muslim family observing the Muharram rituals is certainly a rarity.
To witness it, one must visit Nawada village in Simradhav panchayat under Birni block of Giridih district in Jharkhand, around 230km north of state capital Ranchi. The village of more than 70 Yadav families and over 20 Dalits has been observing Muharram for ages.
"We have seen our parents observe Muharram since childhood. I remember even my grandfather used to say that they observed Muharram. The tradition has been continuing for ages. We do not know the exact number of years. But yes we do observe it with all seriousness as there is a legend in our village that a pandemic would break out if Muharram is not observed. There is not a single Muslim family in our village and no mosque. However, a cemented structure at the centre of the village is used as the dargah and keep the tazias," said para-teacher Binod Kumar Yadav, 44, at a meeting of the villagers to chalk out preparations for Muharram especially in view of the Covid-19 restrictions.
The villagers used to bring a Muslim cleric from another village for the three days of the festival.
"Our grandfather used to say that some Muslims lived in the village several years back but they have migrated to other places in search of jobs. But the tradition has to be upheld otherwise it would bring bad omen. Since I remember, we used to bring an elderly Muslim cleric Islam Mia from Barwachatar village (4km from Nawada in the same block). This year too we would bring him," said Binod. Ramu Baitha, mukhiya of Nawada village, said that youths do observe fast during Muharram. "The youths will keep fast from August 28 onwards and take out the tazia procession the next day and culminate on August 30. This year due to the Covid-19 pandemic there will be not be a long procession and not much crowd. But the tazia will be kept at all important points in the village for the people to pay obeisance,' said Baitha.
Farmer Barun Yadav said that a team of youths also whip themselves as a mark of mourning during Muharram.
"We do whip ourselves to symbolise mourning associated with Muharram. In earlier years, women used to offer food to those taking part in the procession. But we do not know what would be done this year due to the Covid-19 restrictions and a small procession," said Barun.