Jharkhand vaccine wastage 2.68%, final figure likely to be lower
Centre allows state to update data on Co-WIN as opposed to sending the numbers to the health ministry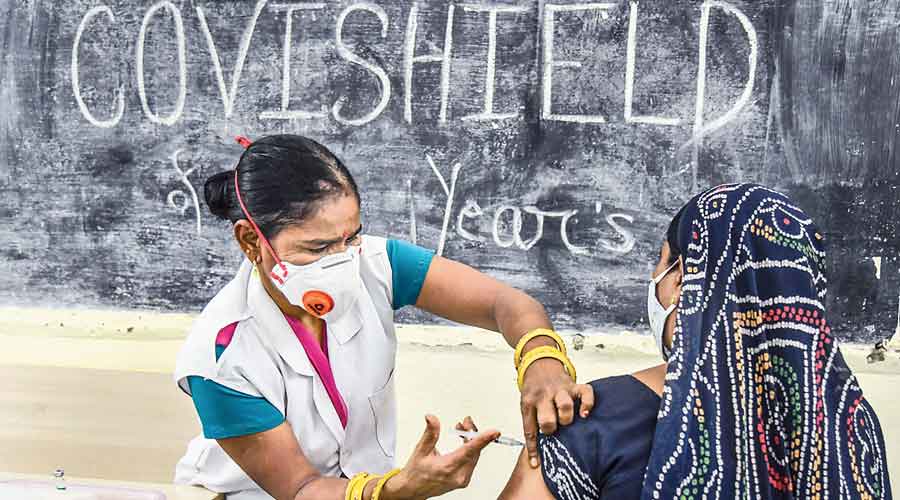 A Jharkhand health department official also noted that some Jharkhand districts had reported negative wastage too.
File picture
---
Ranchi
|
Published 11.06.21, 06:42 PM
|
---
Jharkhand's vaccine wastage percentage stands at 2.68 as of Thursday night, state health department announced on Friday in the light of  disparities with numbers issued by the Union ministry of health, but clarified that the final percentage was likely to be lower once all data was uploaded on the Co-WIN portal.
"We received 57,15,600 vaccine doses for 18 plus and 45 plus age groups of which 47,32,426 were used. The balance is about 8,30,630 doses. Considering these figures, the wastage is 2.68 per cent. The calculations are based on the updated figures till the night of June 10. The wastage figure is still tentative because the process of updating data on the Co-WIN portal is still on. We are hoping that the wastage percentage will come down  more," state health department's IEC wing's nodal officer Siddharth Tirpathi told the media on Friday.
He said the Union health ministry had now authorised the state government to update data on the Co-WIN portal too. "Earlier, the data had to be sent to the Union government which in turn used to update it. However, we have now been allowed to make corrections from our end directly on the portal. As a result, even districts can update data from their end," he said, adding that the mismatch of state and central data over vaccine usage and wastage was due to delay in updating data and typing errors.
"At the ground level, many data entry operators aren't tech savvy. Also, typing errors often take place while updating data. For example, in case of 11.20, if someone updates 11,20 or 112.0, it changes the whole thing. But such errors can be easily rectified from our end immediately," he explained.
On Thursday, a Jharkhand health department official had said that as on June 9, the state's vaccine wastage stood at 3.6 per cent, but clarified that data reconciliation was still on while countering Union government data that claimed Jharkhand had recorded the highest wastage percentage at 33.95 per .
"The reports are untrue. It's a matter about data reconciliation," said Tiwary while reacting to Thursday's PTI report from New Delhi that cited government records to say that while Kerala and West Bengal recorded negative wastage of vaccines, Jharkhand topped the list of states on vaccine wastage.
The report also said that Kerala reported -6.37 per cent and West Bengal recorded -5.48 per cent vaccine wastage. Chhattisgarh reported 15.79 per cent vaccine wastage while Madhya Pradesh reported 7.35 per cent, the report said.
The national average of vaccine wastage is around 6.3 per cent.
A Jharkhand health department official also noted that some Jharkhand districts had reported negative wastage too. "For example, Jamtara has negative wastage of 17 per cent, Koderma -33 per cent, Ramgarh - 4.2 and Chatra - 3.8. The state has been using vaccines judiciously. In reality, Jharkhand is among the top states with less wastage," he said.