Jharkhand vaccinates 1 lakh residents after three-day lull
Active Covid caseload rises in Ranchi, Bokaro; no fresh fatalities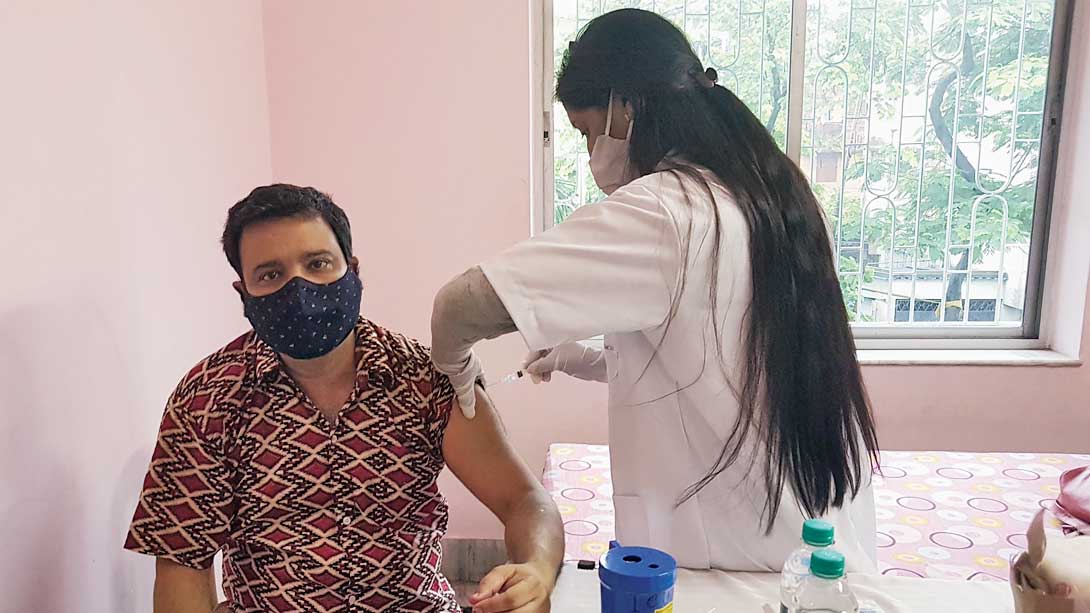 ---
|
Ranchi
|
Published 22.07.21, 11:35 AM
---
Jharkhand administered jabs to around 1 lakh residents on Wednesday using fresh supplies of vaccine doses from the Centre, a decent improvement from the barely 50,000 innoculations it had managed in the past three days due to an accute shortage of vaccines.
The state, as per provisional data compiled by the National Health Mission (NHM), administered the first dose of vaccine to 65,272 residents, while at least 29,326 beneficiaries received the second dose. As many as 52,500 residents below the age of 45 years got the first jab, while 1,755 residents in this age group got the second.
As per data shared by the NHM on Wednesday evening, Jharkhand had 1,74,370 vaccine doses in stock. The state has so far received 84,82,450 doses of vaccines and utilized 83,72,693 of them, records with the health department show.
The active caseload of Covid-19 dropped to 315 in Jharkhand on Wednesday as the state reported 46 cases against 51 recoveries, according to an NHM bulletin. However, the active caseload rose to 73 in Ranchi as the district reported 10 cases against four recoveries, the bulletin highlighted.
At least 11 districts – Saraikela, Ramgarh, Palamau, Pakur, Lohardaga, Latehar, Jamtara, Giridih, Garhwa, Dumka and Chatra – did not report fresh Covid cases on Wednesday. Barring Ranchi, no other district reported a double-digit-spike in Covid cases on the day.
At least seven recoveries against four cases brought the active caseload in East Singhbhum down to 31, while nine cases against five recoveries took the count of active cases in Bokaro to 37 on Wednesday. At least three districts – Garhwa, Giridih and Khunti – had zero active cases of Covid-19 by Wednesday evening, government data highlighted.
The state on Wednesday tested swab samples of 52,218 residents and 0.08 per cent of them were found infected by SARS-CoV-2 virus. As per government data, over 3.46 lakh people have tested positive for Covid-19 in Jharkhand so far and 98.43 per cent of them have recovered, while 1.47 per cent of the patients could not survive.
No fresh casualties were reported in Jharkhand on Wednesday and the Covid toll in the state remained 5,122. The Covid growth rate, as per government data, was 0.01 per cent in Jharkhand against the national average of 0.09 per cent, while the doubling rate in the state was more than 5780 days against the national doubling rate of 792.80 days.  
No fresh cases of Covid-induced mucormycosis were reported in the state for the third day in a row on Wednesday. So far, 100 confirmed and 59 suspected cases of the fungal infection have been reported in Jharkhand and at least 30 patients have died, while 98 have recovered, highlights data compiled by the Integrated Disease Surveillance Programme (IDSP).