Jharkhand unit of Congress joins farmers' protest
To express solidarity, all party members and leaders hoisted black flags on their houses and wore black badges to lodge their protest against the farm laws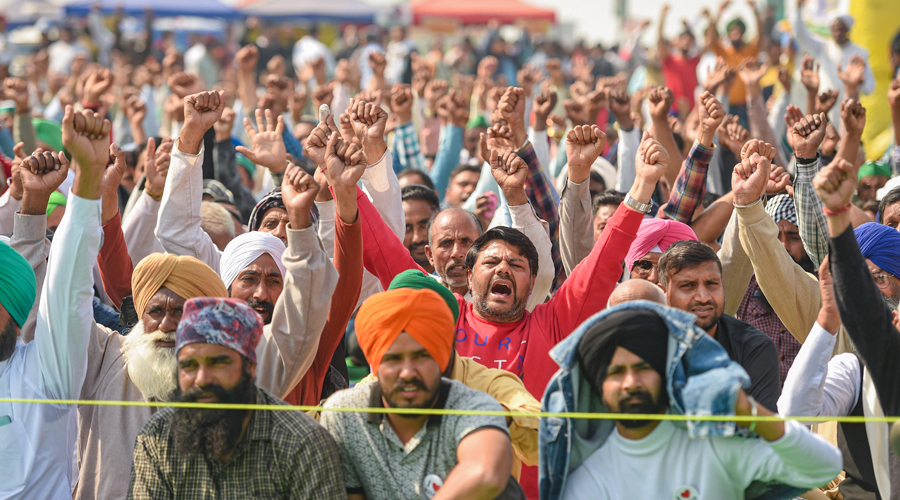 ---
Ranchi
|
Published 27.05.21, 12:32 AM
|
---
The members of the Jharkhand unit of the Congress hoisted black flags at their houses and also wore black bands on Wednesday to protest against and demand the withdrawal of the three new farms laws. 
They, like some other Opposition parties, did so in response to the call given by the farmers' outfit, Sanjukt Kishan Morcha, that wanted to observe completion of six months of the farmers' agitation against those laws.
The party, in a statement issued in Ranchi, criticised the Union government for suppressing the farmers issues and demanded withdrawal of the farm laws.
To express their solidarity with the farmers, all the members and leaders including MLAs hoisted black flags on their houses across the state and also wore black badges to lodge their protest and demand withdrawal of the anti- farmers laws, it added.  
"These laws were actually not required and no one had asked for those," state Congress president and finance minister Rameshwar Oraon later told the media in Ranchi.
"The farmers were never taken into confidence and the people of the country will never accept the way the farm bills were passed in the Rajya Sabha, despite protests," he further said. 
"The Union government actually compromised with the farmers' interested, just to benefit the industrialists," the minister alleged. 
The farmers always preferred the minimum support price system for their produce continued so that they would be financially protected while the industrialist would like to construct warehouses to hoard those for selling at higher prices later, he added. 
"The Union government was so insensitive that it didn't take any positive step even after so many farmers died while protesting against those anti-farmer laws," alleged state agriculture minister Badal Patralekh.
"Agriculture is a state subject but the Union government had brought those bills without even consulting the states though most of the states were ruled by the BJP," he alleged. 
"We failed to understand the pressure the Union government may have felt so that it had to bring in and pass those bills in such a hurry, particularly when no one had demanded such laws," the minister further said. 
They would always continue to support the farmers' peaceful agitation against those farm laws and demand their withdrawal, Patrakekh reiterated.