Jharkhand to miss Rajpath action
This is the fourth year in a row that the state will not be present in the Delhi Republic Day parade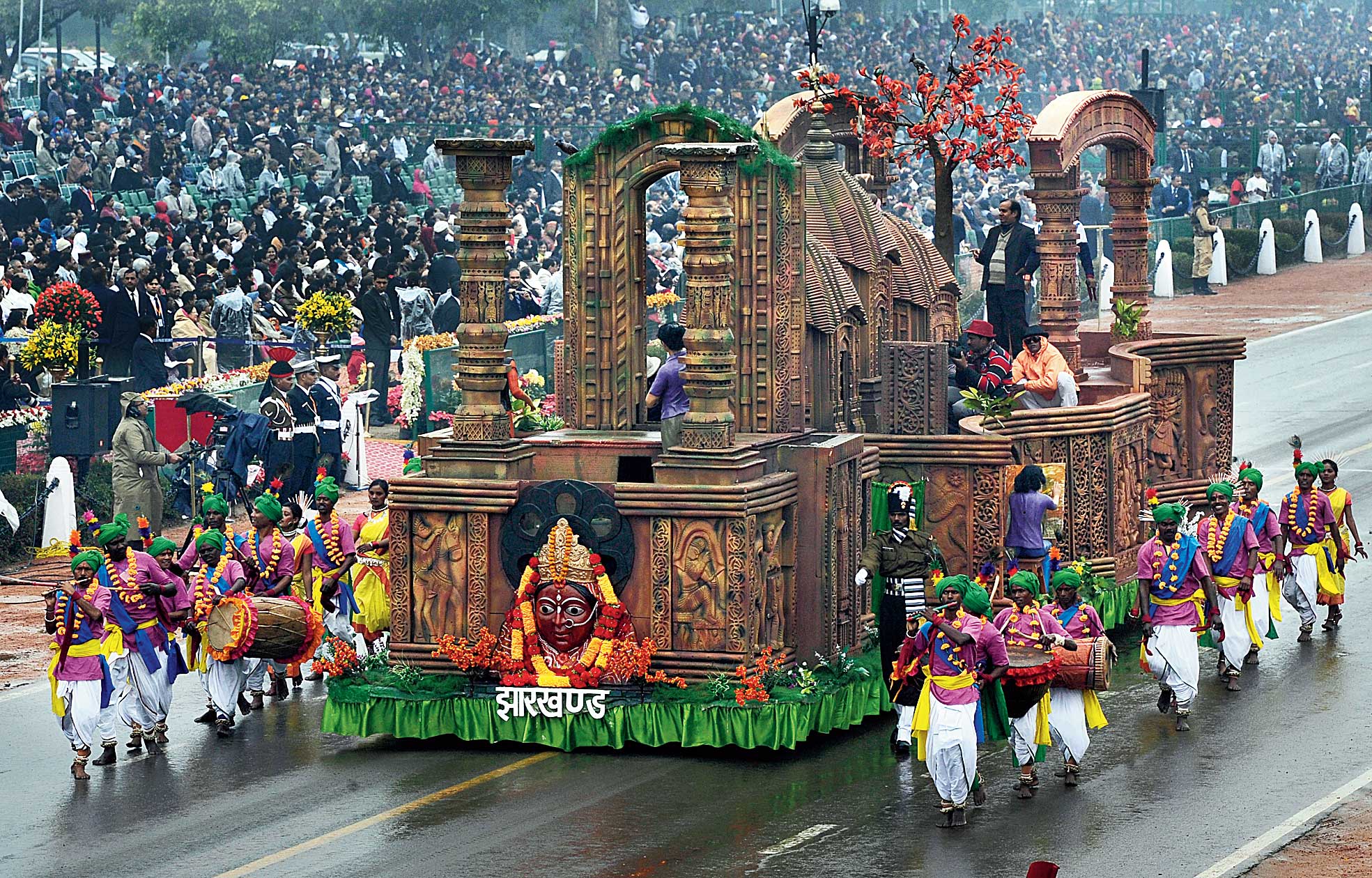 ---
Jamshedpur
|
Published 24.01.19, 08:54 PM
|
---
Jharkhand's tableau will be conspicuous by its absence at the 70th Republic Day parade in New Delhi on January 26.
This is the fourth year in a row that the state will be missing in action on Rajpath.
The state information and public relations department (IPRD) had around August-September proposed a tableau based on the association of Tana Bhagats with Mahatma Gandhi.
However, the Union ministry of defence, which oversees tableau representation, did not approve it.
IPRD officials said they wanted to showcase the Tana Bhagat movement, a tribal uprising against the colonial rule between 1914 and 1919 in the Chhotanagpur region, which was an important event in the country's struggle for independence.
As followers of Mahatma Gandhi, the Tana Bhagats opposed taxes imposed by the British, zamindars and moneylenders.
Tana Bhagats are followers of Mahatma Gandhi and believe in ahimsa (non-violence).
The proposed tableau would have highlighted their Gandhian way of lifestyle and activities as a means of national integration.
"As part of Mahatma Gandhi's 150th birth anniversary, we thought that his association with the Tana Bhagat movement could draw attention, but it wasn't considered. We applied again in November, but failed to get any positive response. The selection process is tough because only 13-14 states get an opportunity to take part in the parade. We will try again next time," assistant director in the IPRD (Jharkhand) said on Thursday.
Usually, the criteria for selection are quite stringent. A tableau usually has to qualify in three parameters — international branding, national integration and aesthetic value.
Last time Jharkhand found a place at the Republic Day parade was in 2015 when it presented a tableau on the terracotta Maluti temples.
In 2013, the state had showcased its signature dokra art.
Jharkhand made its debut in the parade in 2004 with a tableau on Birsa Munda. In 2007, a tableau on Sarhul — a traditional tribal festival worshipping Mother Nature —also found pride of place.
The state will have to take the setback in stride and be content with displaying its pride on its own roads in Ranchi.
Apart from the IPRD, other departments like social welfare, human resource development, IT, mining, industry, drinking water and sanitation, animal husbandry, agriculture, art, culture, sports and youth affairs, tourism and panchayati raj put up tableaux during the Republic Day parade at Morabadi grounds every year.