Jharkhand teen inches closer to International Master title at chess meet
18-year-old Vatsal Singhania was judged best junior player in France in 2018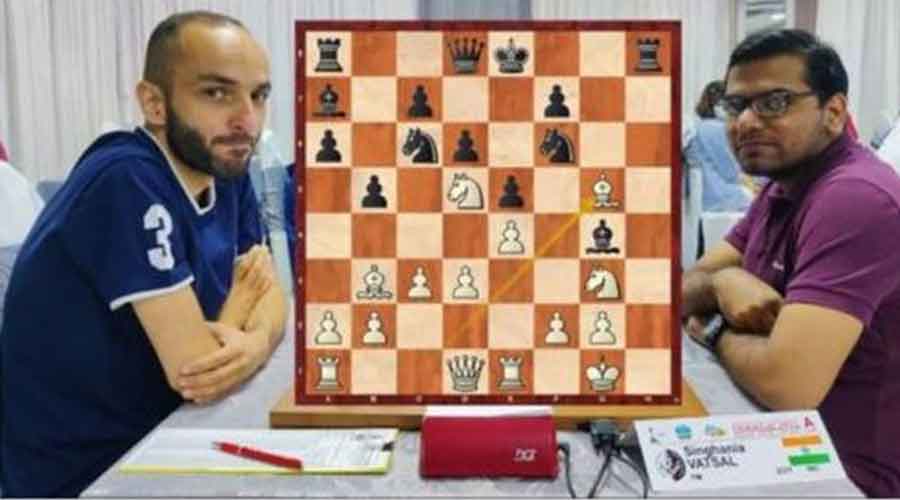 ---
---
Jharkhand's Vatsal Singhania inched closer to the International Master title with a satisfactory performance at an International Open Tournament which concluded at Paracin in Serbia on Friday.
The 18-year steel city-based Vatsal, a FIDE Master and arguably the best chess hand in Jharkhand, earned his second IM norm in Paracin. He scored 5.5 points out of 9 rounds with a performance rating of 2500. He scored three wins, including one over top seed Armenian GM Ter-Sahakyan Samvel  in the second round, drew 5 games against 3 IM's and 2 FIDE Master's.  Vatsal added 32 Elo rating points. His present rating is 2371, said All Jharkhand Chess Association (AJCA) secretary Neeraj Kumar Mishra, an IM.
The teen scored his first IM norm after clinching the title at the Marienbad Open held in Czechoslovakia from January 18 to 25 last year.
Vatsal needs to earn one more IM norm and must also have a 2,400-plus international rating to be eligible for an IM. A player needs an international rating of 2,500 to become a Grandmaster (GM).
Vatsal, who was a student of Carmel Junior College in Sonari, decided to relocate to Chennai in 2017 to pursue his chess prospects under Grandmaster R.B. Ramesh.
He won his maiden international title at the Commonwealth Chess Championship in New Delhi in 2017. He also participated in the World Youth Chess Championship held in Montevideo, Uruguay, the same year.
The promising chess player has played four Open tournaments at Barcelona in Spain in 2017 besides finishing third (Under-18 section) in the Aerrflot Open International Tournament in Moscow, also in 2017.
He was adjudged the best junior player below international rating 2200 in Cannes, France, in 2018.
Vatsal also bagged three team gold medals in rapid, blitz and standard formats, besides an individual silver in standard format, at the Asian Youth Chess Championship held in Chiang Mai, Thailand, in April 2018.
He became eligible for a FIDE Master title (accorded by The Fédération Internationale des Échecs) for his performance in Thailand.
FIDE Master ranks below the title of International Master but ahead of Candidate Master. The most usual way for a player to qualify for the FIDE Master title is by achieving an Elo rating of 2300 or more.
Vatsal, who idolises Grandmaster Viswanathan Anand gets unwavering support from his parents Anil and Asha Singhania. His mother accompanies him to most of the offshore tournaments.