Jharkhand teachers appeal to JPSC chief for 'justice' in CBI exam probe
The central investigation agency has chargesheeted 59 lecturers for alleged irregularities in the public service exam held in 2006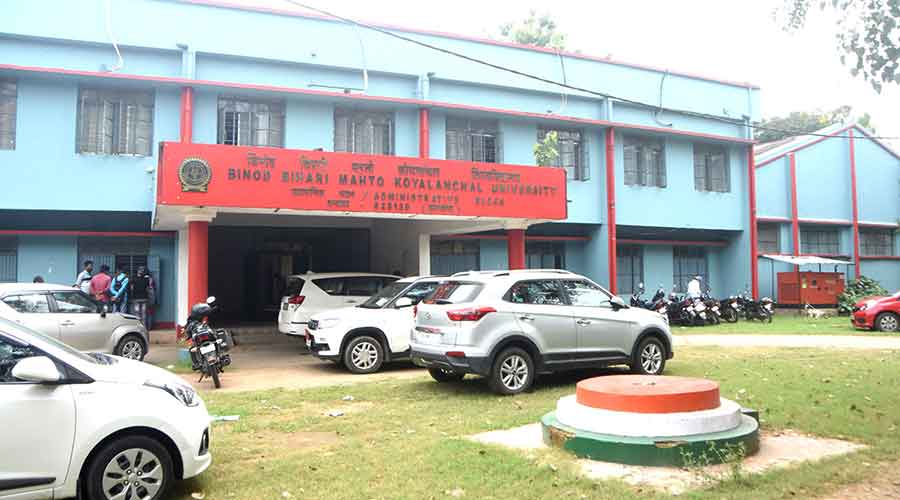 The administrative block of BBMKU in Dhanbad on Friday.
Gautam Dey
---
Dhanbad
|
Published 03.07.21, 05:47 PM
|
---
A total of 35 university and college teachers of Jharkhand, mentioned in a CBI chargesheet for alleged reconstruction of merit list by Jharkhand Public Service Commissioner, petitioned JPSC chairman Amitabh Choudhary seeking his intervention to ensure justice for them.
The group of 35 petitioners, out of total 59 charge sheeted teachers, presently posted in different colleges and universities of Jharkhand have pointed out in their petition that the "arbitrary, illegal and unauthorised" reconstruction of  merit list by JPSC provided to the investigating agency led to them being charge sheeted. They are compelled to lead a life of indignity for more than a decade due to charges of criminal conspiracy, forgery against them.
The petitioners in the letter sent to Choudhary on Friday further enumerated that the charges of fraudulence as mentioned in the CBI charge sheet of 2019 is based on the "wrong assumption" that merit list pertaining to their selection of 2006 was to be made on the basis of marks obtained in paper 3 of 200 marks related to their subject but the fact remains that the merit list was to be prepared on the average marks of all the three papers taken together.
Notably, altogether 767 candidates qualified in JET Exam held in 2006 and after the interview conducted for appointment of lecturers in 2007 731candidates were recommended for appointment in 2008.
Following a complaint of irregularity in the JET exam, a probe was instituted by CBI on the instruction of Jharkhand High Court in 2012.
"The University Grants Commission guidelines, however clearly states that in order to qualify the examinees must obtain minimum qualifying marks in Paper 1st (multiple choice related to teaching aptitude) and 2nd paper (multiple choice pattern related to subject) separately (of 100 marks each) and also taken together," said one of the petitioners, Amitabh Bharti .
 "The UGC guideline further states that the result should be prepared on the basis of average marks of all the three papers taken together of only those candidates who secure minimum qualifying marks in Paper 3," further says the petition.
"All of us have actually obtained more marks than the required minimum marks in each paper separately, and also above average cut off marks of three papers," reads the petition.
"We have been just dragged into this Built-Up Case in a most unjust, unfair and degrading way and manner, without any rhyme and reason," reads the petition.
"The reconstructed merit list instead of merit list ought to be prepared as per UGC guidelines, provided to CBI by JPSC led to our being charge sheeted in case."
"We, therefore, request you to kindly intervene, if legally feasible, into the issue, not only in order to restore and retain the social image, reputation, dignity, and popular trust in JPSC, but also to provide protection and justice to the humble college and university teachers who are being subjected to uncalled for accusations, victimisations, persecutions and social humiliations in our everyday life," further reads the petition.