Jharkhand State Digest: Language protest intensifies
Elsewhere in the state: Inmate cries foul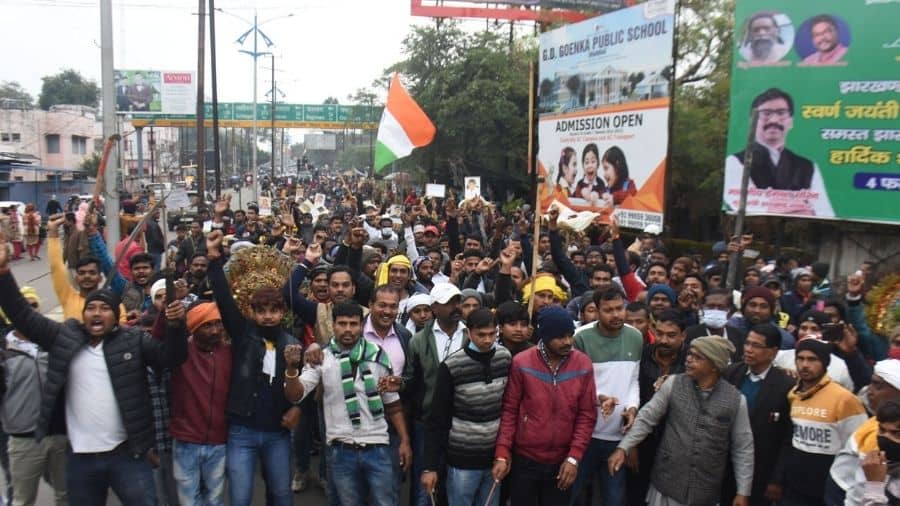 A glimpse of the protest
Gautam Dey
---
Published 04.02.22, 08:40 PM
|
---
Dhanbad: More than 2000 local residents protesting against the inclusion of Bhojpuri, Magahi in regional language lists for Dhanbad and Bokaro districts on Thursday took out a massive symbolic funeral procession of all the people's representatives of Dhanbad and Bokaro.
The protestoes who congregated at Saraidhela Shiv Mandir under the banner of Jharkhandi Bhasa Bachao Samiti this morning at around 10 am participated in three km procession that began at around 11.30 am and reached at Randhir Verma Chowk near the district headquarters at around 1 pm passing through Saraidhela, Police Line, Hirapur and Court More.
They were holding banners, placards and posters also shouted slogans against the state government and later performed the death ritual of all the MLAs and MPs of Dhanbad and Bokaro as per the local tradition of Jharkhand during which they also participated in the tonsuring ceremony. 
The placards, banners etc were bearing slogans like Bhojpuri, Magahi chhetriya bhasa Dhanbad Bokaro me swikar nahi; bhasai atikraman swikar nahin; 1932 khatiyan hi Jharkhand ki pahchan hai etc.
Praduman Choubey
UP shooter in jail accuses cop of threat Dhanbad: UP based shooter, Aman Singh lodged in Chaibasa jail in connection with the Dhanbad Deputy Mayor, Niraj Singh murder cased of March 2017 charged Niranjan Tiwari, officer in charge of Chaibasa police station of threatening him on behalf of Harsh Singh, a close aide of Jharia MLA, Purnima Singh
Singh in his application submitted in the court of Justice Avinash Kumar charged police of conspiring to kill him in jail. Singh, in his application demanded security and charged that Nirajan Tiwari during the course of raid in Chaibasa Jail on intervening night of January 30/31 came to his cell and threatened him to accept his involvement in the Niraj Singh murder case.
He further charged that the Nirajan Tiwari who was earlier posted in Saraidhela police station and also the Investigating officer of Niraj Singh murder case, after threatening him in jail also made him to talk with Harsh Singh through his mobile phone.
Harsh on the other hand during the telephonic talk with him told him to accept his involvement in Niraj Singh murder case and asked to accept before the court that he killed Niraj Singh on the instruction of former Jharia MLA, Sanjeev Singh who is also lodged in Niraj Singh murder in Dhanbad jail.
Kumar Manish, lawyer of Aman Singh who submitted the application of Aman Singh before the court yesterday while talking to media today said "Aman Singh also charged the jail administration of meeting inhuman treatment to him in the jail" and added that the court fixed the next date of hearing on the application of Aman Singh on February 7.
Notably, Aman Singh was arrested by Dhanbad police from UP on May 3, 2017 in connection with the Dhanbad Deputy Mayor Niraj Singh murder case of March 2017, was brought to Dhanbad jail on May 9, 2017. He was later transferred to Hotwar jail of Ranchi in 2020 due to repeated charges of extortion call made by him against various traders and again shifted to Chaibasa jail during last year.
Praduman Choubey