Jharkhand Raj Bhavan lawns to reopen for public
People will get to enjoy the beauty between March 21 and 27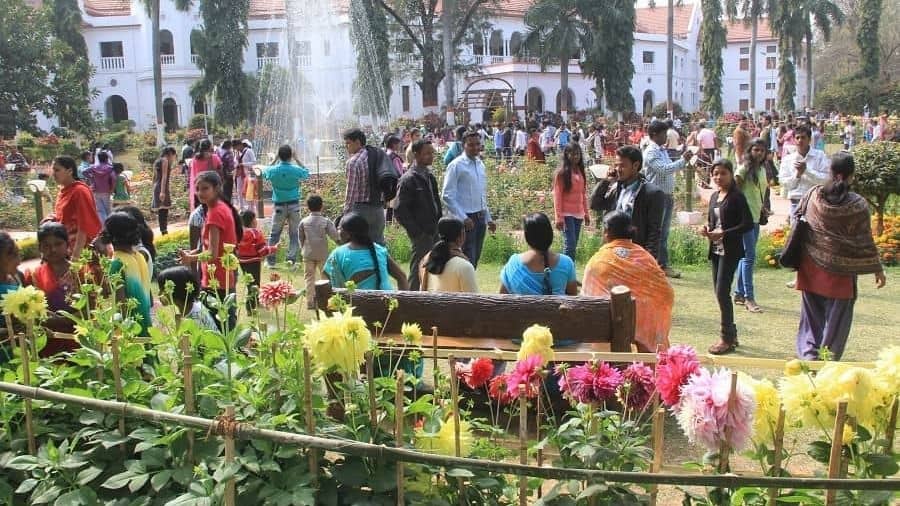 File picture of visitors at Raj Bhavan garden
Raj Bhavan website
---
Ranchi
|
Published 16.03.22, 09:32 PM
|
---
After a gap of two years due to covid-19, Jharkhand Raj Bhavan will reopen its gardens for common public from March 21- 27, it has announced on Wednesday sending cheers among residents, many of whom love to spend time at the sprawling green lungs with their friends and family as part of the annual affair every winter.
According to officer on special duty (OSD) at Raj Bhavan, Rakesh Kumar, the gardens will be open for public viewing from March 21 from 10 am to 4pm. "Entry of public will be from gate number 2 after the mandatory security clearance. People are requested to carry their legitimate identity cards while visiting the campus and maintained covid safety norms as prescribed by the government," he said
Due pre-covid times, the Raj Bhavan garden usually opened for public mostly in January at least for a fortnight during which it attracts lakhs of footfalls not just from Ranchi but also from neighbouring districts such as Hazaribag, Dhanbad, Ramgarh among others, was shut. 
 "However, the decision to open the garden was taken in March this year as Covid-19 cases are only now on the wane. Also due to rise in temperatures, it has been decided to open the garden only for a week this time," said another official
Raj Bhavan, the official residence of Jharkhand Governor (Ramesh Bais) is spread on over an area of 62 acres, out of which 52 acres are in the main campus while Audrey House, which is opposite the main campus is on 10 acres.
The current Raj Bhavan, themed on British style of architecture, was originally built in 1931. Its gardens are named after eminent personalities and has wide array of seasonal flowers, herbal and medicinal plants, and rare species of trees.
Ashoka Udyaan, the main lawn, has more than a hundred varieties of roses. Buddha Garden, named after Lord Buddha, has a beautiful landscape and a green house. Akbar Garden is famous for its musical fountains named the Jawahar Phuhaars. A Lily pond, present in the backyard of the main building, is often used by the governor for his evening walk.
Mahatma Gandhi Aushadhi Udyaan is on the south side of building and has collections of medicinal plants, spices, herbs, and local medicinal (jadi-butis).
"Raj Bhavan has its own kitchen garden that meets the needs of the household and its staff. The extra produce is often sent to orphanages and old-age homes in city," said an official.