Jharkhand push for affordable farm technologies
Eminent scientist B.N. Singh advocated the use of direct seeded rice in place of transplanted rice in the state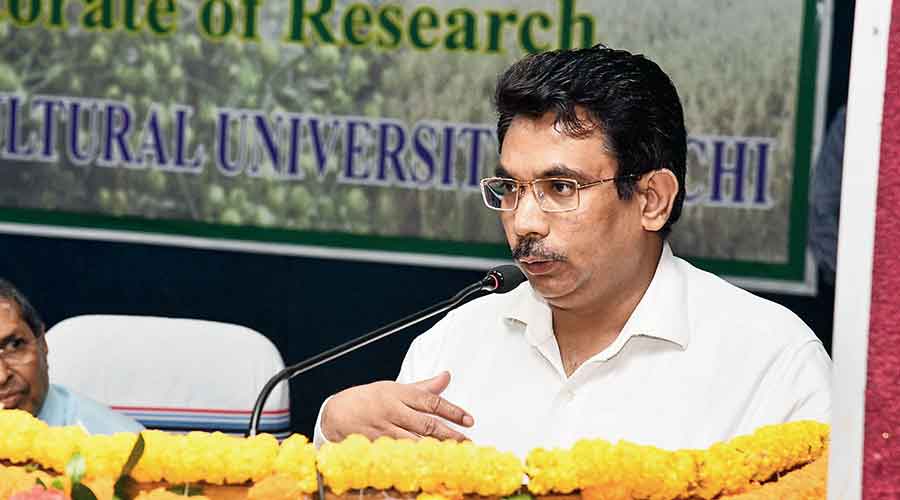 Jharkhand agriculture secretary Aboobacker Siddiqui address the function at Ranchi on Tuesday.
Manob Chowdhury
---
Jamshedpur
|
Published 09.06.22, 04:01 AM
|
---
Jharkhand agriculture secretary Aboobacker Siddique has advised researchers at Ranchi-based Birsa Agricultural University (BAU) to focus on perfecting need-based, easily accessible and affordable farm technologies having operational suitability for poor farmers in the state.
Addressing the 42nd Kharif Research Council meeting of the BAU on Tuesday, the agriculture secretary said besides disseminating knowledge, universities were supposed to negate some of the existing knowledge and continuously work for refinement and innovation.
"As the lone agricultural varsity of the state, the BAU has done a lot for improving the scenario of the farming sector but the full potential of Jharkhand, which has varied climate and rich biodiversity, remains to be tapped. The university has released several improved crop varieties during the last one year but more serious efforts are needed especially in the areas of animal husbandry, floriculture and medicinal plants," Siddique said.
He claimed that the proposal to grant pension to BAU pensioners as per the seventh pay package of the new Career Advancement Scheme (CAS) for teachers was on track. The agriculture department was committed to the state's agricultural advancement in association with the BAU, he added.
Eminent rice scientist and former director of Central Rice Research Institute, Cuttack, B.N. Singh advocated the use of direct seeded rice in place of transplanted rice under Jharkhand conditions to effectively meet the challenges posed by uncertainty of rains.
"Due to the absence of farm labour from Bihar and eastern Uttar Pradesh during the Covid-19 pandemic phase, direct seeded rice was used in Punjab and Haryana in about 10 lakh hectares and the yield was found similar to that under transplanted conditions," Singh said.
BAU vice-chancellor Onkar Nath Singh said the use of nanotechnology, biotechnology, bioinformatics, information and communication technology and improved packaging practices for crop management and protection were being continuously increased to achieve desired pace in agricultural advancement.
External expert and former dean of veterinary faculty Dr A.K. Ishwar said production of A1 milk had increased because of indiscriminate artificial insemination and cross-breeding with genetically inferior cattle of western origin, but consumption of this low quality milk has also led to increased the incidence of high blood pressure and heart ailments in the society.
He emphasised on increasing the production of A2 milk obtained from the cows of Indian origin.