Jharkhand PSC mains reduced to a mock test, candidates say
With commission under court scrutiny and number allowed to write finals now 106 times the seats against 20 earlier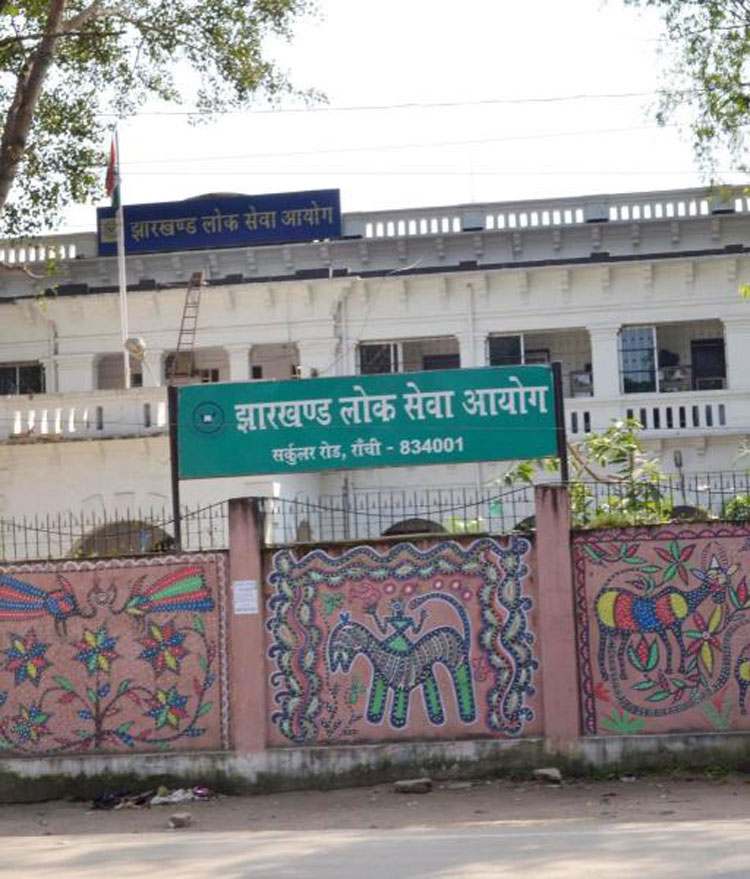 Jharkhand Public Service Commission
Telegraph picture
---
Ranchi
|
Published 30.01.19, 06:53 PM
|
---
Thousands are writing the ongoing Mains of the sixth civil services examination held by Jharkhand Public Service Commission (JPSC) here despite a spate of serious allegations against the entire process that has rocked the state, including its august institutions such as the Assembly and high court.
Asked why they were answering an officers' recruitment exam discredited for allegedly being unfair right from its prelims screenings two years ago, most civil services examinees who answered the third paper, polity and public administration, on Wednesday, told this reporter they saw it as a "practice test".
"I'm appearing for the exam without expectations," said Rahul Paswan who came from Dhanbad. "With the dubious past records of JPSC and ongoing irregularities, you can't expect fair results. But answering a test is good practice," he added.
Agreed Neha Pandey of Bhagalpur in Bihar, an examinee. She added, "I'm appearing for the exam but I agree with those who protested on the streets demanding it be postponed," she said.
After the prelims of the exam meant to recruit 326 officers were held in December 2016, about 6,000 qualified for the Mains in February 2017. Then, the list of qualified candidates kept getting bigger. Finally, the number of candidates eligible to answer Mains stood at over 34,000, a whopping 106 times the number of vacancies.
This so bewildered the candidates that only around 27,000 filled up forms for the Mains and only around 19,000 appeared for the first paper on Monday, a day when Speaker Dinesh Oraon, referring to alleged government silence on JPSC exam irregularities, said the House should be shut if it couldn't address issues of public interest. The same day, the high court ordered JPSC not to publish results without the court's nod.
On Tuesday, some more aspirants dropped out in disgust.
No wonder the numbers gap between the list of aspirants deemed eligible for Mains, over 34,000, and the actual examinees, over 19,000, is so vast, aspirant Rajeev Kumar of Ranchi scoffed. "If the government wants to give the maximum possible candidates a chance, why hold prelims? Let everyone answer Mains. This screening makes no sense," he said.
"What's the use of such an examination whose results are uncertain," said another examinee who didn't wish to be named. Why was he answering? "Curiosity perhaps," he said.
Praveen Kumar Jha and Jay Prakash Thakur, who both came from Madhubani in Bihar, said they were very serious about government exams. "This is a matter of our careers, our lives, so we invest real hard work to crack civil services exams. But this exam…"Jha trailed off. "JPSC has a vast syllabus but instead of asking questions from various areas they gave questions of 40 marks each on topics like Muhammad bin Tughlaq and sugar trade," he said.
Thakur said the question papers were surely set two years ago. "Else why would anyone ask aspirants to write an essay on 16 years of Jharkhand when the state had completed 18 years on November 15, 2018," he said.
So, why answer at all? "Look, we are examinees who want a government job and we answer many exams across states and the UPSC. So JPSC is a sort of a trial run for many of us," laughed Rohit Kumar Maurya of Patna.