Missing train scuttles Kumbh pilgrims' progress
Jharkhand had planned a free trip for senior citizens, but Indian Railways is unable to provide link up to Allahabad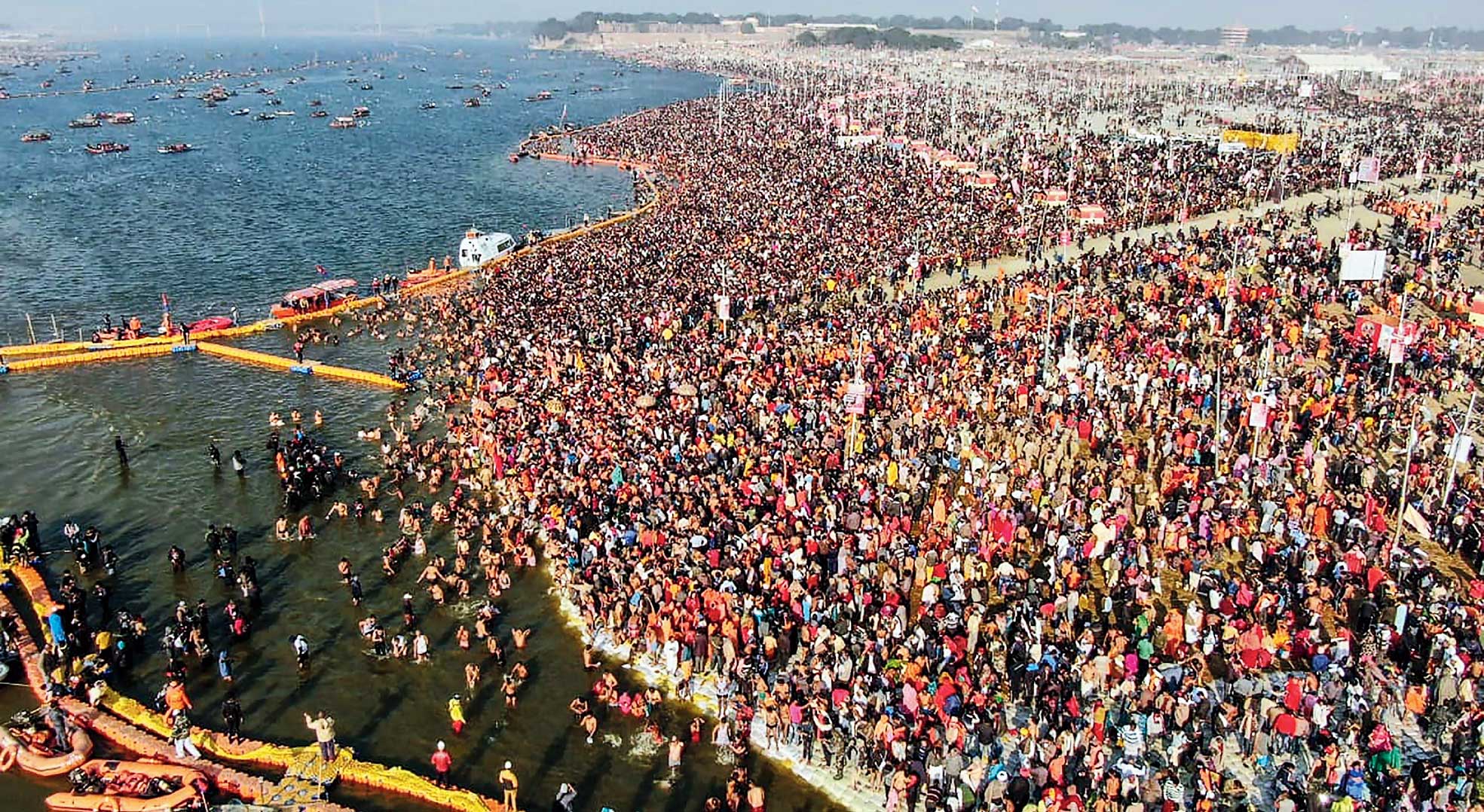 ---
---
Jharkhand state tourism department's maiden proposal to offer a free pilgrimage to the poor and elderly to Prayagraj (formerly Allahabad) during the eight-week Kumbh Mela from Sunday has been postponed.
The plan under Mukhya Mantri Teerth Yatra Yojana ran into rough weather following the failure of the railways to provide special train services till Allahabad.
State tourism director Sanjeev Kumar Besra told this paper that the Indian Railway Catering and Tourism Corporation (IRCTC), their partner in the scheme along with Jharkhand Tourism Development Corporation (JTDC), told them the railways were allowing special trains till Benaras (Varanasi junction) and not Prayajraj, which meant that elderly pilgrims would have had to switch trains to reach Kumbh Mela. The distance between Prayajraj and Benaras is over 120km, over two hours by train.
"We did not want to risk that, which forced us to rethink our announcement for free pilgrimage to Kumbh Mela between January 20 and 31," he said. "Railway authorities are not allowing any special train till Allahabad due to the heavy rush of existing trains carrying pilgrims to Kumbh Mela," he added.
Nearly 150 million people, including a million foreign visitors, are expected to bathe at the confluence of the Ganga, Yamuna and Saraswati at Kumbh Mela.
A senior official of Jharkhand Tourism Development Corporation rued the recent developments. "This was the first time we had planned to take pilgrims to Kumbh Mela, considered the most sacred pilgrimage for Hindu devotees. Almost all deputy commissioners had invited fitness certificates from interested pilgrims. Everything has turned dicey with the new development (special trains not going to Prayajraj)."
He added they were not losing hope entirely for ferrying Jharkhand pilgrims to the 55-day Kumbh Mela to last till March 4.
"We are not losing hope. We are in talks at our level with railway authorities (for trains to Prayajraj). If it does not yield results, we will request the chief minister (Raghubar Das) to directly speak with Union railway minister (Piyush Goyal)," said a senior official in JTDC preferring anonymity.
The state government had inked an MoU in September 2016 with IRCTC and Jharkhand Tourism Development Corporation (JTDC) to facilitate the pilgrimages of poor and elderly citizens for free under Mukhyamantri Teerth Yatra Yojana.
The government implemented the ambitious scheme with the IRCTC and JTDC in 2017. Under this, any resident of the state above 60 years of age and under BPL category can go on state-sponsored pilgrimages twice his/her lifetime to destinations both inside and outside the state with a condition that there must be a gap of two years between two pilgrimages. Since inception, thousands of elderly pilgrims from across the state have gone to Puri (Odisha), Rishikesh and Haridwar (both in Uttarakhand).