Jamshedpur: The Administration on Wednesday announced launching of Covid sample collection at the entry points after a spike in the number of Coronavirus positive cases in the steel city.
On an average, six Covid positive cases are emerging in the steel city since the past fortnight, most of them with a travel history.
With the administration tightening its noose over passengers getting down at the Tatanagar railway station, it has now decided to involve commuters entering the East Singhbhum district by road. "We have decided to start sample collection for Covid-19 at all the five entry points in the East Singhbhum district as the number of positive cases continues to show an upward trend in the district, " said Dhalbhum sub-divisional officer, Sandeep Kumar Meena while talking to The Telegraph Online.
Meena added that from the background details furnished by those taking the Covid test, over 60 percent of positive cases have travel history -- travelling either by trains or by road.
The Dhalbhum SDO stated that the administration had earlier in October introduced stringent sample test exercise measures at the Tatanagar station, ensuring every passenger is tested. "But we had not taken into account those who enter our district either from neighbouring Bengal and Odisha by road. This is why we decided on the Covid sample test at entry points, " said the SDO.
The entry points where the Covid sample test is to begin shortly include Tiring checking post bordering Odisha, Baharagora checking point, Pardih Chowk on NH-33 and near Kharkai bridge in Bistupur.
Kumud Jenamani
DC Inspection of tourist places to take stock of facility up gradation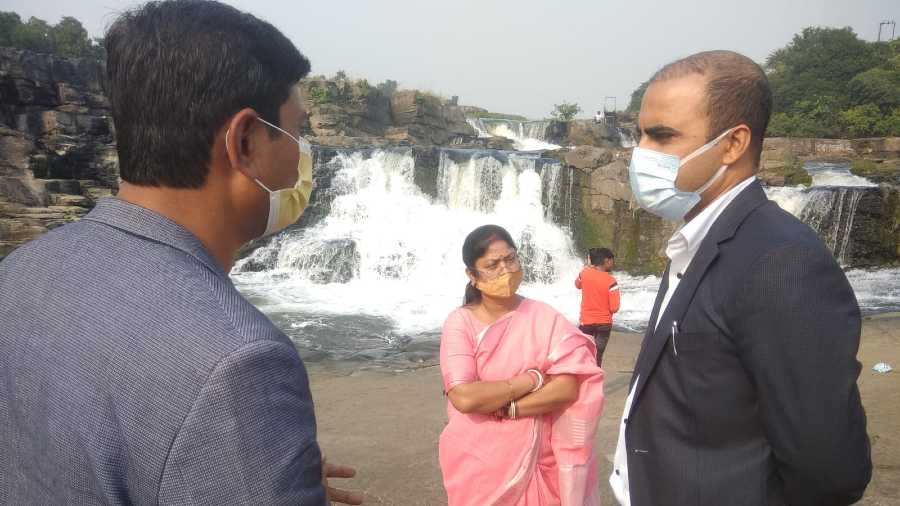 Dhanbad DC, Sandeep Kumar Singh (right) during an inspection at Bhatinda Falls of Dhanbad on Wednesday The Telegraph
Dhanbad Deputy Commissioner, Sandeep Kumar Singh today carried out an inspection of Bhatinda Falls, a tourist place situated in Moonidih area about 20 km from Dhanbad district headquarters and took stock of the existing infrastructure and discussed the scope of facility up gradation including, seating arrangements, shade development, lighting provision, parking facility and approach road.
Singh also instructed officials to make proper arrangement of safety like installation of signages indicating dangerous spots, proper police deputation, divers deployment at the fall in view of upcoming picnic season during new year as several incidents of drowning due to venturing of tourists at dangers spots of the fall due to lack of signages has taken place earlier.
Notably, today's inspection was carried out as part of the decision of the Tourism Development Committee of the district taken on November 22 during which it was also decided to carry out development of several tourist places, including Chitahi Dham, Bhatinda Fall, Lilori Stan and others.
Praduman Choubey
Reservations for OBC: BJP stages dharna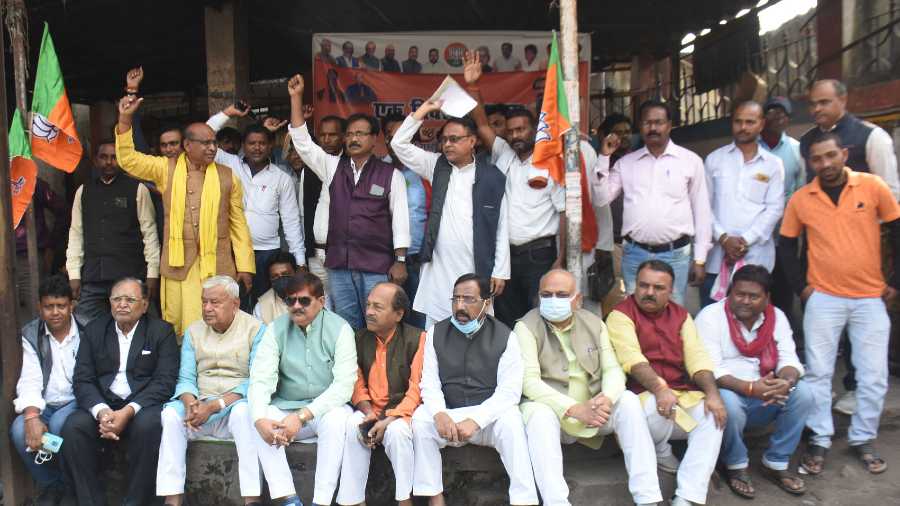 Activists of BJP OBC Morcha, Dhanbad unit staging dharna along with Dhanbad MP, PN Singh (sitting 3rd from left) and Dhanbad MLA, Raj Sinha (sitting 4th from left) at Randhir Verma Chowk on Wednesday Gautam Dey
Dhanbad: The District unit of the OBC wing of BJP today staged a day long Dharna at Randhir Verma Chowk near the district headquarters during which they demanded 27% reservation for OBC in the state.
The protesters led by PN Singh, Dhanbad MP; Raj Sinha, Dhanbad MLA and others charged that the Hemant Soren led JMM during the campaigning for assembly elections claimed that it would implement 27% of reservation for OBC within one month of coming into power but the state government is yet to implement the 27% quota for reservation around 2 years after assuming power.
Dhanbad MP, PN Singh said "the previous BJP government led by Raghubar Das has initiated survey of OBC people with the aim of providing the reservation benefit to the OBC people but despite the increase of OBC population to 50% only 14% reservation benefit is being provided to OBC candidates in jobs and others. "
Praduman Choubey