Jharkhand: Hemant Soren asks central govt for coal dues
He draws attention to Mineral Concession Rules, 1960, which says royalty is chargeable for mining in a leased area, among other similar conditions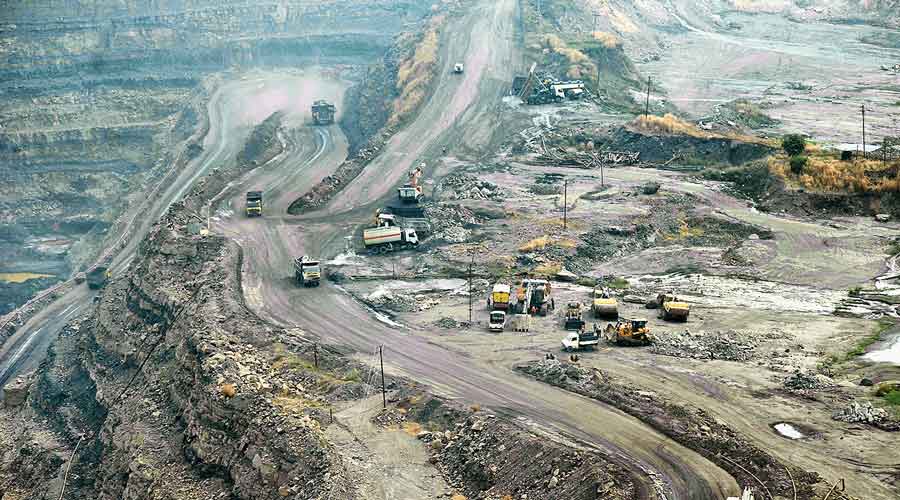 A view of an opencast mine of BCCL at Jharia.
Shabbir Hussain
---
Jamshedpur
|
Published 27.03.22, 12:19 AM
|
---
A day after threatening to put barricades around coal mineral resources in Jharkhand if coal companies do not pay outstanding amounts, chief minister Hemant Soren tweeted a letter written to Union coal minister to clear dues of Rs 1.36 lakh crore on Saturday.
Soren, in a speech during the last day of the budget session of the state Assembly on Friday, had said: "We have demanded payment of Rs 1.36 lakh crore (dues) to the state from the coal companies, and we will take it. This is state's right, otherwise we will put barricades around coal mineral resources."
On Saturday morning, Hemant Soren tweeted a letter written to Union coal minister Pralhad Joshi on March 2, asking the Centre to clear its dues of Rs 1.36 lakh crore for mining by public sector undertakings (PSUs) in the state with the caption: "In spite of repeated consultations held with the Coal Ministry and Niti Aayog regarding non-payment of long-standing legitimate dues of Rs 1.36 lakh crore related to mining done by central PSUs (public sector undertakings), government of India has paid no heed so far. I have written to (coal minister) Pralhad Joshi ji in this regard."
World leading coal producer, Coal India Limited's (CIL's) three subsidiaries — Central Coalfields Limited (CCL), Bharat Coking Coal Limited (BCCL) and Eastern Coalfield Limited (ECL) — have been undertaking mining in different parts of Jharkhand. Coal produced from Jharkhand (around 110 MT annually) is over 18 per cent of the country's production.
"These coal companies are not paying legitimate demand of revenue to the state, resulting in huge dues to the state from these companies," Soren writes in the letter.
The chief minister draws attention to the Mineral Concession Rules, 1960, which says royalty is chargeable for mining in a leased area, among other similar conditions.
"At present, the CIL's subsidiary coal companies in Jharkhand are paying royalty on the basis of run-of-mine coal rather than processed coal being dispatched...The courts ruled in favour of Rule 64B and Rule 64C," Soren said, referring to sections of the law on mandatory royalty payment.
The letter has summarised the dues payable to the state by the coal PSUs — Rs 2,900 crore in royalty for washed coal, Rs 32,000 crore in common cause (section 21 (5) of the MMDR Act) and Rs 1,01,142 crore in non-payment of land compensation which makes it a total of Rs 1,36,042 crore.
Soren, in the letter, has also said socio-economic development of the state mainly depends on the revenue from these minerals, and, hence, earliest payment of dues is essential as it is "impacting socio-economic development project/scheme implementation".