Jharkhand government renovates derelict SC-ST hostels
Action plan is in place to complete renovation work over the next two years, says officials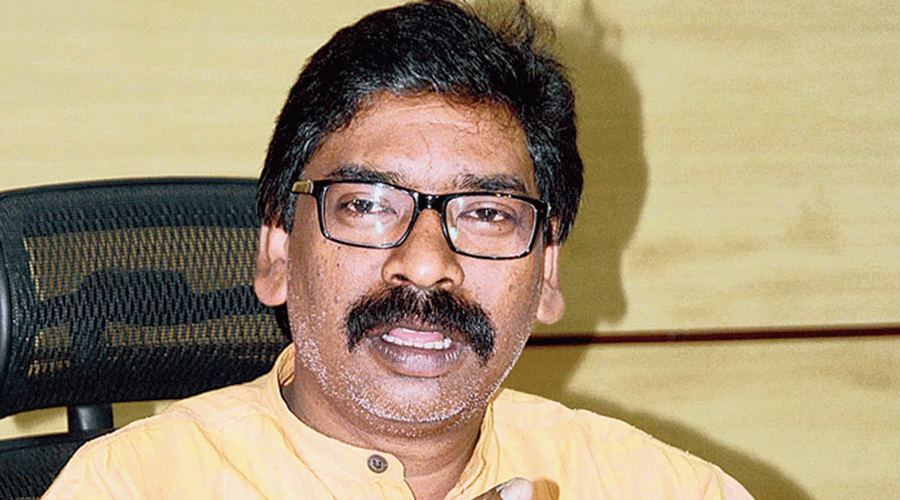 Hemant Soren.
File picture
---
Jamshedpur
|
Published 23.09.22, 12:55 AM
|
---
The Jharkhand government is in the process of renovating and giving a facelift to state-owned hostels meant for tribal, Scheduled Caste, backward classes and minority students, and also provide food grains and groceries free of cost to inmates.
 Most of the government hostels for school, college and university students in the state had been in a dilapidated condition for long. Around 277 of the 498 state-owned hostels have been renovated and equipped with modern facilities over the past two years. These include 42 hostels meant for ST students, 96 hostels for SCs, 47 hostels for backward classes and 92 hostels for minorities.
"An action plan is in place to complete the renovation of 221 more hostels over the next two years. Work will be done at 139 hostels in the 2022-23 financial year, while another 82 hostels are to be renovated in 2023-24," said an official in the state tribal and welfare department.
The public relations department on Wednesday evening said the renovated hostels have got tiled floors instead of concrete ones earlier, washrooms fitted with modern amenities, libraries refurbished with new books, computers and digital registers, and walls painted afresh in lively colours. The hostels are also receiving uninterrupted water and power supply.
"Due to the efforts of this government, broken floors, rain water seepage, dilapidated doors and windows and worn-out wall paint have now become a thing of the past," tribal affairs and welfare minister Champai Soren said.
Ninety security guards and cooks have already been appointed for the hostels and more are being hired. So far, students themselves, or locals hired unofficially, used to cook.
"Chief minister Hemant Soren has ordered that the appointments are made at the earliest. The chief minister has also announced that food grains and grocery supplies will be provided to the students free of cost at the hostels. Earlier, the students had to bring their own groceries," the public relation department release said.
Addressing gram pradhans from different districts of Santhal Pargana at Sahebganj on Wednesday, Soren said all district officials had been directed to inform the village heads about government welfare schemes so that they can pass on the information to villagers.
"Directive has been issued to all block development
officers and circle officers to take all possible steps to inform the villagers about the schemes of the government. They should put up hoardings and banners related to various schemes at block headquarters, panchayat buildings and other government buildings so that people can get information about the schemes and no one is deprived," the chief minister said.
He asked the district officials to ensure that middlemen are dealt with sternly.
"We receive regular complaints from villages that due to lack of information about welfare schemes, middlemen dupe villagers and take away a chunk of the benefits. The government is very serious about dealing with this. No middleman will be tolerated in any scheme. Officials should ensure that only eligible beneficiaries get the full benefits of the schemes," Soren said.
He urged the village heads to play a crucial role in helping the government cope with the drought-like situation in several parts of the state.