Jharkhand Cong plans symbolic Bharat Jodo Yatra from October 7
State party chief Rajesh Thakur says route will be finalised in such a manner that maximum number of people can join the rally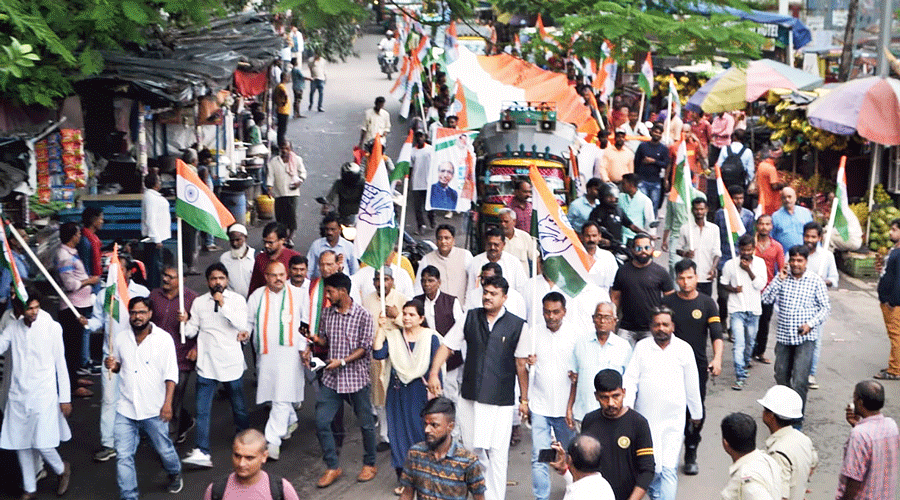 Congress members at a symbolic Bharat Jodo Yatra in Dhanbad.
Shabbir Hussain
---
Jamshedpur
|
Published 21.09.22, 12:53 AM
|
---
Jharkhand Congress is planning a symbolic Bharat Jodo Yatra with rallies at all polling booths across all the 81 Assembly constituencies from October 7.
"The district and block party officials will be tabling their route chart of rallies as part of the Bharat Jodo Yatra for final approval of the Jharkhand Congress in-charge Avinash Pandey who arrived here on Tuesday. We have also finalised in-charge for each of the five divisions who will be deputed at the control room of the party in Ranchi to ensure seamless conduct of the Yatra to commence from October 7," said Congress spokesperson Rakesh Sinha.
Another spokesperson Rajiv Ranjan Prasad said the rallies would be held at each polling booth (29,464) of the 81 constituencies and in each block of the 24 districts.
"As per the directive issued by the state party president Rajesh Thakur the officials in blocks and districts have been directed to plan Yatras starting from birth places of local distinguished personalities or martyrdom places of state heroes," said Prasad.
Significantly, the 3,500-km Bharat Jodo Yatra march from Kanyakumari to Kashmir, which began from September 7, will be completed in 150 days and cover as many as 12 states but does not cover the eastern states, including Jharkhand.
According to the Congress, the Bharat Jodo Yatra led by Rahul Gandhi is being held to combat the divisive politics of the BJP-led Centre and to awaken the people of the country to the dangers of economic inequalities, social polarisation and political centralisation.
On Monday, in-charges of five divisions were appointed.
"Palamau division will be looked after by M. Tausif, North Chotanagpur by Vinay Sinha, South Chotanagpur by Satish Paul Munjani, Kolhan — Abha Sinha and Santhal Pargana — Rakesh Kiran Mahato while senior leaders will also be looking after control room.
"The route chart of the Bharat Jodo Yatra in the state is being planned in such a manner that participants cover between 12km and 15km on each day. Once approved by the AICC-incharge Pandey it would be sent to the districts for implementation and planning," said Prasad.
State Congress chief Rajesh Thakur said that the Yatra route would be finalised in such a manner that maximum number of people join the Yatra and are made aware of the agenda of the central government to create animosity between masses on communal lines for electoral gains.
Meanwhile, symbolic Bharat Jodo Yatras are being organised by district units of the party in their own district.