Jharkhand clears upper caste quota in jobs, ordinance soon
The government will also pay annually Rs 5000 an acre to farmers with land holdings of up to 5 acres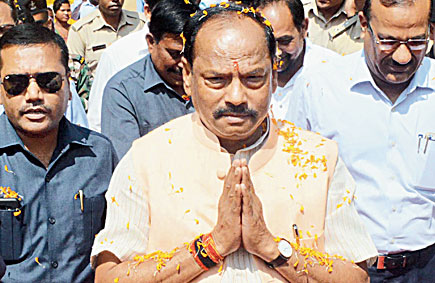 ---
|
Ranchi
|
Published 14.02.19, 07:16 PM
---
Chaired by chief minister Raghubar Das, the cabinet on Thursday approved 10 per cent reservation for the economically deprived among the upper castes (general category) in government jobs and educational institutions, in line with norms set by the Union cabinet last month.
Cabinet secretary S.K.G. Rahate said the government would issue an ordinance to implement the 10 per cent quota order. Till the ordinance is issued, the government will suspend all recruitment processes, he said. For reservations in admissions to academic institutions, the government is likely to issue a circular.
A member of an upper caste family with annual income less than Rs 8 lakh will be eligible for reservation. A family with five acres of agricultural land and more or a house built on 1,000 square feet area or more would be excluded. If a family has 100 square yards of residential land in a municipal area or 200 square yards in a rural area, it will not be eligible.
The cabinet also approved the Mukhya Mantri Krishi Ashirvad Yojana to benefit Jharkhand farmers. Under this, the government will annually pay Rs 5,000 to farmers against every acre of their land up to 5 acres. The government has allotted Rs 2,000 crore for this for the financial year 2019-20.
On the criteria to get benefits under this scheme, agriculture secretary Puja Singhal said any farmer with over five acres would be excluded.
"This scheme is only for small and marginal farmers. If land is registered on the name of an organisation, no benefit will be given. The amount will be deposited to farmers' accounts. Only such farmers, who have holdings up to 5 acres, can avail the benefit," Singhal said.
She added there were certain other restrictions. "If the farmer or any of his family members hold any constitutional post such as MLA, MP, MLC they will be not entitled for this benefit. A chairperson of municipality or similar civic bodies (nagar parishad) will also not qualify. If farmers or their family members hold government jobs, except Class IV ones, they will be excluded from benefits of the scheme. Income tax payees, registered professionals such as doctors, engineers, chartered accountants and the likes will also be not considered," said the agriculture secretary.
Singhal said that farmers would have to give a declaration form to claim eligibility which would then be verified from block to district levels. Payment is likely to start from June this year, she said.
Other decisions
Annual licence fee of each retail liquor outlet managed by Jharkhand Beverage Corporation increased from Rs 50,000 to Rs 7 lakh

Neha Tripathy, widow of Kirti Chakra recipient Pramod Kumar, 2016 CRPF martyr in Srinagar, to be appointed lecturer at a women's polytechnic college.