Jharkhand: Children's books to preserve tribal tongues
Around 2,500 languages from across the world, including many from India, are vulnerable or endangered and need immediate attention for their preservation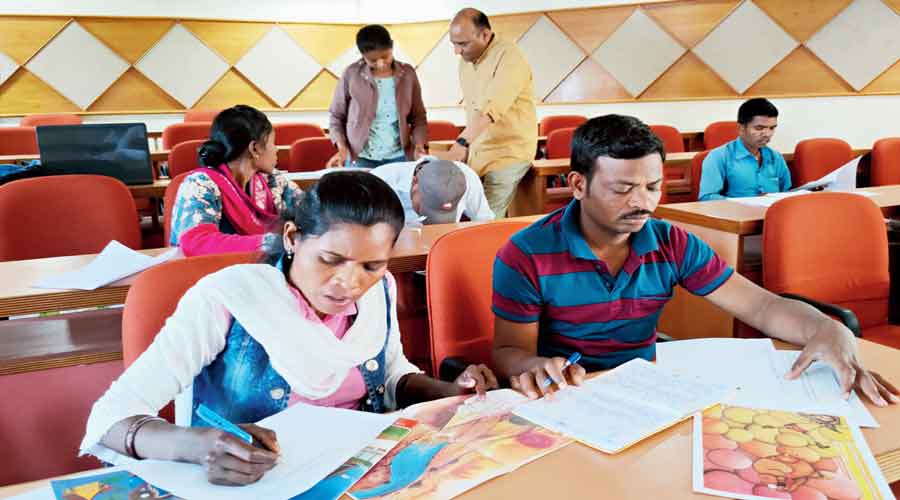 Writers translate children's books in tribal languages at the workshop in Ranchi on Wednesday.
Manob Chowdhary
---
Ranchi
|
Published 10.03.22, 01:55 AM
|
---
The National Book Trust (NBT) joined hands with Ranchi's Dr Ram Dayal Munda Tribal Welfare Research Institute, popularly known as Tribal Research Institute (TRI), to attempt preservation of three endangered tribal languages by publishing children's pictorial books in those languages.
They have together organised a three-day workshop at the TRI complex in Ranchi that began on Tuesday for briefing the translators and getting the job done during the workshop.
Their aim is to attract children of three small tribal communities residing in Jharkhand — Sabar, Korwa and Parhaiya — towards these pictorial books so that they are not only attracted towards books but also remain in touch with their respective mother tongues that are considered vulnerable to extinction in due course.
"We signed an MoU with TRI for the purpose and took up translation of five children's books in each of those three languages," informed Pankaj Chaturvedi, an editor with the NBT who is supervising the workshop, adding they already did such work in some other endangered languages.
"These languages need to be preserved as death of a language means death of a culture," said RTI director Ranendra Kumar, adding their ancestors had gradually developed these languages and it would be painful to see those getting extinct.
Around 2,500 languages from across the world, including many from India, are vulnerable or endangered and need immediate attention for their preservation, Unesco statistics say.
The Sabars, though concentrated mostly in Bengal and Odisha, have a small group residing in East Singhbhum and Seraikela district of Jharkhand and their language, also known as Lodhi, is a neglected one.
Similarly, only around 35,000 Korwa people live in Jharkhand-Chhattisgarh border while the Parhaiyas live mostly in Latehar district. As they mostly interact in other local languages outside their community, their own languages are not patronised the way it was needed for their preservation.
The Sabars had another problem — that of being notified under the Criminal Tribes Act of 1871 by the British government. Though the Act was repealed in 1952 after the country became independent, the stigma remained and they lived a life detached from the mainstream for decades.
Though their children are now encouraged to get enrolled and attend schools, they have to study through the medium of another language and this comes in the way of their bonding with their own language.
The workshop organisers feel the planned pictorial books would attract the children towards their languages. But those engaged in the translation job must be cautious, said Satya Narayan Munda, former vice-chancellor of Dr SP Mukherjee University, who formally inaugurated the workshop.
"The langugage of a community reflects its culture, so utmost care should be taken while doing the translation of those popular pictorial books and the original words used in the target languages must be given proper attention," he said.
Writer Vandana Tete, who was also present on the occasion, agreed with Munda and advised the translators to revise their drafts to keep close to the original words of the languages spoken by those communities.
"It's a timely intervention towards preservation of those languages," said Mahadev Toppo, another writer, adding it was important to help preserve all such languages, irrespective of the sizes of the communities that speak those.