Jharkhand, first eastern state to use lung billboard displays
The installations will create awareness about air pollution and its effect on health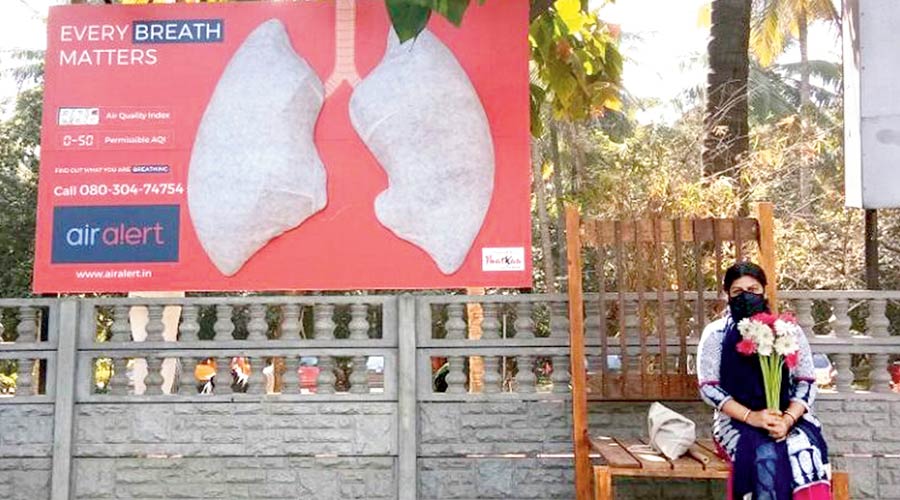 A lung billboard in Maharashtra
Telegraph Picture
---
Jamshedpur
|
Published 24.11.21, 12:30 AM
|
---
Jharkhand will be the first state in the eastern region to use lung billboard displays in creating awareness about air pollution and its effect on health.
Ranchi, Dhanbad, and Jamshedpur will have such billboards installed by the Centre for Environment and Energy Development (CEED) in association with respective civic bodies through State Urban Development Authority (SUDA) and Jharkhand State Pollution Control Board (JSPCB).
"Jharkhand would be the first state in the eastern region to have such lung billboard display systems. Such systems are already in several southern states and in Maharashtra and Uttar Pradesh. It would have a giant pair of artificial lungs fitted with filters and fans to mimic the human lungs," said Munna Jha of the Asar Social Impact Advisors Private Limited (strategy development and consultancy firm in the environment sector).
"The installation changes colour with each day showcasing air pollution levels impact on the lungs. It would also have an air quality index (AQI) monitor giving real-time AQI on the pollution level," he said.
CEED senior program manager Ankita Jyoti said the beginning would be made from Ranchi.
"We will install the first such facility near Albert Ekka Chowk in Ranchi on Wednesday and gradually install similar facilities in Dhanbad and Jamshedpur. The respective local urban bodies of the cities would be helping us in identifying the locations to set up the facility. We are working with SUDA (a unit of the state urban development department) and JSPCB for a clean air program and this is an effort in this direction to create awareness amongst locals about air pollution," she said.
CEED officials said that after the lungs' colour gets dark the artificial lungs would be replaced.
"As of now, real-time AQI machines are installed only near Van Bhavan at Doranda in Ranchi and near Jorapokhar in Dhanbad. Few industries have installed the facility in their plants. But that does not give a clear picture about the AQI in the city," said Ankita.
The Air Quality Index is based on the measurement of particulate matter (PM2.5 and PM10), Ozone (O3), Nitrogen Dioxide (NO2), Sulfur Dioxide (SO2), and Carbon Monoxide (CO) emissions. All measurements are based on hourly readings.
AQI level above 150 is considered unhealthy, above 200 is very unhealthy and above 300 is considered hazardous.
As per Swiss air quality company, IQ Air which tracks air pollution worldwide, AQI for Ranchi on Tuesday evening at 6pm was 147, for Jamshedpur at the same time it was 191 and for Dhanbad, it was 155.