Jharkhand Assembly polls: Hemant Soren loads arrow in battle for survival
Soren is pitted against BJP candidate Simon Malto in Barhait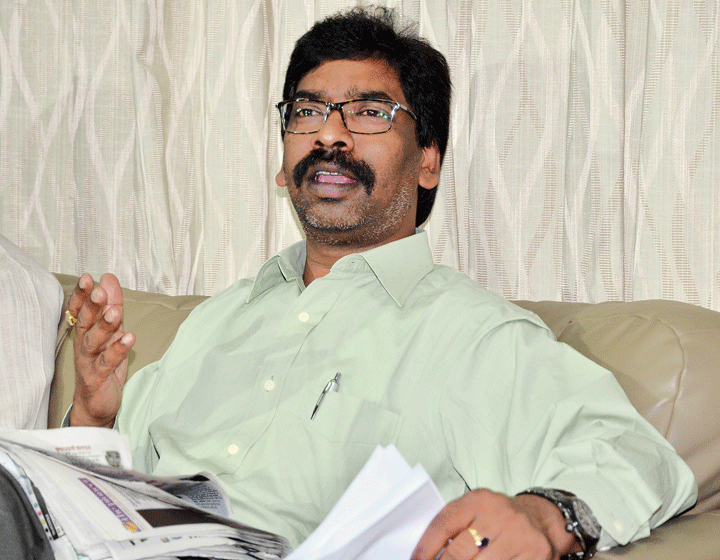 ---
|
Ranchi
|
Published 18.12.19, 09:17 PM
---
Barhait Assembly seat, some 300km northeast of capital Ranchi, is famed as the origin of the Santhal rebellion against the British. But in 2019, the birthplace of tribal freedom fighters Sidho-Kanhu has a more contemporary pull. Come Friday, and the fate of sitting MLA and Opposition CM-aspirant Hemant Soren, who happens to be the JMM's working president, will be sealed.
Soren is pitted against BJP candidate Simon Malto in Barhait, one of the smaller Assembly seats in Jharkhand's Sahebganj district with a 95 per cent rural populace. Barhait on Tuesday hit national headlines as Prime Minister Narendra Modi held an election rally here.
Modi had also campaigned in Dumka, another seat that Soren is contesting, on Sunday. Both reserved ST seats will be among the 18 to vote on Friday, the fifth and last phase of Jharkhand Assembly polls.
A senior BJP leader in Ranchi, who's in the party's core team to plan campaigns in the polls, told The Telegraph that Barhait was crucial.
"Even in the 2014 Assembly polls, despite the Modi wave, Hemant Soren won. But in the last few years, the BJP has seriously tried to make inroads into the tribal heartland with welfare schemes. That the PM's rally was held at Barhait along with Dumka in Santhal Pargana shows our party's keenness to win this seat," he said, indirectly revealing that the BJP wants Modi's charisma to ensure Soren's defeat in both seats.
Opposition leaders refuse to read much into Modi's rally.
Abhishek Prasad, JMM youth wing president and party spokesperson, dismissed the impact of Modi's rally in Barhait. "People know the BJP's hidden agenda, taking their land and giving it to their corporate friends, and this will show in the results on December 23. Our leader Hemant Soren will win 200 per cent."
"Barhait has 1,93,000 voters, 60 per cent of which are tribals and 20 per cent Muslims. It is a win-win combination for the JMM," said a senior JMM leader. "In 2014, Hemant Sorenji had polled 62,515 votes, defeating BJP's Hemlal Murmu by a margin of 24,087 votes."
But a BJP leader in Dumka said things were changing. "Dumka was a JMM bastion. But what happened in 2014 Assembly polls? Hemant Soren lost to our candidate Louise Marandi. This time, during Lok Sabha polls, guess who won the Dumka seat? Our candidate Sunil Soren (he defeated JMM chief Shibu Soren). In Barhait too, the BJP has fielded Simon Malto who has a good base among Christians," the BJP leader said.
Malto preferred to focus on the BJP's development claims, the benefits of a double-engine government and Hemant Soren's alleged neglect of Barhait. "He never cared to spend time here," Malto said.
⚫
Barhait votes on December 20