Saryu Roy denies land grab
Saryu Roy hints that it could be a part of a conspiracy to malign him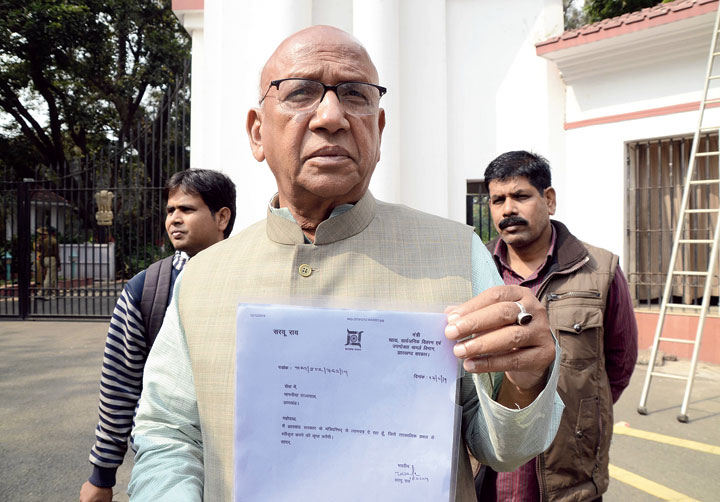 Saryu Roy after submitting his resignation to governor Droupadi Murmu at Raj Bhavan in Ranchi on Friday
(Manob Chowdhary)
---
Ranchi
|
Published 13.12.19, 07:39 PM
|
---
Saryu Roy, state minister-turned-chief minister Raghubar Das's Independent challenger, on Friday denied that he had grabbed the land of an elderly lady.
A Hindi newspaper report on Thursday said the woman, from Namkum, had alleged that Roy and his men grabbed 83 decimals of her land. The woman had approached the state's women's commission for redress, the report said.
"I have seen a report published in a section of press on Thursday that I have forcibly grabbed land of a lady who approached the state women's commission for redress," Roy said at his official residence at Doranda in Ranchi on Friday afternoon.
He dismissed the allegation as fabricated.
'I, along with some other persons, bought the land in question from the then owner in 2001 and I later bought those other persons' portions as well," Roy said, and named those other persons.
"It's surprising that the lady raised the issue so late. Besides, if there was any complaint, she should have approached the revenue officials as the issue doesn't come under the purview of the women's commission," Roy said.
He hinted that it could be a part of a conspiracy to malign him, adding that the women's commission chairperson — Kalyani Sharan — had campaigned against him during the recent election for the Jamshedpur East seat.
"My election agent has lodged a complaint against her with both the returning officer and the Election Commission as she couldn't have campaigned for any political party (read BJP) while holding a quasi-judicial post," Roy said.
Roy also said that he had met governor Droupadi Murmu at Raj Bhavan on Friday and handed over his resignation from the state's council of ministers with immediately effect.
"I had actually submitted the same to the governor through fax on November 17," he said.
Asked what his next step would be, he said: "I'll remain an Independent even if I win the election."
He said he would, however, return the gesture of Hemant Soren who supported his candidature.
"I feel it my moral duty to support Soren and will be in Santhal Pargana on December 15 and 16 for expressing my support for him," Roy said.
He said he would also campaign for Sitaram Pathak, an Independent candidate from the Jarmundi seat, who had approached him.