Peaceful final phase
Voters brave the cold in large numbers to exercise their franchise in the last phase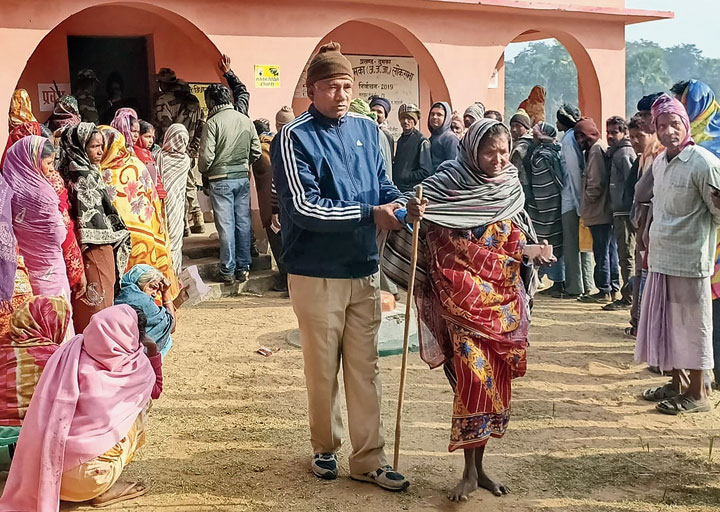 An elderly woman leaves after casting her vote during the fifth phase of Assembly elections in Dumka on Friday
PTI
---
Ranchi
|
Published 20.12.19, 09:50 PM
|
---
The last phase of the Assembly election passed peacefully in the state on Friday.
Despite the bitter cold, people in villages turned up in large numbers to exercise their franchise, while voters in urban areas did not show much interest. Barring some sporadic hurdles in the voting process there was no report of any untoward incident in any of the 16 constituencies of Santhal Pargana where over 40 lakh voters sealed the fate of 237 candidates, 208 male and 28 female. Allegations of booth capturing were reported from 20 booths of Narayanpur block under Jamtara Assembly constituency. The BJP accused the Congress of booth capturing and knocked the door of the state chief electoral officer demanding re-polling in these booths.
The places from where reports sporadic hurdle in voting came in also included Kewaljudia village under Nala constituency in Jamtara district, where villagers had decided to boycott the election in protest against the failure of government in providing basic civic amenities like drinking water, road and electricity. Voting started in this village two-and-half hours behind schedule after district deputy development commissioner Nagendra Kumar Sinha convinced the villagers to participate in election by assuring them of proper development in the days to come.
Inspector-general (operations) and state police spokesperson Saket Kumar Singh, who was camping in Dumka, said the voting was peaceful.
"Most of the polling parties have returned from the polling booths peacefully and without any hurdles. Those, who are supposed to be airlifted tomorrow morning, are safe with EVMs at their cluster centres," Singh said.