Jharkhand acts on barcode for hospital waste
The bar coded label will be tamperproof, waterproof and its colour will not fade in at least 48 hours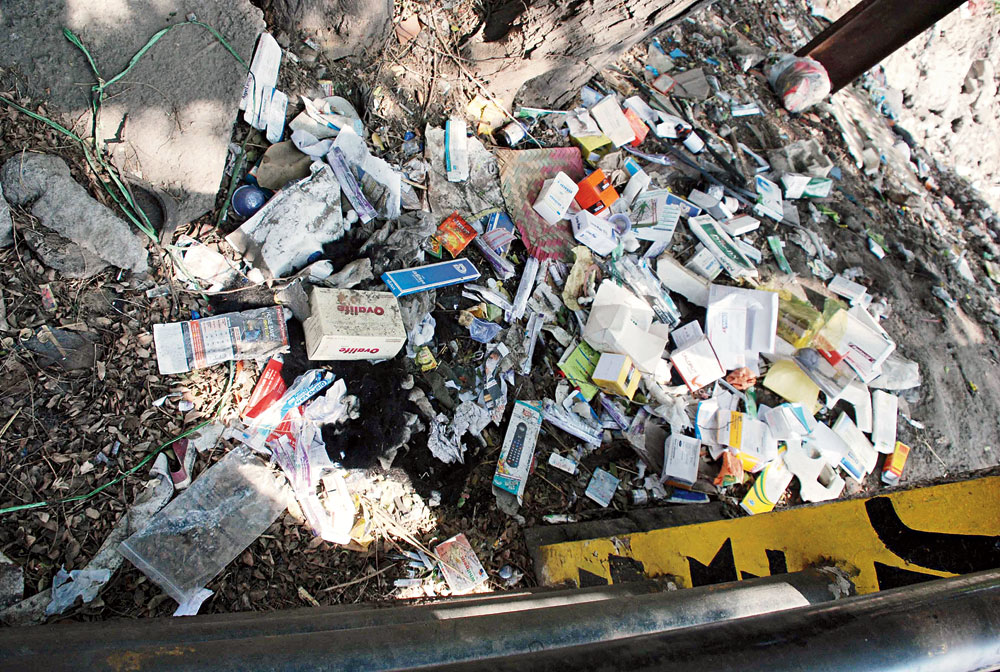 Biomedical waste littering the Subernarekha riverbank in Mango, Jamshedpur, will be a thing of the past from April.
Telegraph picture
---
Jamshedpur
|
Published 27.02.19, 06:48 PM
|
---
Two years after the Centre drafted guidelines for using a barcode system to ensure proper disposal of biomedical waste, the state has woken up to the need to implement the same.
Member-secretary of Jharkhand State Pollution Control Board (JSPCB) Rajeev Lochan Bakshi on Wednesday said from April, barcodes would be used to track biomedical waste, starting from its collection at hospitals and nursing homes to disposal at centralised facilities in Ranchi, Ramgarh and Dhanbad.
"Adhering to CPCB guidelines, we are in the process of empanelling a private agency that will execute the new system, which will monitor the movement of biomedical waste from source to destination (incinerators) for treatment and disposal. We plan to roll out the project in over 500 hospitals and nursing homes in the state from the first week of April," Bakshi said.
According to data available with the JSPCB, there are nearly 40,000 patient beds in Jharkhand and on an average, each generates 1-2kg of biomedical waste daily.
The bar coded label will be tamperproof, waterproof and its colour will not fade in at least 48 hours. It should be able to resist temperatures and chemical disinfection. The system is expected to curb the practice of rampant disposal of biomedical waste in the open, particularly on riverbanks and roadsides and in drains.
"Every label will contain information about the source, which means the name and location of the hospital, nursing home or pathological lab from where it has been generated; details of quantity and type of waste; and also a unique ID issued by the JSPCB to the heal hub in question," Bakshi said.
A special software to be developed by the private agency selected will match the information scanned from the barcode at the source and match it with label details once the waste reaches the common treatment facility. The details will be then stored in the JSPCB database, the member-secretary said.
Pollution control board chairperson A.K. Rastogi said once the common biomedical waste treatment facilities (CBWTF) became operational in April, no private hospital — even those having their own incinerators — would not be allowed to dispose of waste on their own.
"The objective is to ensure complete transparency and effectively dispose of biomedical waste," Rastogi added.
The Biomedical Waste Management Rules, notified in March 2016, covers hospitals, nursing homes, clinics, dispensaries, veterinary institutions, animal houses, pathological laboratories and blood banks, among others.
While 85 per cent of hospital waste is non-hazardous, 15 per cent is hazardous. These include used syringes and needles, cotton swabs, vials that may contain bodily fluids and surgically removed body parts.
Mixing of hazardous and non-hazardous waste leads to serious contamination, which the barcode system promises to stem with effective segregation at source.