Jharia water crisis dampens Vishwakarma Puja celebrations
Loss of livelihood during pandemic forced many to sell water by rupturing pipelines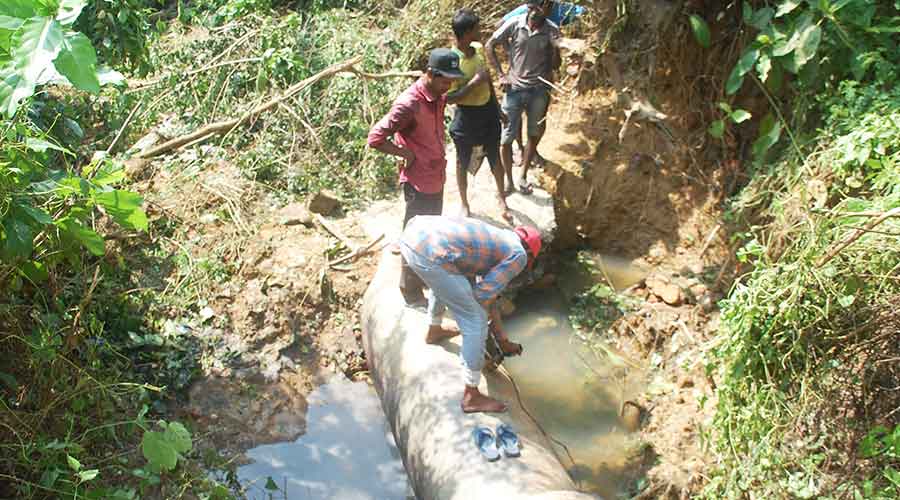 JMADA workers carry out repair work of a leakage pipe at Jharia on Friday.
Shabbir Hussain
---
Dhanbad
|
Published 17.09.21, 04:04 PM
|
---
The ongoing water crisis in Jharia caused due to deliberate perforation of pipelines of civic body Jharkhand Mineral Area Development Authority (JMADA) continued during the fourth day on Friday on Vishwakarma Puja causing inconvenience to more than five lakh Jharia residents in performing puja.
Leakage in the 30-inch diameter main water supply pipeline used to supply water from Jamadoba based Water Treatment Plant to Jharia at Pathabangla and Jeetpur is the main reason for the water supply disruption.
This apart, two large leakages caused due to decay of the 50-year-old pipeline have also taken place including one in 30-inch diameter pipeline at Patharbangla and other in 18-inch pipeline at Phusbunglow further aggravated the water woes for common people.
Talking to The Telegraph Online on Friday, Arindam Banerjee, a resident of Poddar Pada locality of Jharia who is the Jharia President of Bharatiya Janata Party (BJP) said,"The loss of source of livelihood during the pandemic and lockdown forced many people to resort to sell of water by illegally rupturing the pipeline at more than ten places in between Patharbangla to Jeetpur causing problem for more than 25,000 legal water connection holders besides other families fetching water from public water connections."
Prem Bachchan Das, a resident of Baniahir in Jharia who is also president of Rickshaw Mazdoor Sangh, said, "The water theft is being carried out by organized groups with the help of some local unemployed youth at many places and one can witness 500 liter water drums parked near the illegal connection sites including at Baniahir which are further loaded into mini trucks having 1000 liter tanks sold at rate of Rs 1000 per tanks."
"The issue requires a comprehensive solution involving people's representatives to address the problem of unemployment" said Das, a renowned social activist of Dhanbad and added the public connection should also be established by the initiative of MP and MLAs to address the water scarcity for those who can't afford household connection due to lesser income.
Amit Sahu, president of Jharia Chamber of Commerce said, "Yes indeed the illegal water trade by organised groups causing leakage in the pipeline is the main cause of the water crisis in Dhanbad but the responsibility lies on people's representatives and administration to solve the problem."
Pankaj Kumar Jha, Sub Divisional officer of water supply division of JMADA, said admitted the illegal leakages as one of reasons for the water supply disruption and said "We have repaired one of leakages in 30-inch pipeline while repair work of 18-inch pipeline will be carried only after demolishing a private house under which the leakage has been caused and repair work is likely to completed tomorrow."